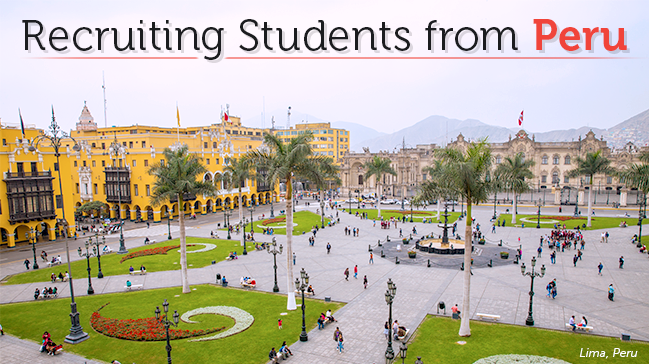 As our global political and economic climate continues to shift, we are always looking for new areas of growth for U.S. international student recruitment. Recently we've written about recruiting in Chile and Colombia, so it is of particular interest to us that the Peruvian middle class outspends both countries on education—and the market is showing signs of growth.
Did you know that the new Peruvian government, elected in 2016, has committed to becoming a bilingual country? While opening opportunities through bilingual education, the Peruvian government is also offering scholarships to help students break down the financial barriers to international study.
Bottom Line: As with any country, recruiting in Peru has its challenges—both cultural and economic, but last year alone, the number of students coming to the U.S. from Peru grew faster than any other country in Central or South America. The students are increasingly bilingual and have access to government-funded scholarship opportunities. The interest is there. It is now the job of U.S. institutions to step-up student recruitment efforts in the face of strengthening ties between Peru and the EU, as well as other Latin American nations.
Have we peaked your interest? Read on for recommendations for recruiting international students from Peru…
Did you know that almost 19% of Peruvians are between the ages of 15 and 24?—that's 5,728,489 young adults and prospective students! This is a large market for recruitment that is showing signs of increasing mobility.
Following a dip in the market between 2011-13, the number of Peruvian students studying in the U.S. recovered with growth of 6% in 2014/15 and soared 17.8% in 2015/16—the highest jump in all of South and Central America. Sound promising? We think so.
During the 2015/16 school year, there were 3,256 Peruvian students studying in the U.S—the majority pursuing undergraduate degrees. However, Open Doors data shows that the real growth is in other areas. Graduate programs increased by 7.9%, non-degree seekers more than doubled and the number of Peruvians in OPT (Optional Practical Training) increased by 10.8%.
It is also worth noting that Peruvian students have topped Chinese students in the EF English Proficiency Index 2015—indicating an increasingly accessible market with the potential to provide students who will excel on your campus.

2016 Elections and Bilingualism
The new Peruvian government is focused on creating a bilingual country. The ICEF Monitor reported on plans for a national policy of bilingualism by 2021. President Pedro Pablo Kuczynski was elected in April of 2016, so we'll have to wait and see what policy changes he will make, but it is possible that his education in both the U.K. and the U.S. – Princeton University and Exeter College, Oxford – may shape his view of foreign and bilingual education. Kuczynski promised work to improve the quality of education in urban areas and has suggested raising teacher salaries. He also has plans to modernize education and increase access to technology, which could make access to online programs easier for Peruvian students. Positive changes in this area could lower traditional barriers to learning English – money and time.
Competition in the Market
In 2013, UNESCO cited the number of Peruvian students enrolled in tertiary education abroad at 14,204. Peruvian students favored Spain, the U.S., Cuba, Chile and Italy as key destinations.
Competition in Peru is strengthening year-on-year. The government has lifted visa controls to select local countries, with the goal of encouraging student mobility within Latin America, and in September of 2015, Erasmus announced funding for Peruvian students to encourage mobility of students from outside of the EU. There is even competition from the U.K. – Peru's Ministry of Education formed an agreement with the UK Higher Education International Unit to provide postgraduate scholarships for students with limited financial resources.

While these policies may start directing traffic elsewhere, there are other funding opportunities for students looking to study in the U.S. Grants directed toward overseas study like the Beca 18 Program, La Fundación Universitaria Iberoamericana (FUNIBER), and Fundación Carolina can all provide scholarship money to support study in the U.S. These examples may be helpful as you consider offering funding opportunities to Peruvian (and other) international students as a way to enter or expand your target markets.
Messaging in this Market—It's Not Just About the Students
Professor Geert Hofstede, a leading intercultural researcher, indicates that Peru ranks low on "masculinity," "individualism" and "long-term orientation" in a comparison of Cultural Dimensions. This means that Peruvians often show interest in relationship building over achievement, in the family or the collective rather than themselves and rely upon tradition in a changing society. As in many other Latin American countries, you may have to recruit the family along with the student.
Realizing the need for relationships with, and personalized services for Peruvian families can be the key to student recruitment here. It is essential to have information readily available and targeted toward parents. This information should be translated into Spanish and cover key issues like safety and visa information for parents who will likely play a strong role in the decision-making process.

Another great way to ensure Peruvian students feel comfortable with your institution is to create a specific page on your website geared toward their needs. This is extra work, but can be highly rewarding for two reasons:
First, it helps students feel at home. The idea that you have more students from their home country, enough to create a webpage for their unique needs, can help put them at ease and demonstrates your interest.
Second, it is personalized to their needs. Wouldn't that make you feel important? Many U.K. institutions have focused on launching such pages, which link to scholarship information and use engaging testimonials from current students.
As we consider diversifying our global reach to avoid relying on just one or two countries for more than 50% or even 70% of our international student base, Peru is increasingly a recruiting destination of interest.
Share your experience recruiting in Central and South America. Are you finding these regions are becoming more important to your international student recruitment planning? Beyond the in-country high school visits, are you using digital marketing effectively to reach your audience? Share a comment below.