Guest blogger Yaeri Kim provides a primer on home-grown Korean social networking services. If you are interested in pursuing social media in South Korea, this article will help you to better understand your options beyond Facebook and Twitter.
A social network service or social networking service, most often called SNS, is a medium for establishing social networks of people who share interests or activities. Facebook, Twitter, and YouTube are great examples of SNS. These services are very popular in Korea as well. However, many Koreans also use Korean social networking services. Tables 1 and 2 describe various kinds of Korean owned SNS and characteristics of those services. Examples of Korean owned SNS will be explained in detail below.
Table 1: Classification and Examples of SNS in South Korea

Table 2: Characteristics of Each SNS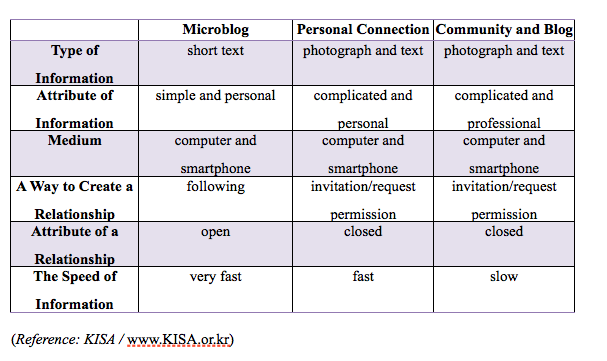 Microblog: Me2day
According to Me2day.net, Me2day is a microblogging and social networking service in South Korea owned by Naver Corporation. Similar to Twitter, Me2day became popular in South Korea with earlier establishment in the Android market, especially among adolescents and young adults. Me2DAY also has an open Application Programming Interface (API) and most of the applications built around it add entertainment benefits to the site.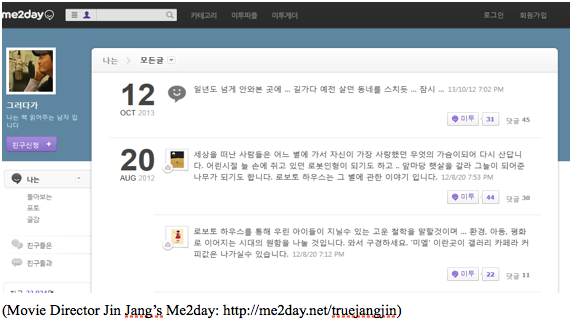 Personal Connection: Kakao Story
Kakao Story is a photo sharing social network for KakaoTalk users. This service allows users to share their lives as they happen with photos and status updates. Here are some characteristics of KakaoStory:
1. Custom designed filters enliven photos.
2. Users can add a cover photo to their Kakao Story profiles and it automatically appears in their KakaoTalk profiles too.

3. Users can keep up with their friends by viewing the latest updates on the Feed
4. By signing in with a Kakao account, users can easily find and add friends on KakaoStory.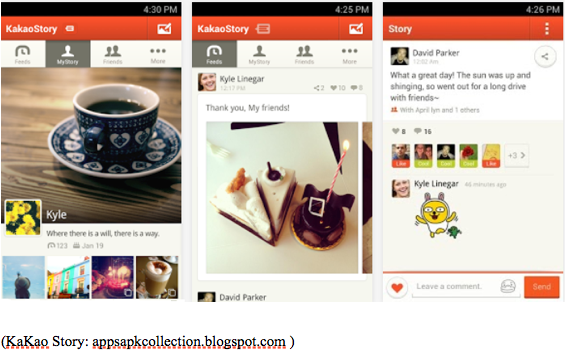 Community: Naver Cafe, Daum Cafe, and Nate Community
According to Appbrain.com, Naver Cafe and Daum Cafe are open social communities which enable everyone to create a community group that matches their personal interests. Moreover, everyone can participate freely as they desire, and they can set their own launch images using Naver Cafe and Daum Cafe dedicated icons. Nate Community also has similar functions and purposes like Naver Cafe and Daum Cafe.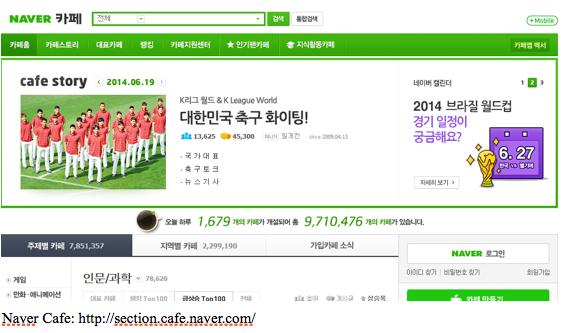 I visited Forever Hong Kong very often two years ago to research an upcoming trip. Because this community was established about 10 years ago and totals nearly 1/2 a million members, I found it very useful to find information about Hong Kong, such as transportation, currency, and tourist attractions.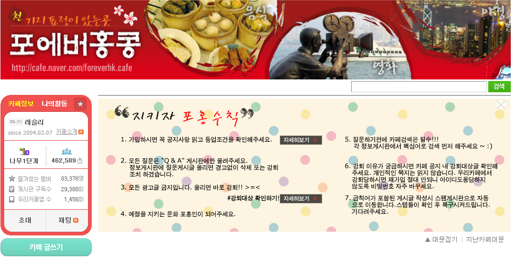 Blog: Naver Blog, Daum Blog, and Egloos
A blog is often a mixture of what is happening in a person's life and what is happening on the Web. For instance, many Koreans post various reviews about restaurants, shopping malls, movies, plays, and musicals. In addition, they share their personal lives, such as pets and family stories. Many more Koreans use Naver or Daum than Egloos to run their blogs.
Instant Messaging: NateOn, Kakao Talk, and Naver Line
NateOn is an instant messenger provided by Nate Corporation. In Korea, NateOn is used for various purposes. For example, undergraduates or workers get benefits when they do group projects by easily sending documents and sharing ideas. NateOn is also great just for chatting.
However, Kakao Talk and Naver Line are different from NateOn. First, those two services combine a text message with an instant messenger for a computer. Users of Kakao Talk and Naver Line can do group chatting and easily send video clips and photographs to other people who participate in group chatting with their smartphones. Second, people can use these services anywhere for free if they can access the Internet. In my case, I texted and called my family in Korea when I stayed in the U.S. without paying any additional fees.