The vast majority of companies still treat social media as a fad and social phenomena. Their use of social media tools for marketing is rudimentary and the equivalent of marketing by billboard. Not to say that billboards are ineffective. It's just that digital marketing and social media offer a different marketing opportunity and by and large, folks simply don't know how to use it effectively.
And so, because social media marketing is free, more and more companies are putting up their billboards (first it was websites back in the 1990s and now it is social media accounts). So here's the thing: digital marketing is a waste of time given the number of billboards now posted, UNLESS you have the infrastructure to create and disseminate compelling content and track the online activity.
And so, the answer is "yes" that will require more investment in digital tools, staff or vendors. Effective marketing is not free afterall. Even when using social media. Sorry to be the ones breaking the news.
Today we want to highlight data from a report from Sprout, a company providing social media management tools.
First, let us offer some perspective on how a university can use social media strategically and effectively, before we dive into details. There are three distinct functions of social media that universities need to consider:
Listening and monitoring: what is the activity around campus, your brand, students and alumni, your region, your teaching subjects (if you are specialized).
Engagement: this is the typical focus of social media discussions, publishing via Facebook, Twitter, Instagram or regional services like WeChat, SinoWeibo, VK. The emphasis is on engagement which should include a two-way interaction as opposed to publishing outbound alone - kind of like a billboard.
Customer Service: this use of social media is still highly underdeveloped in the university environment. Other industries using social media to provide customer service will raise consumer expectations for universities (and other sectors) to provide this kind of service via social media channels.
To exploit each of these functions effectively, you need to have a baseline set of tools to allow you to disseminate and track activity. Without that, you are spinning your wheels while your competitors streak down the race track.
If you are interested in seeing a nice example of a university actively deploying social media, please look at our joint presentation with the University of Groeningen and Fresno State at AIEA in Washington DC.
Now to a few highlights from the Sprout research, which we present to you from the Sprout Social Index.
Chart 1 talks about brand engagement by industries. The emphasis here is on engagement, one-on-one responses as opposed to purely broadcasting (like a billboard). This fact is demonstrated by the last rank of entertainment, which initially surprised us. We checked on Justin Bieber's Twitter followers for this blog: 50 million followers (really!!) and 26,000 outbound tweets. So he is certainly in demand and active (or his staff is).
Still, individual engagement is rather challenging. You will notice that education ranks in the lower tier of engagement among all industries. This is particularly interesting if you consider the audience for universities -- young people generally below 30 and highly engaged with social media. Other industries have a much broader demographic spread but show higher engagement particularly in highly competitive industries as the authors point out.
Chart 2 shows the challenges for all industries in handling social media engagement and customer service in a timely fashion. Response times and response rates are leaving much to be desired from a consumer perspective and the education arena is no exception. Imagine responding to only 16% of the students inquiring about enrolling in your university.
We have tested a wide range of companies to see if they respond to customer service inquires via social media and have found big gaps in their ability to respond. Yet, consumers are looking to social media as a way to reach companies. We don't think that the need to incorporate social media in your operations will go away. In fact, it will grow.
Some sectors have increased their investment in social media customer service capabilities. Consider airlines. They have dedicated teams addressing social media inquiries. The investment is important to them because travelers tend to have the time to complain quite loudly online as they grumble from one delayed flight to the next. Social media for customer service pays off if the twittersphere is plastered with negative tweets about your airline. And the cost of this investment is relatively small in comparison to their overall advertising budget. They are simply protecting their brand in a smart and proactive way.
We believe that this will be the rule in the future. Social media management will just be another operational responsibility as part of customer service and marketing. It will become a standard function.
The question is when will you start with the implementation and can it provide you with a temporary competitive advantage until it becomes the business norm? Under any circumstances, social media planning will require the attention of senior administrators sooner than later.
To stay ahead or simply keep up, social media will need its own department and budget. Think of it this way: when the web really started for companies in the early to mid 1990s, they assigned a part-time staff person, usually in marketing, to "do" the web stuff. How many people do you have to "do" the web stuff today? That's where social media is going.
This isn't just a fad. We thought you'd rather hear it from us.
Chart 1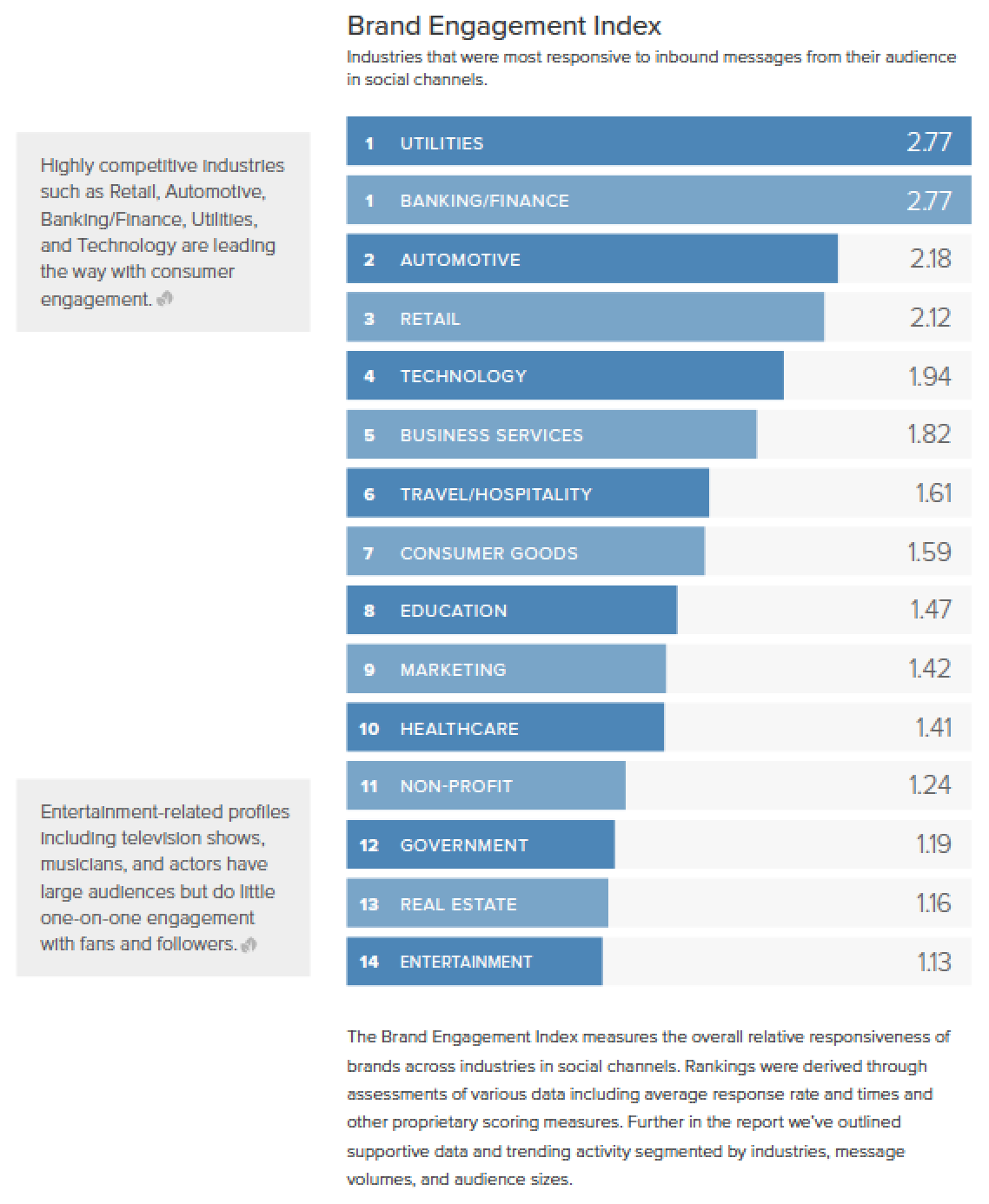 Source: Sprout Social Index
Chart 2