Haven Ladd, partner with the Parthenon Group, joins Michael Waxman-Lenz, Intead CEO and co-founder, to explain the impressive research and insights generated from years of providing strategic advisory services for higher education institutions. Parthenon's market segmentation research is a valuable tool for higher education professionals. You won't want to miss this podcast.

Mr. Ladd begins the discussion by describing the role of Parthenon Group in the higher education sector. He notes the three specific pressures facing higher education: declining enrollments, increasing costs, and the changing business model. Many institutions have sought the services of organizations like Parthenon Group to adapt to changing times.
As part of Parthenon Group's ongoing research, a study was conducted to understand students' various motivations for pursuing higher education. While the majority of institutions site a desire to attract, recruit and enroll high achieving students with strong test scores and an interest in research, this sub group represents 18% of the the market. Parthenon named this group the Aspiring Academics. Five other market segments were identified: Coming of Age, Career Starter, Industry Switchers, Career Accelerators and Academic Wanderers. Mr. Ladd provides significant commentary on the distinguishing factors between these groups.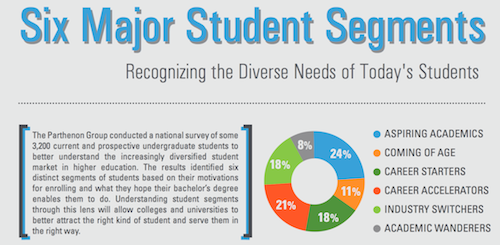 Image courtesy of the Parthenon Group
It is difficult to identify any clear patterns of universities addressing each segment. There is great opportunity for institutions to focus on one segment and channel their resources and marketing efforts towards attracting one segment, rather than trying to be everything to everyone. Mr. Ladd highlights the importance of narrowing institutional focus.
The role of online education in higher education is also discussed. The "land grab" race as Mr Ladd so aptly puts it is the current trend in online education but ultimately there won't be room for all institutions in the online sector. Mr. Ladd notes that the future of online education lies in delivering education in a fundamentally different way. There are real opportunities to match student needs with online models.
Mr. Ladd also explains: increased competition in the higher education landscape, the need for differentiation, and thoughts on the future of higher education.