Andy Molinsky, Associate Professor of Organizational Behavior at Brandeis University and author of Global Dexterity: How to Adapt Your Behavior Across Cultures without Losing Yourself in the Process joins Michael Waxman-Lenz, founder and CEO of Intead in a discussion about the importance of translating cultural knowledge into action in cross cultural experiences and situations. His six dimensional framework can help those engaged in international work to be more effective and authentic.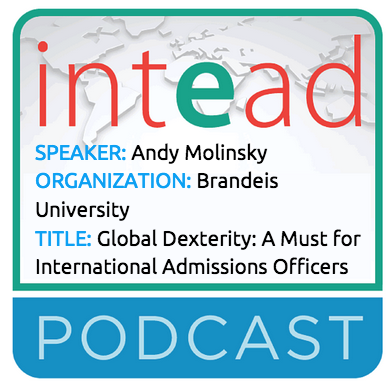 Professor Molinsky's vast experience in inter-cultural interactions forms the basis for his engaging work. It's not just about understanding cultural differences. In order to have true success in other cultures, Professor Molinsky notes the importance of translating knowledge into behavior in real life situations with real consequences.
Anyone who travels internationally or interacts with people of other cultures academically, socially or professionally will benefit from Professor Molinsky's six dimensional framework. Every situation can be understood by evaluating the appropriate levels of:
directness
enthusiasm
formality
assertiveness
self-promotion
personal disclosure
Professor Molinsky explains how everyone can learn global dexterity. Some people might be more naturally inclined to be successful in this area but everyone can learn success. Following his three step process and six dimensional framework can lead to success in international student recruitment and internationalization of college campuses, among many other fields and disciplines.
The discussion also covers:
the forgiveness strategy and what it means in cross-cultural scenarios
the importance of finding a cultural mentor
how to be effective and authentic in cross-cultural engagements
Speaker
Andy Molinsky
Associate Professor of Organizational Behavior,
Brandeis University
http://people.brandeis.edu/~molinsky/
http://blogs.hbr.org/cs/2013/03/preparing_for_inevitable_cultural.html