How many social media accounts do you have? Two? Five? Eight? Do you have any in China?
It's not uncommon these days to have multiple acccounts. Facebook, Twitter, LinkedIn, Google+, Instagram… the list goes on and on. With new social media outlets cropping up every day (here's looking at you, Vine), it is even more important to manage your online presence efficiently and effectively. And at Intead, we always consider a social network's presence internationally.
For universities, a vibrant online presence is paramount. Still, given all your pressing priorities, we understand why a post or a tweet is not always at the top of your list. With admissions events, international recruitment trips, and application reading to keep you busy, managing social media often takes a back seat.
That's where social media management tools come in.
Social media management (SMM) tools, such as the popular Hootsuite, MarketMeSuite, and Social Bro, can streamline your social media efforts, saving you time and effort. With management tools, all of your accounts are located in the same place, allowing you to post simultaneously to your social networks such as, Facebook, Twitter, and LinkedIn. More expensive tools such as Hubspot and Salesforce offer the complete package of email and landing page integration, to manage content and contacts. In addition, many SMM tools offer reporting and analytics of your social media efforts, to help you understand your audience and network more efficiently.
Travel easier
Features such as mobile access and content scheduling are perfect for the travelling admissions officer. Many social media management tools offer an app version for access on the go. Rather than being a slave to your Twitter handle throughout your next international trip, SMM tools allow you to schedule your tweets or other posts beforehand for automatic release at a specified time. You can always add more content spontaneously, but if you are strapped for time or access, pre-scheduled posts can make you can appear active and engaged on your networks, even if you haven't looked at your profiles in days.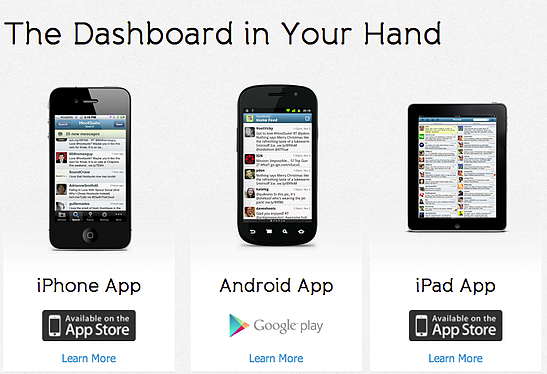 Hootsuite's mobile offerings
Listen in
Want to know what people are saying about your institution? Listening/monitoring features on many SMM sites allow you to track keywords and hashtags of interest from certain users or even from certain geographic areas. Do students think New York City is too dangerous? Rural schools too isolated? Once you know what is being said about you, you have the ability to act accordingly.
Be more authentic
The multi-user feature of SMM tools, which allows many approved users to update from the same account, presents a new and valuable opportunity for admissions networking. Current students are the ultimate resource for your school for interacting with prospective students and fielding questions about your institution. The first-hand student perspective is appealing to prospective students for its accessibility and authenticity; unofficial student blogs such as http://barnardbaby.tumblr.com often serve as a popular source for students to get their information. With SMM tools, you can redirect this traffic back to your institution's webpages. Encouraging current students (and digital natives!) to take the reins of student blogs and Twitter accounts under the umbrella of your institution (with some moderation, of course), can make your student interactions more efficient and personable.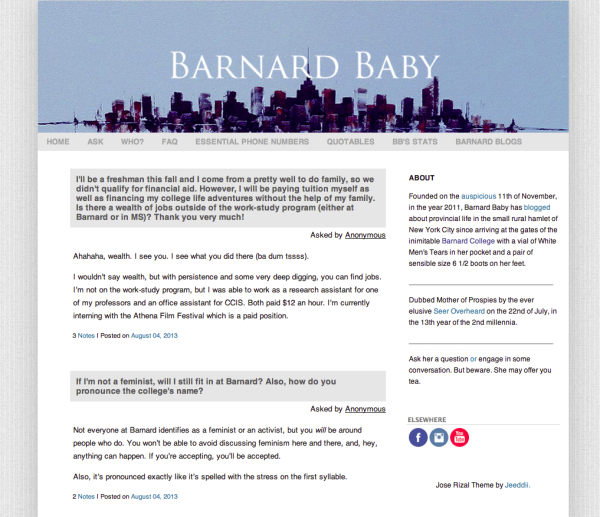 Relatable, accessible student interaction
Go international
The multi-language capabilities of some management tools allow you to monitor web activity in different countries. Unfortunately, few address international integration. Hootsuite is a tool that leads the pack in terms of international access, boasting integration with many international social networks, including VK and Weibo. With international social networks gaining ground (http://read.bi/10Z09X9), an international focus for SMM tools is sure to come.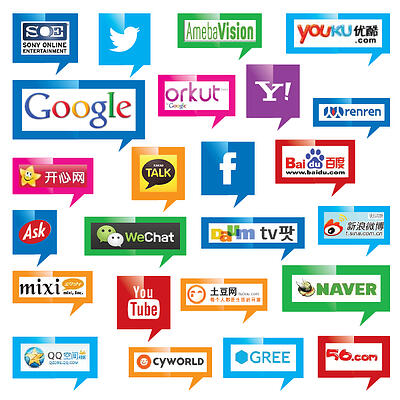 Want to try a social media management tool for yourself? Our Features Matrix gives an overview of 10 tools to help you decide which one is right for you. Download it for free!