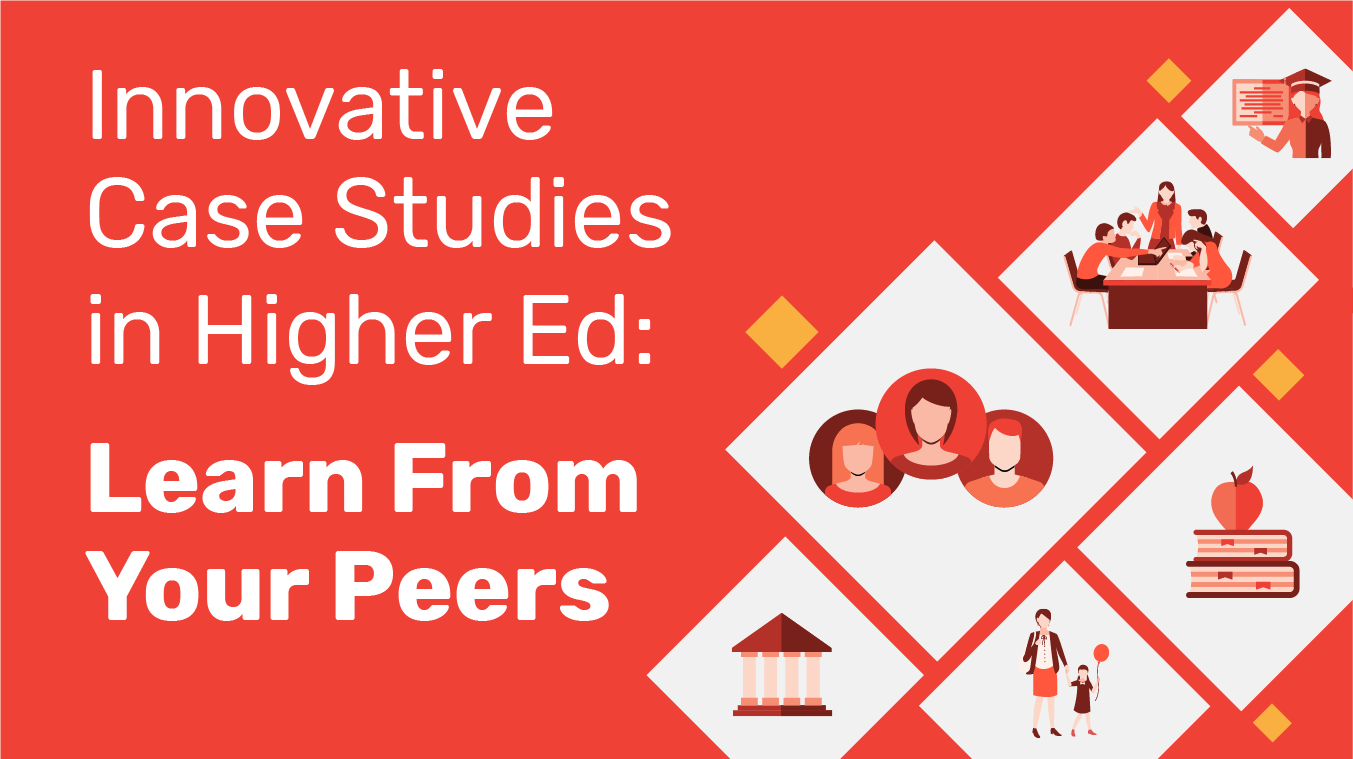 Can you hear the clamor? That's enrollment professionals across the US trying to figure out how to fix their graduate enrollment numbers. Oh, and their undergrad numbers too. You've probably already been thinking about where the emerging markets are for higher education as the enrollment trends shift.
The tools we use to segment and engage global student markets are equally applicable to domestic markets here in the US as well. We have a number of international higher ed clients seeking to build awareness in and enrollment from the US market.
The US domestic market is a complicated one, to be sure. As the current international enrollment numbers decline, we are helping both foreign and domestic institutions identify and capture new markets. It's a time of great dynamism.
Want To Know What Your Peer Institutions Are Doing?
This is why we are talking more and more about "non-traditional" students. Did you know that non-traditional student enrollment is projected to grow 21.7% from 2016-2022?
A desire to attract these domestic segments (the range of non-traditional students) is transforming the way that many institutions think about their programs, campus life and overarching communications strategy.
You may have read our guest blog post from a few weeks ago by Dr. David Di Maria, covering the many similarities between the underlying motivations of international and non-traditional students. If not, we highly suggest you check it out here.
This week, we want to share with you some personal stories from the people behind institutional brands doing very big things in the field of non-traditional student recruitment. We're willing to bet there are a few people in your own institution (just a few clicks away) who could use these insights.
As always, we encourage you to share this content. And we encourage you to reach out to us and let us know what challenges you are facing. Maybe you can prompt our next research project.
Are you ready? All of these excerpts are taken directly from full-length interviews you can read in our latest e-book, Quality. Cost. Convenience. How Academic Leaders are Competing for Today's Non-Traditional Students. If you enjoy what you read here (or know someone else who might) we invite you to download the full e-book.
Let's see what some of your most innovative peers have to say...
The American Women's College at Bay Path University
Interviewee: Amanda Gould, Chief Administrative Officer
We're often competing more with women's fear of taking the leap than we are with other institutions in the online market. Our students might have heard about our program from family or friends, but they don't necessarily feel that they're ready, that the time is right, or even that they're deserving of such an overwhelming financial investment. Our biggest recruitment challenge is helping them believe that they are worthy.
The Non-Traditional Students and Their Motivations
We educate a wide range of adult women learners, many of whom delayed or paused their education due to life circumstances, or to provide for their families. A majority of them are first-generation students, more than half are low-income, over 40% are diverse, and about one-third are single mothers. They're looking for an opportunity to elevate themselves financially to better support their families—and often, they're trying to inspire their children. Research has shown that when you educate a mother, there is an increased likelihood that her children will also achieve an education, and we frequently hear from our students that they are trying to set such an example.
Our adult population doesn't necessarily seek out the women's mission when looking to attend our institution – they will typically come to us for our accelerated pace, flexible delivery options, or low cost. But we find that the women that come for those things very quickly get drawn into the mission and become very passionate about it. All of our undergraduate students are required to take a three-course series at Bay Path University called Women as Empowered Learners and Leaders (WELL), and this program is often cited by our graduates as the most impactful part of the student experience.
Our market research suggests that even though the women's only environment may not immediately resonate, what we can market is our focus on personal growth, social justice, and community, as well as the support structure that means a lot to the students once they're here.
A New Learning Model
We started our program for adult woman learners in an accelerated fashion back in 1999. We knew that this particular adult market was struggling to complete a degree on the 15-week semester-based academic calendar. Even attending evening programs trying to do it on weeknights, was hard for our students to work into their busy lives.
Adult students are usually also juggling work and family commitments. By moving to a model where we're facilitating a new session every six weeks on Saturdays, we'd given adult students the flexibility to concentrate on one or two courses at a time. This model allowed her to maintain full-time status, and have a shorter cycle for necessary stop outs, rather than losing entire half-year semesters whenever life got in the way. It was our solution to the question, 'how can we make education an opportunity that these students can realistically take advantage of?'
As the years progressed, online courses have become a relevant alternative, and so it has become a natural part of our evolution. With the majority of online students being female (75%), it was apparent to us that the students we are serving would benefit from this option. Our move to offering online courses wasn't a financial decision or one driven by a desire to diversify our portfolio— it was just what our students needed.
Regis University
Interviewee: Dr. Elisa Robyn, Academic Dean, College of Contemporary Liberal Studies
There is more urgency for an older student. An older student will ask, "What am I going to do with this class, and how is it relevant?" They want to know.
The Contemporary-Minded Institution
At Regis University there are 5 colleges. There is a traditional liberal arts college, which is undergraduate ground based, 16 week in the classroom, and serves students who for the most have just graduated high school. We have Rueckert Hartman College for all of our medical programs, including a school of nursing, physical therapy, and pharmacology that serve a mix of students.
To meet changing student needs, we split the College of Professional Studies into three colleges, adding the College of Business that serves both traditional and contemporary students; and the College of Computer Information Sciences, which is undergraduate and graduate. They have mostly contemporary students, but they do have some traditional students as well and are trying to grow that segment.
The remaining schools in the College of Professional Studies were the school of Humanities and Social Sciences and the School of Education. Both offered online programs serving contemporary student completion degrees, and innovative master's degrees. These programs merged and became the College of Contemporary Liberal Studies, where I'm the dean. It has been quite the transformation.
What the Contemporary Students look for
Students want to earn their degree quickly, they want quality, and they want affordability. By the way, they'd like a job at the end of it, and they'd like the program to focus on their needs. They want all of that, and they can shop around. There are an awful lot of options.
Moreover, we know that the students want convenience. The old model was to ask students to drive to campus one night a week, take a class for four hours, and finish it in eight weeks. That may have worked for a while, and now students say: "You know, I could go home, put on my jammies and not be driving home at 10:00 p.m. when I'm exhausted."
Students need the option of spreading out their time commitment. Even though we do encourage time synchronicities for our online classes, students can still learn from home.
[...]
Encouraging a sense of community
In the past, adult students had the lightest connection to their institution. They weren't on campus. They didn't hang out. They didn't meet their spouse. The experience was like, "I showed up. I went to class. I went home. I'm done." But things have changed with time.
We do have an alumni office, and I have an alumni liaison for my college who works specifically with me. We are really trying to reach out to alumni, now. I just did a mailing where we sent alumni either a scarf or a tie, and said, "Please come back, we are connected to you." We are also using MOOC technology to create alumni learning communities.
It's about how we engage students in different ways, so they feel like this really is their institution, and we really care about them, and they should be proud to be a Regis alum.
Advice
Realize what your students need and build it.
A member of my faculty said to me the other day, "Does the university have a mission, or does the mission have a university?" If the university was created to serve a mission, then go back to that. But, that mission better be something about the needs of students and allowing people to live in a better situation than what they had when they started.
And then ask yourself, are you doing that? Are you working to get the students that you are admitting what they want and need, as opposed to what you have always done? Stay current and stay relevant to your students.
Before you build a retention program or a new class, ask the students. We have started a process here so that when we build a new class or we do one online, we have a student either on that team or reviewing the plan.
If you want to attract students, then you have to know what is attractive to them.
Northeastern University
Interviewee: Hillary Dostal, Director, Global Marketing, Recruitment, and Enrollment Initiatives Professional Advancement Network
"With the competitive landscape of today, we don't have the luxury of not innovating."
Meeting the Learners Where They Are
From the perspective of the business school and PAN (Professional Advancement Network), we're focused on many different types of learners. We have bachelor completion programs, online programs, part-time programs for working professionals, non-credit executive education, and boot camp for analytical skills.
The non-traditional student can be anyone. To have one definition of a non-traditional learner would limit what we're trying to achieve. And trying to reach all of them is essentially like trying to boil the ocean.
What Northeastern has done is develop this Professional Advancement Network (PAN) so that there's a centralized body that sits within Northeastern that's in charge of taking our existing programs and tweaking them into new modules or products to meet those new audiences.
We have designated representatives who work with community college partnerships for bachelor completion programs, the military, and with international students hoping to come overseas to study in Boston or at one of our regional campuses. We also have folks who represent the online learning component. We have an entire team dedicated to experiential learning.
At the heart of this incubator (PAN) is scalability. We have picked out areas to explore that we believe will be successful with non-traditional students, based on the market, our footprint on the market, what makes sense, whom we want, what we're good at, and of course, where the demand is.
[...]
Flexibility and Innovation to Meet Students' Needs
What does career services mean for a mid-career person or career changer? Northeastern needs to be especially aware of that, because we do hang our hat on our career services. Students come to Northeastern to enhance or change their career in some way. Student services/career services has to be there in the beginning.
We offer options to support students financing their education. We have built our programs so that students can enroll in a certificate first then commit to a larger degree. They can customize their own curriculum so they can take only the courses that are the most impactful to their career or that would accelerate their career. We give students the option to consume the program in smaller bites to accommodate their finances and their time. We have our college of professional studies that is at a completely different price point truly aligned with overcoming the barriers of those traditional objections, and meets the needs of the non-traditional learner.
All of our part-time programs are flexible. Students can take a semester or two off. They can take 2 classes at once, or just one. We can help develop their schedule to align with their tuition reimbursement from their employer. We also allow students to move from face to face learning to online learning if they want.
We really value the life-long learner. We want undergraduate study to be the first step in someone's experience with Northeastern. Then we want the person to think of us two years later when they say "I need a masters." Within their professional career, we want them to go to Northeastern, perhaps for a graduate certificate, when they realize they need to get smart about a particular skill. We're making sure that our offerings are advanced enough to meet the needs of the student throughout their lifetime of learning.
---
Want to continue reading? Download the full e-book to explore the full interviews, in-depth.