Q: How much is an international education worth?
A: $5 Trillion.
Countries whose leaders have studied abroad have a summed GDP of $37 Trillion, while countries whose leaders have no international experience are worth a total of only $32 Trillion. A $5 Trillion difference.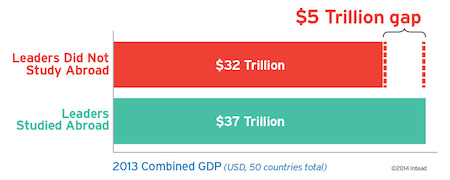 Okay, okay, maybe getting an international education won't actually make you $5 Trillion richer (you're shocked, we know). But isn't it amazing what you can get statistics to say? To get this stat, we compiled a list (see below) of the top 50 countries in the world according to their GDP in 2013. We then looked at their top political leaders to see if they had any study abroad experience. We found that almost 60% of leaders have had international education in their background.
Apparently a significant number of world leaders valued an international education enough to get one before their rise to power. And we might contend (?) that the combined international education they received could be (?) valued at $5 Trillion as their return on investment. Let us know if you agree with our math ;-)
In addition to our world leaders list, we thought it'd be interesting to see which CEOs and entertainment leaders have had study abroad experiences. We compiled a list of over 50 world stage successful personalities in a variety of industries: automotive, media, telecommunications, financial, retail, etc. Among our most exciting finds are Mahatma Gandhi, the Princess of Swaziland, actor Bradley Cooper, LinkedIn founder Reid Hoffman, and Baidu founder Robin Lee.
So what can we tell our prospective students (domestic or international)?
We thought you could have fun perusing the lists we compiled about global experience. But, we do have a deeper message behind all of this. Bottom line is, an international education is immensely beneficial to individuals who embark to find one. Not only can you grow personally from a study abroad experience, but there just might be a connection to increased financial success.
Moreover, an international education can help you begin to bridge the gap we see between countries culturally, socially, linguistically, and economically. To succeed in whatever field you wish to delve into, it helps tremendously to first understand and appreciate not only people of your region, but those in countries farthest from you.
With that being said, we invite you to take a look at the lists we've accumulated below. Click around, explore our selected global and industry leaders lists of who took the opportunity to grow from an international education. Enjoy!
Click on the chart below to enlarge.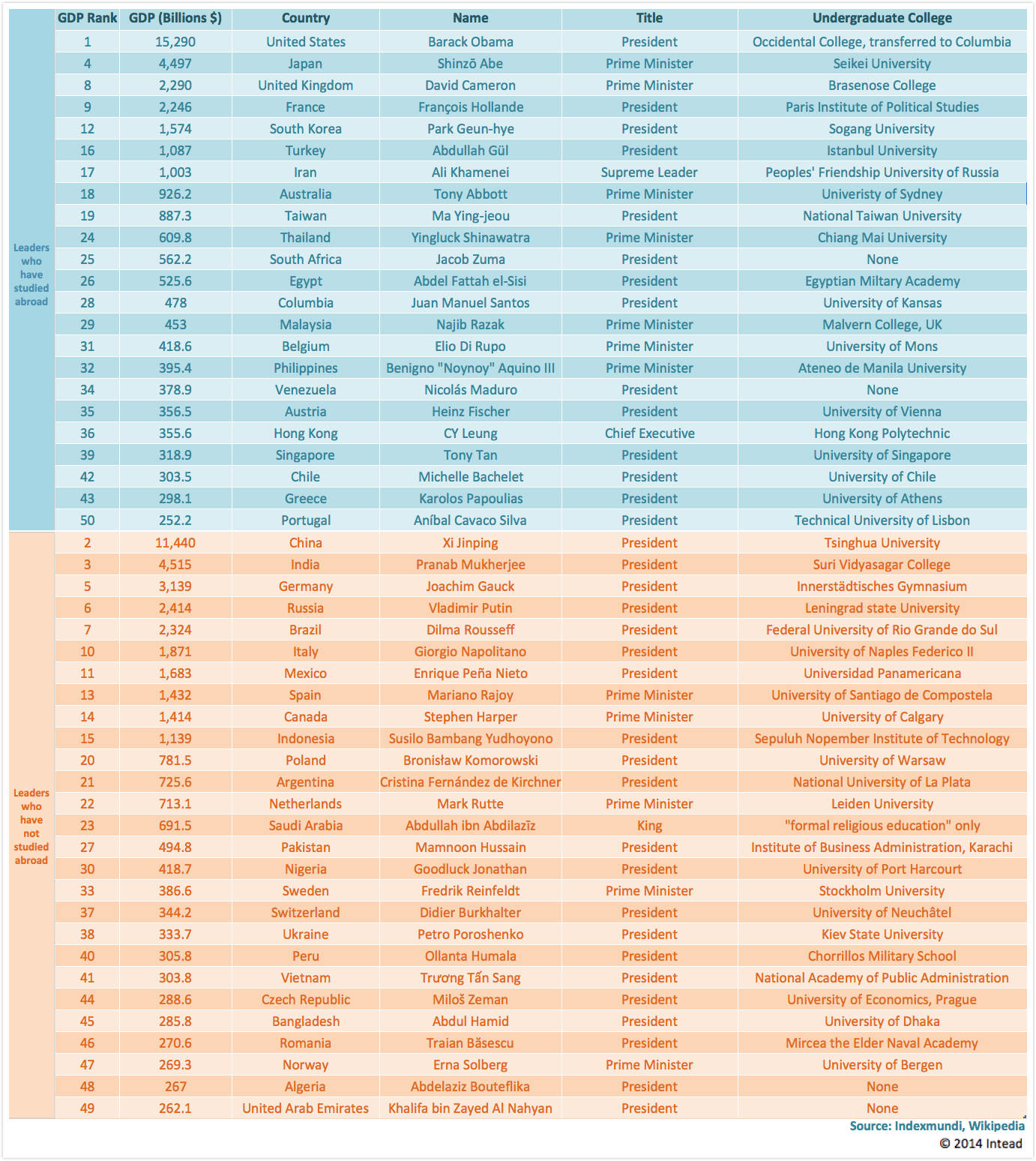 Click on the chart below to enlarge.