I noticed in discussions with admissions officers their surprise that higher education companies own and use multiple brands. These companies also offer a variety of services. Because of my previous professional life of investment and Merger & Acquisition work, I tend to dig into the structure and origin of companies. Hence, we launched a small summer project with our interns to research ownership of a few higher visibility and acquisitive companies. In subsequent blogs we will cover brands and services owned by various companies. Our selection will be completely subjective and not scientific. If we miss an interesting company, please let us know.
I realize that most college and university officials are not in the business of aggressively building larger and more profitable entities. Private for-profit companies have different objectives. M&A and differentiated brands are fully legitimate business tools to grow a business. At the same time, it's useful for buyers to know that a particular company owns multiple services and brands. Just to illustrate the point, I would want to know if Rupert Murdoch's Fox is a parent company, which may imply certain leanings. Ownership by a private equity/venture capital firm may lead to other implications.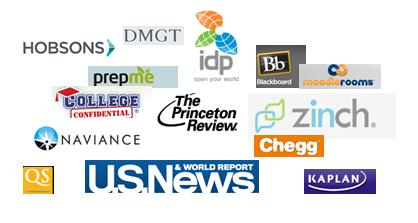 In the university world, mergers are rather unusual, but I predict that use of sub-brands and targeted segmented brands may become more common as universities build online departments that will be marketed outside their current traditional and more regionally confined markets.
For decades schools have leveraged their brands. Think of Harvard's extension courses, corporate executive training programs and XEd by Harvard & MIT in recent announcements.
Here is a link to our first analysis on Hobsons which offers a broad set of B2B and B2C education services and is supported by a highly acquisitive British investment company. http://bit.ly/hobsons_sum
We are working on Chegg, Blackboard, Princeton Review and a few other companies. Check back and send us suggestions for companies you would like us to research.