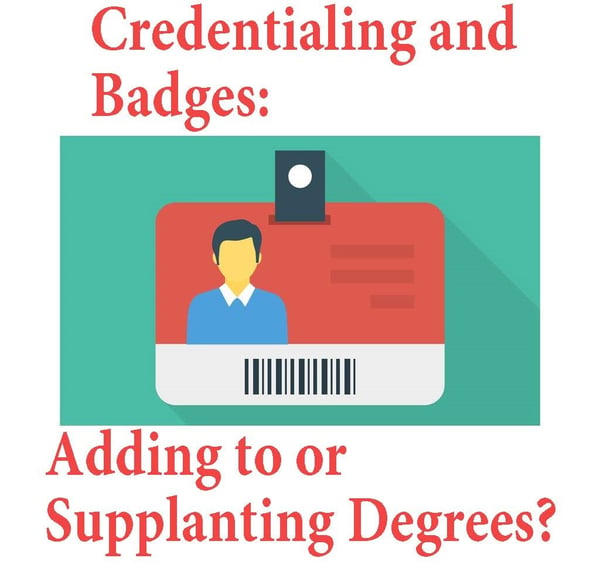 They say that fifty is the new thirty, but what may be a more reliable maxim is that college is the new high school. It has been true for a while that undergraduate degrees are becoming the minimum standard for employment, as opposed to a high school diploma—a fact that has led to a great uptick in college graduates working for minimum wage.
The trend has continued upward with most incoming college freshmen expecting to earn a master's degree after graduation. Master's degrees are now as common as bachelor's degrees were for most of our parents' generations. In the U.S., more than 8 percent of the population has one, which is a remarkable 43 percent increase from where that number was in just 2002.
With so many well-educated job seekers, what is setting some graduates apart? Credentials.
Read on for our take on what is driving this trend and some perspective on how dangerous your institution's sluggish pace of establishing new degree and credential options could be.
A quick and important note about our blog: Liv Radue is the newest addition to the Intead team and we are happy to share a byline with her. A graduate of Indiana University with a Master's in writing, literature and publishing from Emerson College, Liv has a love of world travel. This love developed during her youthful treks in the Australian Outback and studying abroad in seaside France. More recently, she has been seen in the Scottish Highlands and the Brazilian rain forest—book in hand, of course. You will find her research and writing here often, bringing us insights on the many facets of student marketing and recruiting, global and regional trends and the growing field of EdTech.
So, let's see what Liv can tell us about what is driving the rapidly developing field of badges and credentials.
According to EdSurge Independent in Feb 2017, "The unemployment rate for college graduates is significantly higher than it is for the wider population. 53.6% of U.S. bachelor's degree holders under the age of 25 are jobless or underemployed, an 11-year high."
Sure, that was more than two years ago and the unemployment rate has dropped considerably since then. Still, that's not a comforting statistic for someone contemplating four years of student loans.
Students enroll in college to learn, but when we face competitive and flush job markets, students want a greater guarantee of future employment, and their credentials are one way to get there.
There is, of course, the obvious credential—the actual degree held. In certain spheres, the pedigree of that degree is also important. There's a greater sense of gravitas in a degree from Harvard than one from the University of Phoenix. While the Ivy League isn't opening their doors for other universities to join their ranks, there are other ways to polish up your alumni resumés.
First, it has to be understood that earning a bachelor's degree shows that an employee has the dedication to go to school for four years, but it doesn't necessarily mean they acquired the appropriate skills for their chosen field. Higher education institutions can help to better match skills needed in the workplace and what they teach.
This is where further credentialing can help.
After all, we want to know the person performing our root canal, educating our children, drawing our blood, filing our taxes, or even giving us a tattoo (that we may come to regret) knows what they're doing, right? Right. Credentials matter.
In addition to degrees earned, licenses, certifications, certificates, badges, and apprenticeships demonstrate credibility and symbolize the knowledge gained and skills mastered.
Universities can utilize these other credentials to make their alumni more successful.
Credentials have helped employers and jobs successfully adapt with the market, as the fields require more education have shifted over time.
According to Vox, in 1971, education degrees accounted for more than a third of all master's earned, followed by business with around 11 percent of degrees, and engineering and social sciences/history with around 7 percent each. By 2012, business degrees accounted for over a quarter of all master's, tightly followed by education, and then health professional degrees coming in third place with 11 percent of degrees.
The fastest growing fields requiring Master's degrees in the last decade were law enforcement and leisure and fitness studies—perhaps not fields that would have been in your top guesses.
Many of the jobs in all of these fields are looking for credentials beyond just degrees.
Educause Review reported that according to the U.S. Census Bureau, one in two U.S. adults has some form of postsecondary credential, and one in four has some form of certification or license independent of his/her postsecondary credential.
Credential Engine—a public database and registry of credentials—has data on nearly 5,000 credentials and is continually adding more. According to the company's communications manager, Carrie Samson, "There are at least 334,114 unique credentials in the U.S."
They aren't the only ones digitally sorting credentials; employers are doing it too. The importance of credentialing has led to increased efficiency in electronic resume weeding. When a job gets 1,000 applicants, having searchable keywords can cut down that number drastically.
Even prospective students can get in on the digital weeding action with databases such as DegreeData, which is comprised of 7,000 college catalogs and allows users to search by programs, courses, costs, degree offerings, certificate programs, location, and graduation requirements. Just like employers are cutting down their search efforts, students can find the information for what school may be a right fit for their interests, budget, geography, existing credits, accreditation, and transfer status—without needing to spend hours visiting individual university websites.
What can universities do beyond offering their own degree programs to both attract these new students and make their alumni marketable?
Obviously, intuitions must be aware of what documented skill sets are required in the careers that can follow their degrees, but there are additional steps they can take. On the administration end, they can make sure their transcript services are automated—something most colleges have long been doing. Employers, alumni, and professional services no longer want to request paper transcripts or provide hard-copy transcript requests.
More importantly, there are many non-credit options available to universities to help credential their students (and even alumni), such as offering:
Certificate courses in office skills, such as Microsoft Office/Adobe applications, digital literacy, financial accounting, etc.
Certificate courses and skills labs in programming languages, design and production software, editing and creation software, etc.
Coding bootcamps
Digital seminar badges for skills such as negotiation and conflict resolution, communication styles, body language in the workplace, etc.
Resources and study materials for post-degree professional licensure exams
To be a competitive university, you must have a competitive league of graduates. And you'll need the academic offerings that the job market values … meaning the offerings that the prospective student values.