At the 2014 NAFSA Region VI Conference, I attended a terrific session given by Mindy Yiu and Ann Rahmat of Miami University (Ohio). These knowledgeable higher education professionals presented a session titled Tired of Traveling Alone: How to Form a Consortium Travel Group. Since many of our readers are in the position of planning travel we would like to share the highlights of this session.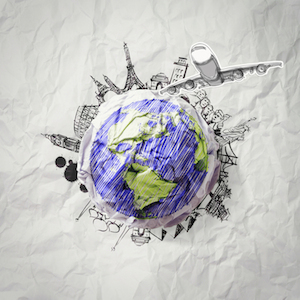 In planning international student recruitment travel there are a variety of travel methods you can consider. The three main types of travel include: solo travel, small group (consortium) travel, large group (tour provider) travel. Ms. Yiu and Ms. Rahmat outlined these three types of travel and included pros and cons for each type of travel. Their chart comparing the various costs associated with the three main methods of travel will be of particular interest to anyone planning future travel experiences. More on that below...
Miami University has had great success with consortium based travel. Though the consortium has shifted over the years, Miami has consistently found success traveling with a small group of geographically diverse, American, public institutions.
In developing a consortium for your own institution, pros and cons of consortium travel must be considered.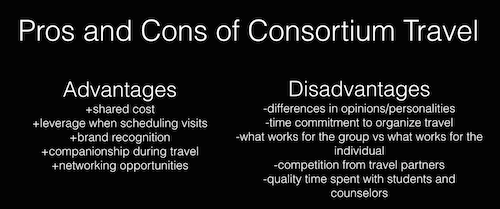 For institutions interested in pursuing a consortium approach, Ms. Yiu and Ms. Rahmat recommend connecting with your institution's senior leadership. After considering goals, priorities, competition and other institutional objectives, you can determine potential consortium colleagues. Sometimes a constortium does not align with an institution's mission, but is formed, instead, out of convenience or personalities.
In their session Ms. Yiu and Ms. Rahmat outlined steps to take as a consortium is developed. One of their key takeaway messages was that each member of the consortium should become the point person, the leader for a specific city. Each individual will plan lodging, meals, ground transportation and visits for their city. Serving as "city captain"will allow for specialization of labor and make the overall planning process run smoothly.
Ms. Yiu and Ms. Rahmat have found from experience that four is the ideal number for consortium travel. Four individuals can easily fit into taxis, share costs, and travel together without diluting individual messages too greatly.
Advantages and Disadvantages of Different Types of Travel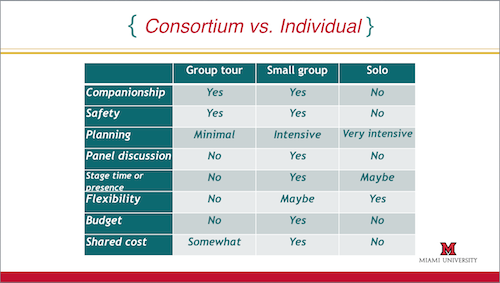 From a cost-benefit perspective Ms. Yiu and Ms. Rahmat presented a useful slide comparing costs of the three main travel methods: solo, small group (consortium) and large group (tour provider).
Cost Comparison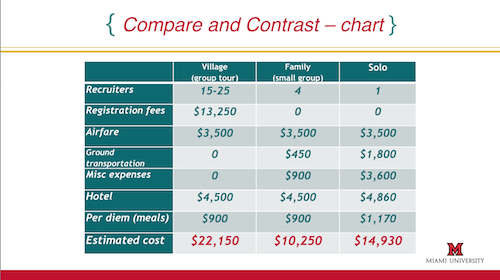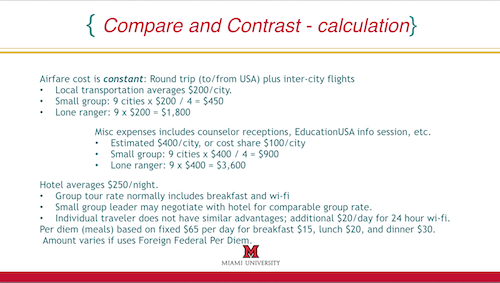 In addition to the cost-benefit analysis, Ms. Yiu and Ms. Rahmat completed an analysis of the potential impact an admission counselor could make using the three different types of travel. Though their analysis includes many assumptions, their premises and conclusions are valuable to consider.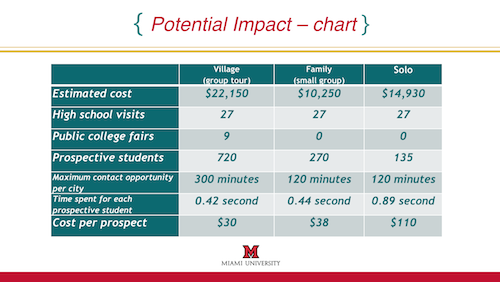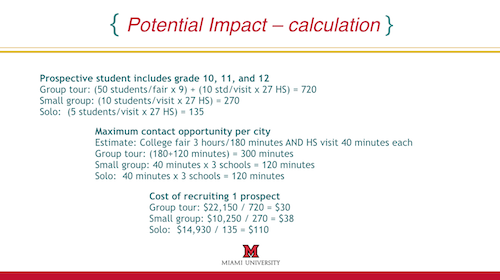 Another tool you might find useful in your travel planning is our Intead Index of Tour Providers. If you are interested in comparing tour companies this tool will provide you with a lot of useful information.