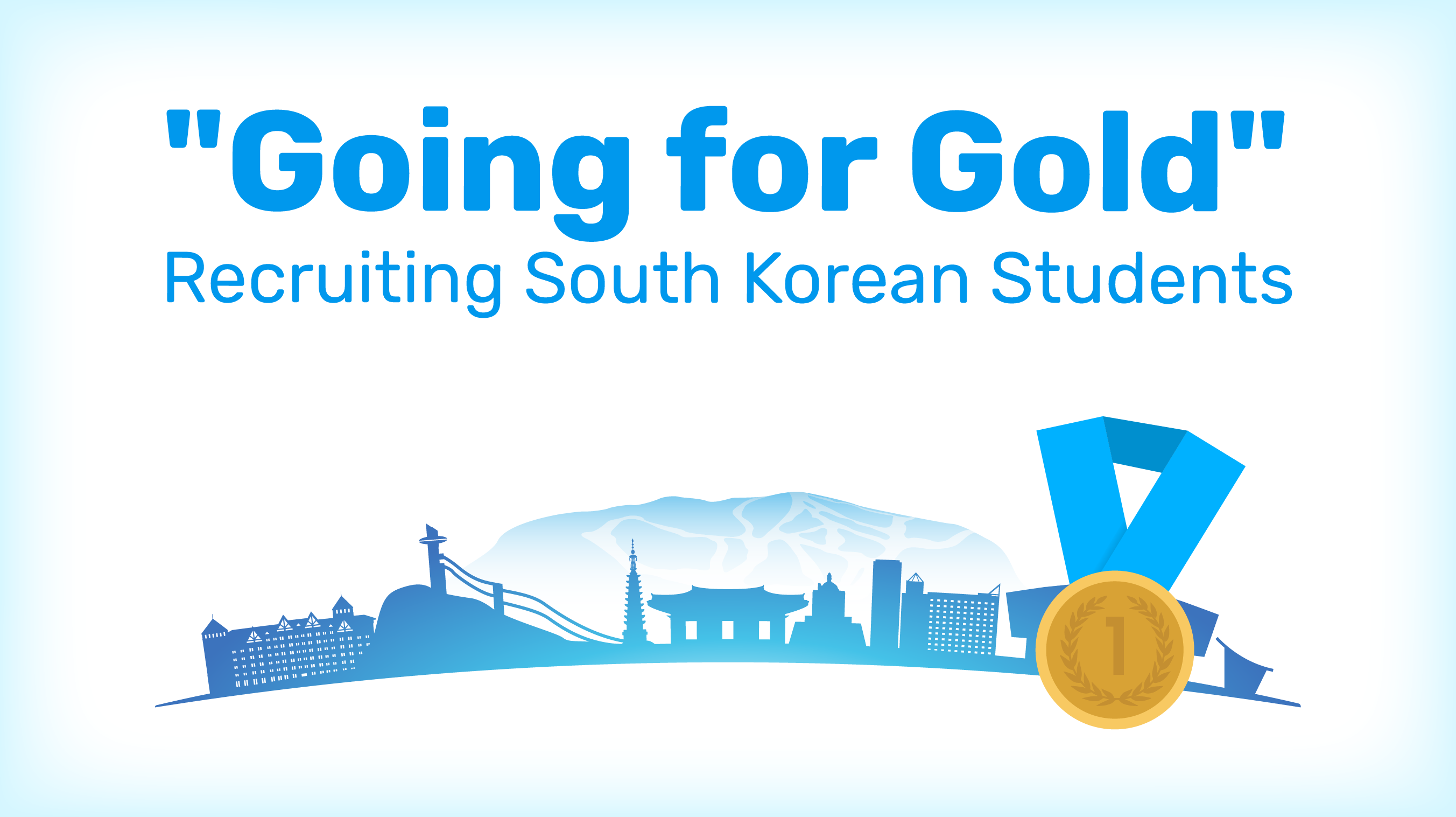 This week, our bodies are at work, but our hearts are in Pyeongchang.
Here at Intead, the team has caught Olympic fever. Still, we're not ready to quit our day jobs to take up curling or ice luging full-time quite yet – so let's talk about training for student recruitment success in South Korea instead.
Coping with dropping numbers and a complicated perception of the value of a foreign degree are just a few of the challenges to recruiting South Korean students. In this blog post, we explore the current conditions and concrete actions that you can take to strengthen your strategy.
In the midst of the Olympics, our team is headed to San Diego for some mental gymnastics with your colleagues at our annual International Student Recruitment Bootcamp. Weren't able to register but still want to get in on the action? We will be livestreaming our keynote session with Dr. Philly Mantella and Dr. Rahul Choudaha on Monday February 12, 2018 4 pm – 5 pm EST.
The moderated interview will cover indicators of international student success, innovative recruiting pipelines, building recruiting budgets, and much more. Click here to reserve your space.
Continue reading to win Gold in South Korea (and if you don't go home with a medal, at least you'll have all the awesome links to great research and guidance we've inserted into the post below) ...
South Korea is the third largest sender of students to the U.S.
In 2017, South Korean students accounted for about 5% (IIE data) of foreign students studying in the US, the third largest group after the dominant forces of China and India.
South Korean students choose the U.S. as their top (Nafsa Report on S. Korea) international study location. Although the numbers of students seeking education abroad have dropped (IIE S. Korea Factsheet) over the past few years, the nation remains one of the top sources of international students in the U.S. In the 2016/17 academic year, 58,663 South Korean students came to the U.S. for study.
What are South Korean students studying?
Over 50% of South Korean students in the U.S. (US Department of Commerce Report on S. Korea) are here for undergraduate study, with the next largest group (about a 25%) enrolled in graduate studies. The rest are here for miscellaneous other programs or OPT.
The most popular fields of study are STEM subjects and business, but nearly 12% of South Korean students in the U.S. are studying fine and applied arts. If you have a great arts program at your school, keep this in mind!
Why have numbers dropped in the past few years?
As many as 70% (Feb 2018 Economist story with totally cool interactive graphic - really, you'll want to check this out) of South Korean students are now earning post-secondary degrees. This is a culture that values education.
Yet, according to IIE Open Doors, the number of South Korean students choosing to study in the U.S. has been dropping since 2009/2010. Still, that decline is slowing in recent years. Looking between the 2014 and 2015 academic years, the number of South Korean students in the U.S. dropped by 6.4%. The following year, the numbers dropped by 4.2%. Between 2016 and 2017, the numbers dropped by 3.8%.
So, while South Korea is still a big competitor in the global education games, why are fewer students choosing to study in the US?
The reasons are complicated, of course. A faltering domestic economy has kept a larger number of South Korean students studying at home. While the UScontinues to dominate South Korean students' choice of international study location, some "new" destinations like the Philippines and Malta are growing in popularity as less expensive English language program destinations.
One of the most interesting, and actionable, reasons, is one you may not expect. Korean employers are increasingly dubious that students who have studied in the US have as firm a grasp on Korean business culture as do their domestically-educated peers. The time away from their home country is sometimes a hiring liability. For a fascinating analysis of this trend, check out this 2014 piece from Nafsa's International Educator.
Our suggestions
Tackle this one head on.
Make an active effort to establish relationships between your university and South Korean employers—relationships that will benefit all of your students, not just those that hail from South Korea. Use your global alumni and develop internship opportunities. Linked In is your friend here in finding your grads currently working for Korean companies or US companies in South Korea. Other tips about managing global alumni are in our ebook here.
If your university sends students to South Korea for

semesters abroad

, make sure your students who are actually from South Korea know that this opportunity is open to them, too. This allows South Korean students to reap the traditional benefits of an American education, while demonstrating to future employers that their roots remain at home. If an internship can be part of their semester "abroad," all the better.
Spend the time researching where your alumni end up, what they are doing, and what kind of salaries they are earning—not just in the U.S., but around the world. Having data on alumni job success will help you counteract any anxiety parents and prospective students may feel about taking the plunge to study in the US. Give them some encouraging information about the return on investment.
Develop new recruiting pipelines that are effective in this country. Digital marketing must be mobile friendly (like anywhere else, really). Youtube, Facebook and Kakao Talk, (in order of size of user base) all have a significant following in the student age demographic. Naver dominates the search engine market for South Koreans. And an agent network is also valuable here, though finding valuable and responsive agent partners can be challenging here.
Need some help reaching South Korean students? The experts here at Intead are happy to press "pause" on our Alpine Skiing viewing and talk about your plan. Drop us a line—let's go for gold together. 2-person Luge anyone?