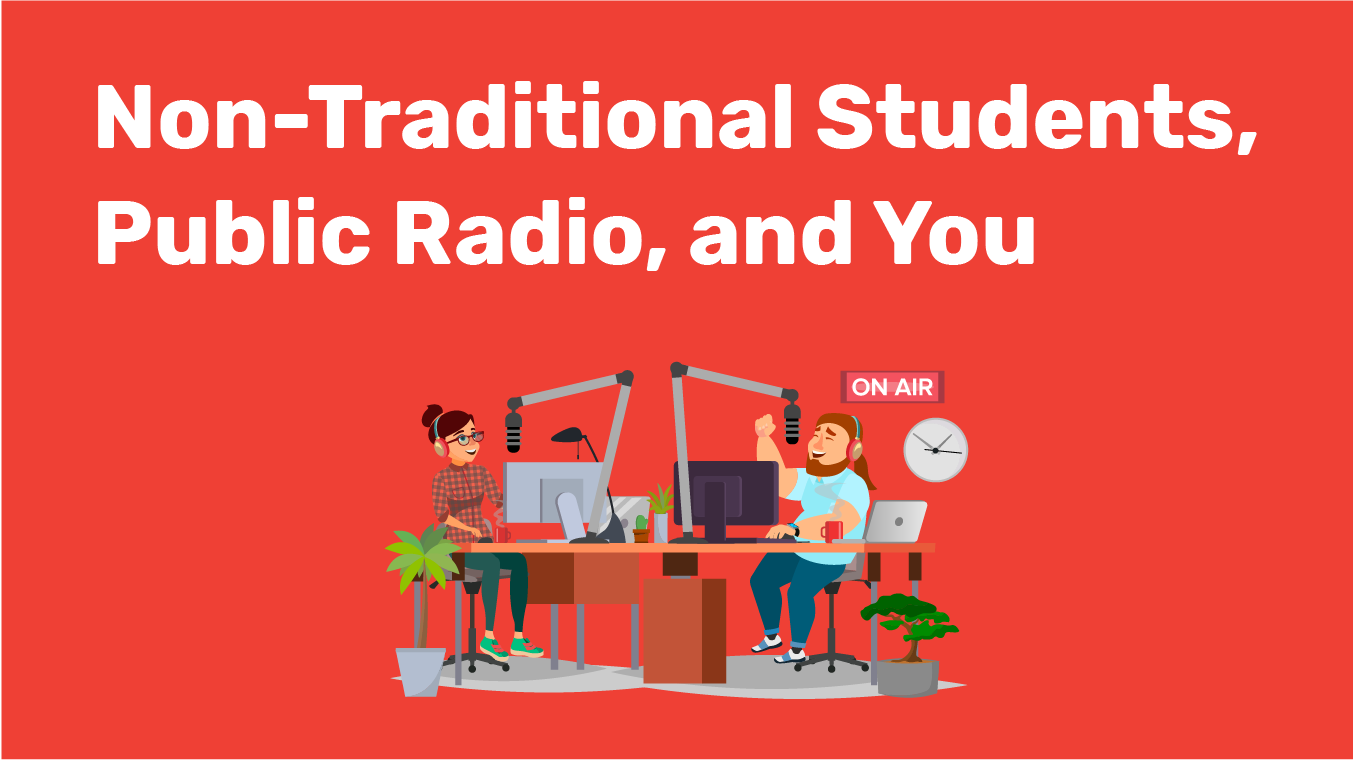 Ahhh, NPR. What can we say: we're fans. We're suckers for Ira Glass's vocal fry, we still listen to re-runs of Car Talk, and Kai Ryssdal's voice on MarketPlace is always reassuring in volatile times. Yes, we own more than one telethon tote bag.
But the public radio stalwart isn't simply a source of endless commuting distraction. For the past few months, it's also become one of our go-to's for insights into the non-traditional student space, a growing market we're following closely.
Ready for a new favorite resource to stay on top of your enrollment management game?
All things considered...non-traditional students are changing everything.
Close followers of this blog already know that we're watching the non-traditional trend. We've blogged about it before, published an entire free e-book on the topic, and even have an extended version of that e-book available to Intead Plus members offering them concrete marketing tactics and student personas. So, needless to say, it's a topic that's on our minds a lot, and on the minds of many of our colleagues in higher ed.

Praise for Intead's "Quality. Cost. Convenience. How academic leaders are competing for today's non-traditional students"
I love the blend of data, environmental scans, case studies and basic recommendations that are interwoven in each section. This e-book is excellent for institutions that seek to fine tune their non-traditional services or begin the process of addressing their needs. It covers the many daunting challenges that universities face when focusing on this student segment. ~ Mary Marquez Bell, Vice President for Enrollment Services, SUNY Old Westbury

Why? According to research by the Center for Postsecondary and Economic Success (CPE-S), an institute of the Center for Law and Social Policy (CLASP), enrollment of non-traditional students is projected to grow 21.7% from 2016 to 2022. That's compared to just 8.7% projected growth in the traditional student sector.
With numbers like that, it's easy to understand why those of us working in student marketing and enrollment are eager to explore the needs of non-traditional prospects. But the topic is complex and ever-changing, in part because the group we are lumping into this 'non-traditional' label is so vast and varied.
The challenge: how to reach such a segmented audience? Who are they? Where are they? What do they read?

More praise for Intead's "Quality. Cost. Convenience. How academic leaders are competing for today's non-traditional students"
This is a very insightful e-book. It underscores the importance of differentiating non-traditional students from traditional students throughout the pipeline–from marketing to student success and engagement. The section on conducting an effective marketing audit is a good conversation starter for strategic development conversations. The real-world insights make the book a unique and valuable resource. ~ Santhana Naidu, Associate Vice President for Marketing and communications, Indiana State University

Wait wait.... who are we talking about?
The term 'non-traditional' is typically used to refer to basically everyone except 18-to-24-years-olds who are living on campus and financially dependent on their parents—that includes everyone from a 28-year-old single mom taking night courses to a 56-year-old executive earning an MBA online. Not to mention the high school whiz kid who went straight into a successful coding job and now, at the age of 23, feels that career advancement is going to require post-secondary something....
These audiences have very different needs and desires—so when we say we're intrigued by the 'non-traditional' trend, we really mean we're interested in the growth of dozens of market segments that fall under the term's broad umbrella.
It's a lot to keep on your radar, and following a topic so large can feel daunting.
Insightful coverage is a breath of fresh air
We like to think that the resources we produce here at Intead can be more than a little helpful to enrollment professionals looking to expand their institution's non-traditional reach-- but we also strongly encourage you to check out NPR's invaluable "Changing Face of College" series.
This past May, the network began updating this helpful one-stop-shop for non-traditional learning stories. They're covering the financial beat (student loans, debt, government grants), personal student stories, changing enrollment demographics, and more.
Most recently, we were grateful to the series for giving us a heads-up on a new book by Rebecca Klein-Collins, geared towards non-traditional students themselves. In Never Too Late, she offers guidance to adult learners who are thinking about enrolling in a higher ed program for the first time, or returning to school after a time away. She tackles all the essential topics: how to pick an area of study, how to finance a degree, how to find institutions that offer flexible scheduling, and—most interestingly to us, and perhaps to you—how students can evaluate potential programs for their level of expertise in accommodating the needs of non-traditional learners. There's even a ranked list of the best schools for adult learners.
Do we have your enrollment marketing interest now?
Think about how many books there are out there for high school students trying to select a university...and now think how few there are for the enormous adult learner market. Now think about how useful this book could be not just to potential students, but to professionals trying to enroll those students!
Conduct an audit about what your institution is doing right—and how you might be scaring away your prospects? Our ebook offers recommendations about how to think this through.
Your next steps
If you're not thinking about the non-traditional student market, you need to be.
Regardless of whether non-traditional students make up a significant chunk of your student body today, this demographic will be dominating higher ed in the years to come. Those institutions best prepared for that change will flourish, and those that don't may face new struggles. So here's some easy first steps.
Get reading. Be it NPR, our resources, Inside Higher Ed, Chronicle of Higher Ed (check out Goldie Blumenstyk's research), or any of the other platforms covering this topic, make reading about non-traditional student issues a scheduled part of your week. Set aside a few minutes at a regularly-appointed time to stay up-to-date up on the topic.
Talk to your colleagues (and your students). Try to develop a sense of where your non-traditional offerings currently stand. At an intensive level, that can mean bringing in consultants (yes, like us) to perform an in-depth institutional analysis. But on a casual level, you can start with some watercooler conversations with colleagues—or, when your work puts you in contact with students, all the better. Think: are you currently actively working toward attracting non-traditional students? If not, why not? If yes, how so? And what kind of experience are students having once they actually enroll? Share our research and your on-campus findings with your senior leadership and gauge the support for building a better process. Now, create the marketing plan...
Consider your non-traditional personas. What kind of non-traditional student would your institution be most likely to recruit and retain? What kind of student would truly succeed there? Why?

Marketing personas are a way of conceptualizing your target market—and a key first step to getting serious about your efforts. You'll find more info in our e-book.
Needless to say, we're always happy to connect with you about where your institutional efforts are at, where you want to go, and the steps you need to take to get there (or, hey, just enthuse about Planet Money with you). Drop us a line at info@intead.com.