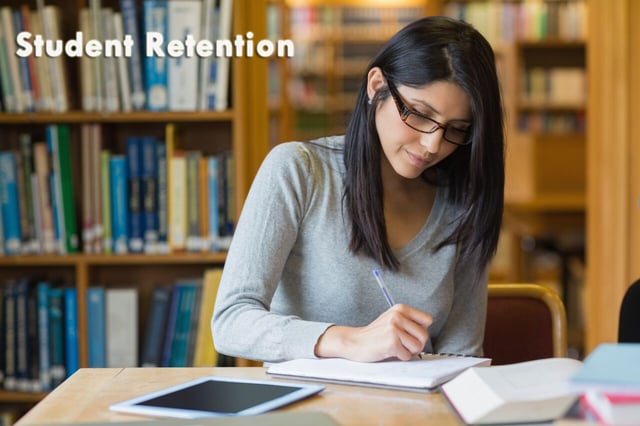 Do you get a lot of credit card offers in your mailbox? We certainly do. Those banks are paying a tremendous amount for all that direct mail. And they have analyzed the ratios and response rates to know beyond any doubt that RETAINING a current customer is FAR less expensive than RECRUITING a new one. Yet they still know that spending marketing dollars to get a new one is worth it, if done right.
This week is about recruiting and retention.
Last week we borrowed from grocery store market research to learn about marketing your student outcomes. This week we will borrow from industry again to consider how international student experience relates to student retention. In other words, how to keep your customers happy. (Hint: listen to them).
We know that student retention is important. Your goal is to get them in the door AND see to it that they earn their degree. That produces satisfaction for everyone involved, on many levels. Here's the thing: NAFSA's research says your perspective on what keeps a student is likely different than the student's perspective on the same thing.
Bottom Line: Current research from NAFSA suggests that international students want more internship and job opportunities and they will move around to find them. Setting clear expectations about what you have to offer before students arrive and listening to what they are really seeking from you will go a long way toward creating the student experience that results in retention and degrees earned.
We are full of questions today, and Emily is ready to step out of the box and tell us more about how student experience drives retention. And how you can drive student experience.
Recently, the Intead staff wondered, "What about retention rates?" This is a good starting point for an interesting discussion. What we want to know is:
Are we thinking about international student retention the right ways?
Should we be recruiting differently to positively impact international student retention?
The answers to these questions should shift things for the better; making strategies more mindful of what the students want. Though you might think you know why students leave your institution, you need to really know why students decide to stay or go. Lucky for us, there is data on international student retention. So, let's answer these burning questions.
From 2013 to 2014, NAFSA did quite a lot of research on retention. This research was based on responses from 480 international education professionals at 100 U.S. higher education institutions and 517 international students from 83 institutions. The goal of the research was to discover reasons international undergraduate students, coming to the U.S., may choose to leave before completing their degree program. NAFSA tasked a team with developing a study that would uncover reasons for attrition and how to increase international student retention rates. The research, released in 2014, discussed both the students' and educators' perceptions of retention factors.
The results: we can begin to see the inconsistencies in perceptions of retention factors among students and university administrators. Educational professionals identified reputation, finances and academics as the top reasons why international students might leave their institution before having finished their degree. Students, however, cited their top points of dissatisfaction as lack of access to jobs or internships, affordability or availability of scholarships. The majority of the issues students discussed were financial.
Other stats released along with the report tell us that:
52% of administrators felt that a solid orientation program was essential to retaining international students, while just 22% of international student respondents agreed.

51% of administrators thought of writing and tutoring services as good retention tools while only 21% of international student respondents agreed.
Could it be that we have some trouble listening to our customers?
There is a knowledge gap between institutions and the international students they are serving. This disconnect leads to ineffective use of scarce resources. Instead of building an effective, well-staffed internship placement program for international students (so few US universities do this and it drives us crazy), they are putting funds into services the international community is less thrilled about.
Consider how sought after student services (like job placement support) might be incorporated into your international student recruitment messaging. Mmm-hmmm, that would be a real draw, wouldn't it? Right now, Northeastern University and Drexel University are thinking, "HEY! Stop talking about this. You are reducing the value of our strongest marketing differentiator."
The summaries of NAFSA's report included some interesting and meaningful points, such as mismatch between expectations of students prior to enrollment and the actual experience of students once they are on campus. This is where advance communication (marketing) to applicants and enrolled students can set expectations and improve retention.
Sheila Schulte, Senior Director, International Enrollment Management/International Student & Scholar Services at NAFSA offered that the analysis of the differences between what institutions think and what students think as factors affecting retention can inform practitioners of where and how to spend their time, money and energy to assist international students on their campuses. She concludes that the three main findings that can help institutions include (not surprisingly):
Understanding the diverse needs of the international student body

Coordinating internationalization efforts across campus

Investing in programs and services that improve student experiences
And the report points to the fact that international students getting solid information at the outset, as they make their decision about which university to attend, are more likely to stay once they arrive. It is about managing expectations and truth in marketing. Again, no surprise there.
What do YOU want as a customer? Pretty basic stuff, right? You want to find that the product in the box is the same as what the marketing materials said you would get. You want to know that once you starting using your new thing (in this case, a university degree) that it will perform as expected. And since this is a high priced thing you are buying and the process is a bit involved, takes a bit of time, it might be nice to try it out a little before you're done.
You might just find yourself asking, "Any chance you can hook me up with an employer for just a bit to see how this thing works before I'm done?"
Not an unreasonable request if you asked us. In fact, we hire international student interns to work at Intead all the time. It's not as hard to do as everyone seems to think!