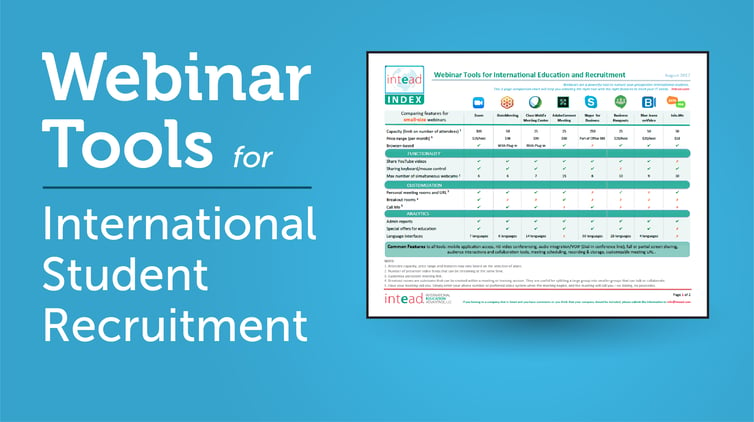 Welcome back! Fall semester is here and we're glad to be back at it!
So much has happened over the summer and it seems that the rules keep changing. The welcoming tone here in the US, or the lack of that tone, continues to be such an important issue as we plan and implement our recruiting initiatives. And yesterday, DACA appears to be in jeopardy.
The Intead team will be at NACAC next week and I will be presenting on these topics and the latest international student recruiting trends. I'm humbled to share the podium with Sundar Kumarasamy, Vice President of Enrollment Management at Northeastern University and Steven Bloom, Director of Government Relations at ACE. Please let us know if you'll be there too! Our Starbucks card is your Starbucks card - Let's grab a cuppa.
Right now, we're going to jump right into what you expect from our Recruiting Intelligence blog with some great insights into using webinars effectively. Hosting webinars is a popular strategy for international student recruitment – and for good reason.
As you know (we're sure you've run more than a few yourself at this point), webinars are flexible recruitment tools that can be effective at multiple points along the recruitment funnel – providing general information, generating leads and converting leads to applicants and enrolled students. The best part? The relatively low cost, of course. We know you don't have an unlimited budget.
There are also plenty of options on the market offering a wide selection of features like CRM integration and multi-language interface. But, you don't have to break the bank to host successful webinars. There are several free options that don't have all the bells and whistles, but might be more familiar to your prospective students.
The big question: have you chosen the best tool to host your webinars? Does it make a difference? Turns out—yes, it does. This week we are exploring the wealth of options at your fingertips and helping you choose the most effective tool for your institution. Read on to explore the possibilities and download our free comparison chart (link at the end of this post).
Special thanks to Lu Bai, our international student intern from Bentley University for her outstanding work researching webinar tools and features! Lu, you're the best; good luck completing your Master's this fall!
If you must, just skip to the end to download her webinar research – you'll just miss all of Cathryn's and Emily's great recruitment insights along the way ;-)
Thanks for being loyal readers and sharers of our research. Please read on...and let the classes begin! ~ Ben Waxman
Webinar Recruitment Strategies
by Emily R. Henry and Cathryn Andrews
How do you use webinars at your institution? We see three major ways you can consider using webinars in your international student recruitments efforts. Each method has a different goal and is used at a different point in the recruiting process and will require consideration as you decide which webinar tool best suits your needs.
Lead Generation: Building Awareness
Lead Nurturing: Converting leads to applicants
Lead Conversion: Converting applicants to enrolled students
Lead Generation: Building Awareness
To generate awareness for a specific program at your institution, develop webinar content focused on the benefits of that particular program. If your goal is to promote your stellar engineering degrees, hold a live session to clarify points of interest about your programs. You may even prepare an interactive presentation featuring your specialty and give students a glimpse of the material they would learn in that program.
Webinars can help trigger interest among prospective students and stimulate the long-term growth of the program by raising awareness and generate leads. Promoting the webinar widely via paid, targeted social media advertising and email marketing can help you generate new leads and raise awareness around your program offerings.
Webinar tool tip:
This is a great opportunity to use a larger webinar "room" to include a large number of new leads and prospective students.
After the webinar, email all registrants (especially the no-shows) offering a link to the webinar on your website. Encourage them to share it with their friends. (This is an important step for ALL webinars).
Lead Nurturing: Converting leads to applicants
If leads aren't your issue, but converting leads to applicants is, consider holding a webinar to convince your leads to move down through the recruitment funnel. With this webinar, walk your leads through the step-by-step process to admissions – bonus points for hosting it in your leads' native language.
This is a perfect opportunity to focus on visa information or general campus information for your international crowd. It will give your leads that one-to-one, personal connection with the webinar host (and your institution, by extension) that they need to make the leap into the application process. Consider having a recruiter or other first point of contact in admissions host the webinar to provide familiarity and a direct contact for webinar attendees.
Webinar tool tip:
A native language interface allows your prospective students to engage on a deeper level and share information with their families.
Lead Conversion: Converting applicants to enrolled students
Bring applicants together with a follow-up webinar. Once you've converted your leads to applicants, consider hosting an informative webinar for all of your international applicants at once. At this point, it is all about yield.
An information session like this gives you time to answer many questions in one sitting, and allows you to control the narrative so you don't get asked the same questions over and over. Addressing a list of FAQs allows you to cover basic information and move on to deeper concerns. This strategy also allows your prospective students to see who else is in the room – seeing many other international students present can be a draw for prospective students.
Webinar tool tip:
Make sure you have enough hands to make the session interactive. You want to be sure you can answer all the questions posed in the chat feature.
Webinar Tool Selection Chart
Now that you have considered your strategic use of webinars in your recruitment process, it's time to compare all of the options available to you. We have narrowed it down to 8 options for small-scale webinars (25-100 attendees), and 8 options for larger webinars (100-500 attendees) to help simplify your decision-making process. We broke out the key features you should be considering, including:
Capacity (Number of attendees)
Price range
Content library
Custom branding
Event registration and email automation
Download the Webinar Comparison Chart
Note that many tools have free trials available for those who want to test the platform first. Free trials also give you time to practice before you host a webinar, we recommend taking advantage of that opportunity.
So, which webinar platform will you try? What are you using now? What are your webinar goals? Tell us in the comments…