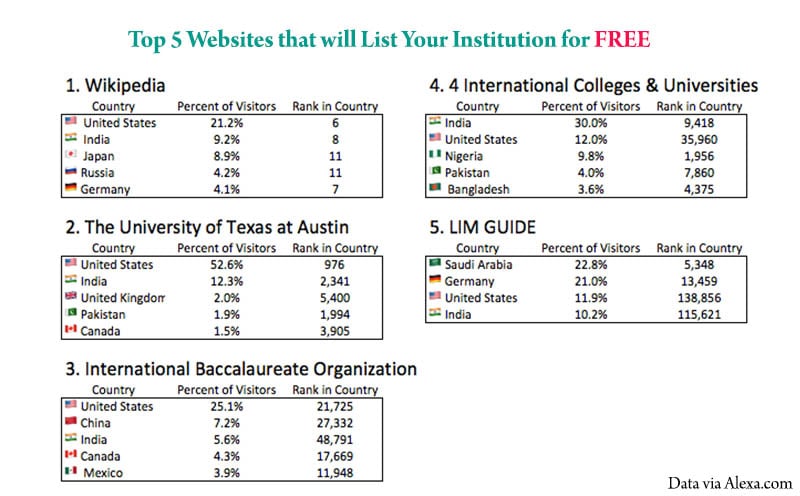 We talk a lot about digital marketing content that makes waves. No matter what your message is, it can't inspire prospective international students unless it is noticed.
Here's the thing, when international students search, will your institution come up in the results? Depends on where and how they search, right?
With digital marketing, there are many ways to get your message and content out there in front of those student searchers. And get this, some of the ways are absolutely free.
Yes, there is a set of international websites that will list your academic institution for free.
Bet you wish someone would gather those sites up into an easy list with some summary information. Heck, why not add the global ranking and unique visitor counts while they are at it? Who would do something like that for you?
Why, Intead of course!
We tasked Jacqueline Roodbaei, our fabulous international student intern from Hanze University in Groningen, Netherlands, with the assignment. Lucky for you, she's been working in our Boston office researching all kinds of things for us since September and this project was a no brainer for her.
All of these platforms can help your content get noticed by your target audience.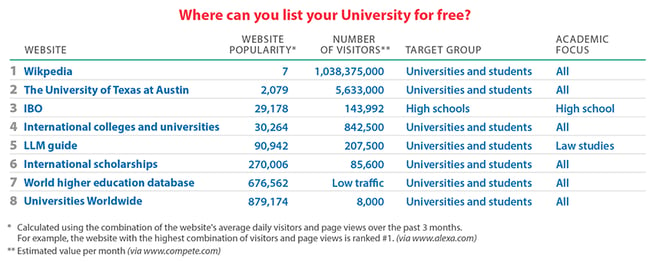 Websites listed in order of their global rank, according to alexa.com
It is safe to say that you've already heard of Wikipedia. This website is a powerhouse of information, and it can help you spread information about your institution as well. The Lists of American Institutions of Higher Education allows website visitors to browse Wikipedia for universities and colleges. Prospective students can search by state and they will be directed to a list of institutions in that state. Wikipedia boasted 430.54M unique visitors in May 2015 alone, not including visits from mobile devices. And because Wikipedia is user-generated, you can—and should—update your listing regularly.
The University of Texas at Austin's database shares direct links to colleges and universities. It only lists regionally accredited institutions. This website maintains links and post updates monthly to the What's New portion of their website.
The International Baccalaureate Organization (IBO) maintains a registry where their students can enter academic, extracurricular, college-interest and International Baccalaureate specific data. Universities and colleges may access this database and find potential recruits for their campus. And universities can create a profile so IB students can find them. Students and university recruiters can use the profiles to identify schools they would like to contact for more information or to arrange a school visit.
This search engine and directory currently includes 11,307 colleges and universities, ranked by web popularity. No registration is required and it is free to visitors and organizations alike. Data is updated on a monthly basis and ranking is brought up-to-date every six months.
This site has a set of requirments to be included on the registry. It does not include two-year degree-granting institutions or organizations that only offer distance learning. Check out their site for more information on the ranking methodology and find out how to add your institution.
Based in Berlin, Germany, LLM GUIDE gives their website visitors a directory of Master of Laws (LL.M.) programs. This site is quite specific, offering only LL.M. programs in their list and focusing on content for those interested in pursuing a postgraduate law degree.
InternationalScholarships.com, acts as a resource for financial aid information for students who wish to study abroad. The mission of this website is "to promote international education worldwide through the development and publication of the most comprehensive database of International Education Financial Aid information available on the Internet." To add financial aid information from your institution, contact the site administrators using this link.
International Association of Universities (IAU) offers the Worldwide Database of Higher Education Institutions, Systems and Credentials (WHED) Portal that provides complete information about higher education institutions. While IAU members have access to more features, access to this portal is free. Members have the option to add news and photos to their institution's entry. Find out how to become a member or read about how data on institutions is collected here.
This website links to 9385 universities as of December 28th, 2015. Klaus Förster, who works and teaches at the University of Innsbruck, maintains this website. The database is comprised of institutions listed in Christina DeMello's "College and University Home Pages" and the IAU's "World List of Universities 1997" in an effort to keep this information free to the public. However, you can also take advantage of the option to list your institution yourself.
Getting your university's name and content out there is extremely important. Taking advantage of these free sites is another way you can make sure you are reaching your target audience online. Every search counts, especially when your institution is among the search results.
Bottom Line: find a student intern, arm them with this list, and get your information out there!
And let us know what you think. Do you use any of these websites already?