University President is a high profile and very challenging position. Trends in higher education are not making the position easier. As a result, we were interested in this little study of What Presidents Think underwritten by Pearson and published by the Chronicle of Higher Education.
So here we go. Well, presidents are worried about...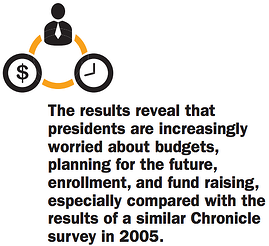 Maybe no surprises here. Presidents are worried about the financial situation of their institutions almost above all. For a while now they have faced the challenges of raising more tuition revenue from students, declining state funding and challenged endowments.
We are highlighting two charts from the research findings we found most telling. Let us start with Figure 16 from the report: Steps taken to reduce net costs for students (see below).
Interesting that fund raising is of highest priority. In the long term, this should be a favorable development if endowments grow. But the immediate impact will be small if you consider the economics of endowments. Let's assume that a $1 million fund raising amount will generate an annual return of 5% or $50,000 in funds available. Granted this will be an annual recurring revenue stream.
The next priority steps taken involve creating more student generated revenue and utilizing existing facilities more efficiently. These steps raise more revenue without increasing the costs to the same extent. Clearly valuable moves here if you can make them. This direction will require identifying more tuition paying students and offering attractive programs. Perhaps an increase in marketing expenses is necessary to make it work. That can be a hard step to take for any organization, especially one with political fiefdoms eyeing every increase in resources being allocated to someone else's department.
Of course we love the concept of finding more out-of-state and international students. We wouldn't be in this line of work if we didn't think this is a cost-efficient and institutionally valuable direction for U.S. academic centers. There is room for improvement in effectiveness, scaling and growth of these efforts in most institutions. And while competition is growing, the field is still fairly open for institutions to create a stand out brand without being among the top ranked US schools.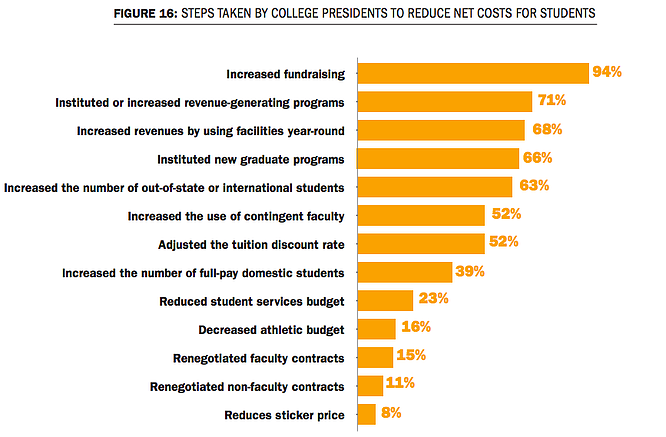 (source:http://services.intead.com/insight//insight/are-university-presidents-worried-about-the-right-things?hs_preview=eq9FyHQ5-493204324)
Figure 15 from the report (below) caught our attention since it focuses on the direct value and return on the education investment for parents and students. We find the comparison of Presidential vs. Employer perspectives. From our point of view, the business world will always drive this story. Those with jobs to give get to define the training that they believe will produce effective, valuable employees. In general, work experience is valued much more by the business world than the academic world. What we find colleges often miss is how effective they can be at weaving work experience into the college experience to the benefit of everyone involved.
However, to do this well, it requires dedicated (expanded?) resources within the campus structure who will build the many bridges needed between the school and the businesses seeking interns. You cringe, "Not another request for resources..."
Yes, these relationships between college and employer need to be nurtured and students need hand holding to make the work experience a positive one for them and the employer. That's what education is all about - providing the environment where learning can happen so that, upon graducation, your newly minted alums are in the best possible position to succeed. The image of training wheels comes to mind. After you graduate, you shouldn't need them anymore. But it is a lot to ask your students to start peddling without them at the start.
Chart 15 shows a huge gap in perceived importance between the two groups. It should give President's a few thoughts on what to do.
As an employer, who respects and values education tremendously, we are still surprised about the poor "real world" preparation of students. We hire college interns each year, many of them are international students. While poor writing skills are always lamented by those in academics and the business world, there are other skills that are necessary for the work world.
Basic skills in PowerPoint and Excel as tools to express your ideas and creativity are great to support first impressions in any economy. If you want to win the job and then impress your colleagues with your abilities and ideas, knowledge of collaboration and communications tools will give you the competitive edge. Yes, as employers we want candidates who are well rounded or have specific industry-relevant skills, and today's workplace looks for a few other talents that are common among those who are rising the ladder.
Bottom Line: Whatever combination your institution looks to, fundraising, new program development, international student enrollment, or career-focused student services, the business world understands that to make more money, you have to spend money. Where you choose to allocate the limited resources you have is really very important.
From our point of view, if you are trying to develop the world's future workers, listening to the employers (your ultimate customers of the product you are producing) will serve you well. There are tough times. We push our clients to use the data around them to make wise investments based on their unique selling points. Clearly defining what makes your school relevant and different from the others is absolutely essential.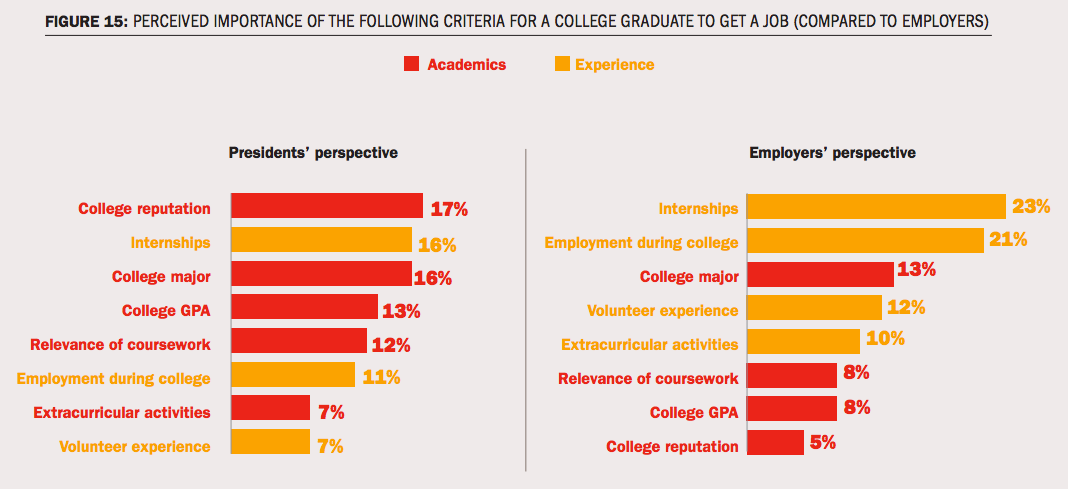 (source:http://services.intead.com/insight//insight/are-university-presidents-worried-about-the-right-things?hs_preview=eq9FyHQ5-493204324)