Understanding your prospective international students is a perpetual task. Our colleagues from Hobsons Australia and UK published this report with sound advice, called "Beyond the data - influencing international student decision making"
Elevator summary:
International student program selection precedes country selection
Pricing is the third critical decision making factor
Rankings and tuition are rated much higher when students are asked to choose than student satisfaction
Students need to be nurtured from the information gathering phase through to inquiry and then applications
Institutions must be clear on their brand value proposition for each program
Students have expectations about response time to inquiries and applications
And now for the detailed discussion:
The authors emphasize that the fact that students select a program first, before they focus on the destination country. This selection order demonstrates the importance of your marketing leading with what matters most to the prospective student specifically targeting where they are in their decision making process from initial research to inquiry to application to acceptance letter. Right message – right time. We agree.
Chart 1 (below) shows the sequence of responses and still shows very high percentages where the country is the key decision making factor. This report was produced by the UK and Australian Hobsons group and focused on a comparison of student decision making around UK and Australian institutions and did not show the U.S. as part of the decision criteria. We consider this a weakness of the report given the relative dominance of U.S. institutions as the preferred destination for international students. Had the U.S. been included, the results may have been quite different.
Hobson's research focus may have to do with the fact that Hobsons appears to have stopped supporting international enrollment marketing in the U.S. Still, the insights of this research are relevant since we are all competing for pretty much the same students from Asia, Africa, Latin American, etc.
Chart 2 (below) covers a critical area for enrollment marketing -- international student customer service expectations. Note that a majority of students expect responses within one to three days, which we know from our various student mystery shopper experiments does not correspond with reality. See our blog entries: 1/3 of universities ignore international students, or watch the video with Lisa Cynamon Mayers with our results.
In our experience, best practices involve university customer service under utilizing social media and on-demand, online content to provide students immediate access to their inquiries and allowing them to research and explore your programs before contacting the admissions department. It seems to be a general trend in our society and the rising generation of students that we expect 24-7 customer service. This is an important consideration since the standard 9am - 5pm working hours may not be the most accessible time frame to reach international graduate students and U.S.-based online and non-traditional students who typically hold jobs.

Chart 2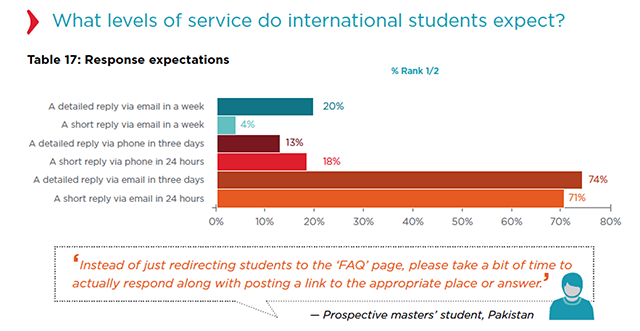 The Hobsons researchers shared additional findings we thought worth sharing. The following points in italic are offered more or less verbatim from the Hobsons research summary followed by Intead commentary:
Program

rankings are more important in student decision-making than institutional

rankings or other factors including fees.

We agree with our colleagues that institutions should lead marketing campaigns with their top performing courses, paying specific attention to subjects or courses in which the institution ranks particularly well. Do not underestimate the power of the 'halo' effect.
Perception of student satisfaction does not drive choice of institution.

Other factors

such as rankings and fees are rated much higher when students are asked to choose. We recommend that institutions include student satisfaction as a secondary marketing message. Where reference in institutional marketing is made to student satisfaction, it is recommended that the satisfaction at course level is communicated, as it has far greater meaning to the student. Students consider student satisfaction important when choosing their institution, but when it comes to making their decision, the information they actually use to make their decision is quite different.
Graduate outcomes are a key factor in international students' decision-making. Different graduate outcomes for postgraduate and undergraduate students need to be clearly defined. This involves aligning content and strategy with what the student wants once they have attained their degree.
Country level messaging reinforcing welcome and safety of international students will support institutional marketing. The government sector has a major role to play in providing consistent messages through policy and legislation in the UK and overseas. We would add that this is true of the education sector as well.
Students want to engage with institutions and their content through visual social media sites (YouTube and Instagram) during the research phase of selecting an institution.

This

suggests prospective students are looking for more lifestyle and student experience content than what is currently available through other channels. We recommend that a clear visual social media strategy, including video (both illustrative and regular), infographics (dynamic and flat), images and photos, will engage students and provide an influential additional level of content.
Generally, we couldn't agree more with Hobsons' overall findings. As we all know, universities need to find the internal staff allocations, fund external partners and deploy the appropriate technology support to follow the advice. With Hobsons exiting the U.S. market in respect to international student enrollment, we are finding our services more in demand. We often help institutions determine what kind of allocation is necessary and then justify that budgetary request internally. And that's just phase 1. We make a pretty good implementation partner too.
You know how to reach us. We're here to help.