This is the third installment of a three part series. Click here to read Part I or Part II.
In the US we are well aware of institutional competition. Anyone who works for a college or university can name competitor institutions in an instant. When it comes to international student recruitment the competition shifts to a global scale. Global competition is a whole different beast to consider. Institutions that may be well known regionally in the US and even those with a national or international reputation are suddenly being compared to institutions from around the world. International students aren't just deciding whether they will attend a college in California or New York, but whether they will go to the US, Canada or Australia. The competitive model is different and with that knowledge institutions must plan accordingly.
Vietnamese students are inundated with information from international institutions. During a recent visit to Hanoi, Vietnam I had the opportunity to see ample advertising of international programs and preparation services. A relaxing walk around the Old Quarter in Hanoi revealed a tremendous volume of banners advertising test preparation services, advising services and university programs. Here's a small selection of the banners I observed in Hanoi: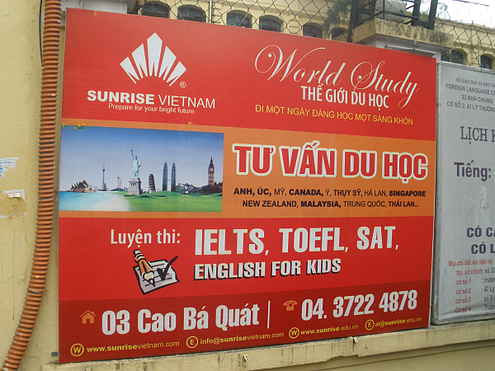 Sunrise Vietnam: Prepare for your bright future. This advertisement highlights test prep options and study abroad in the US, Australia, Canada, Singapore, New Zealand and Malaysia.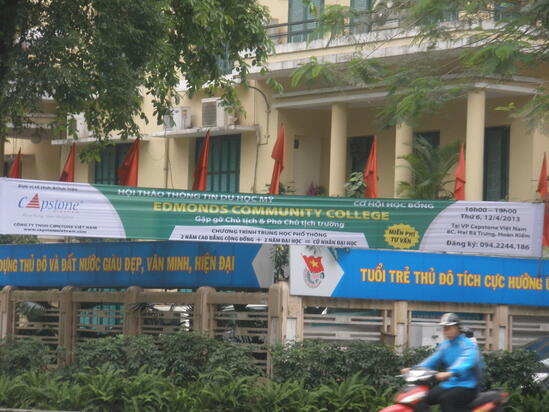 Capstone Vietnam: Reaching New Heights. Capstone offers college fairs, college counseling and other services for students. Notice that this banner advertises a community college in Lynnwood, Washington.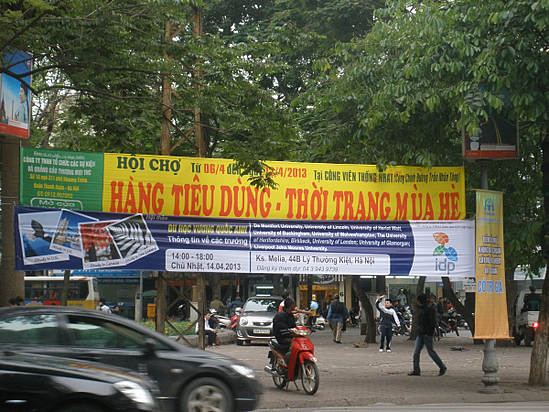 IDP's banner highlights study abroad programs in Australia.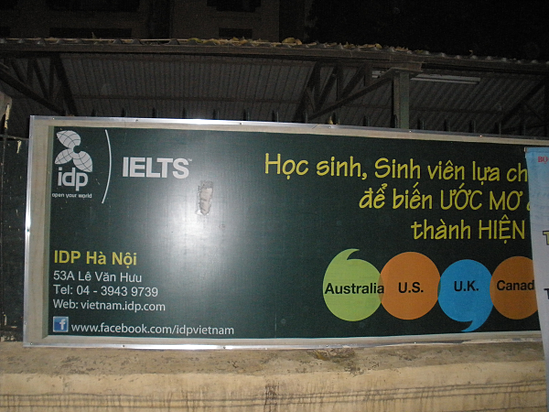 IDP publicizes the IELTS exam and study abroad programs in Australia, the US, the UK and Canada.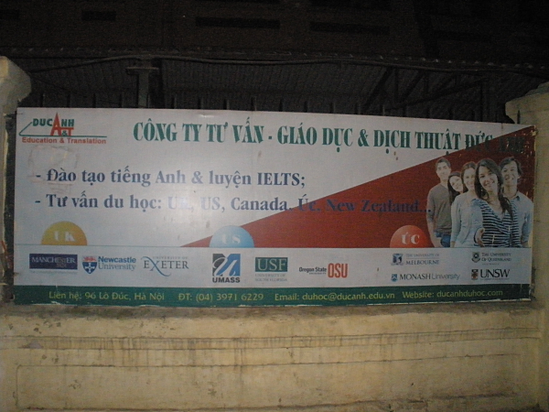 Ducanh Duhoc highlights education opportunities in the UK, US and Australia. UK universities: The University of Manchester, Newcastle University, the University of Exeter. US universities: University of Massachusetts, University of South Florida, Oregon State University. Australian universities: The University of Melbourne, Monash University, The University of Queensland, the University of New South Wales.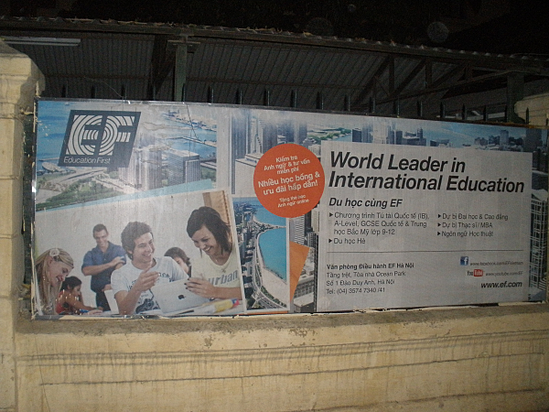 EF, Education First, offers study abroad programs, language education, educational and leisure tours, cultural exchange, academic programs and more.
As you can see from this small portfolio of images, attracting Vietnamese students is fiercely competitive. And Vietnam attracts fewer Western universities compared to India or China. If you have entered the Vietnamese market or are considering a campaign to recruit Vietnamese students, you need to plan carefully so that your institution or programs will stand out from the competition. Given the amount of material that inundates Vietnamese students on a daily basis, effectively marketing your institution will take a concerted effort and the allocation of time and resources, both human and financial. Unique, distinctive, appealing-- these are the kinds of themes your marketing campaigns will need to take.