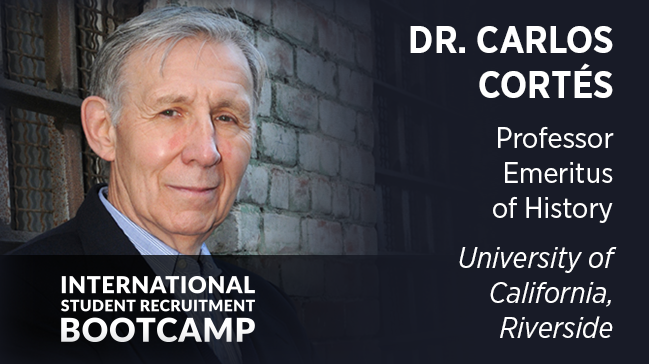 Dr. Carlos Cortés has had an amazing career and tells a great story. He was one of our keynote speakers at our International Student Recruitment Bootcamp back in January and we've captured the best parts of his talk here in an 18-minute podcast.
Along with a great talk and discussion over dinner, everyone who attended received a signed copy of his book Rose Hill: An Intermarriage Before Its Time. This was a treat. And now we can share it with all of you.
Dr. Cortés addressed campus diversity and cultural competency issues from a unique perspective. And he asked us all to consider some provocative questions that are hot issues on campus today. How do we evaluate our desire for freedom of speech when students are fighting to squelch offensive speech? And what does this mean for the integration of international students who are learning English as a second language?
Take a listen to his fascinating talk. You'll be glad you did.
Dr. Carlos Cortés Podcast presentation from January 29, 2017 International Student Recruitment Bootcamp in San Diego, CA (abridged).
More on Dr. Cortés:

Dr. Carlos E. Cortés is Professor Emeritus of History at the University of California, Riverside.
Since 1990 he has served on the summer faculty of the Harvard Institutes for Higher Education, since 1995 has served on the faculty of the Summer Institute for Intercultural Communication, and since 1999 has been an adjunct faculty member of the Federal Executive Institute.

A consultant to many government agencies, school systems, universities, mass media, private businesses, and other organizations, Dr. Cortés has lectured widely throughout the United States, Latin America, Europe, Asia, and Australia on the implications of diversity for education, government, and private business. He has also written film and television documentaries, and has served as Scholar-in-Residence with Univision Communications and Creative/Cultural Advisor for Nickelodeon's Peabody-award-winning children's television series, "Dora the Explorer," and its sequel, "Go, Diego, Go!"

The recipient of two book awards, Dr. Cortés has published widely, including three major book series on Latinos in the United States, totaling 106 volumes.

Dr. Cortés' honors include the NAACP Image Award, the National Association of Student Personnel Administrators' Outstanding Contribution to Higher Education Award, the California Association for Bilingual Education's Inspiration Award, and the University of California, Riverside's Emeritus Professor of the Year Award.