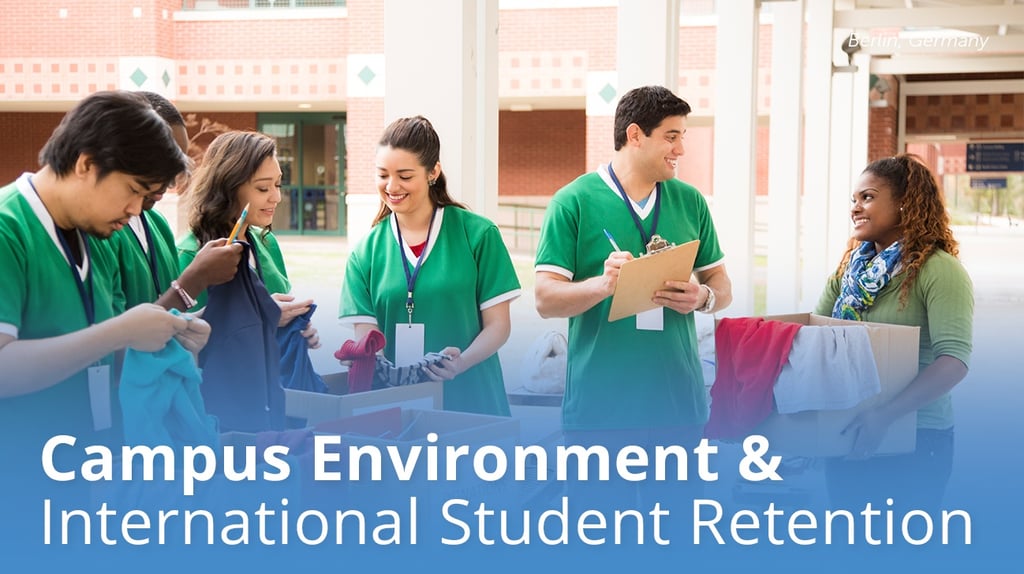 Well folks, the week of NACAC has finally arrived! We are excited to meet so many of you at our pre-conference workshop and throughout the conference itself! If you are not already planning on attending, we invite you to join us for our presentation: Best Practices for International Recruitment Marketing at 8:30 on Friday morning in room 254 (yes, the first session of the day—we know it's tough, but we promise to perk up your morning!) We promise value for your time. You'll hear trends and tactics from Sundar Kumarasamy from Northeastern University and Steven Bloom from ACE. So many changes happening in our field these days.
If you can't make it, we would also be happy to schedule a 1:1 meeting, just drop us a line!
In the blog this week, we are taking a look at strategies for increasing international student retention through simple changes to your campus environment. Taking it back to the basics with a simple analogy, when you go to someone's house for dinner, do you stay longer if you feel welcome? We do!
And, we're sure that when you have guests, you try to make sure they feel welcome too. But, do you always do the same for your international students? As you well know, getting international students to your campus is only half the battle. Are you doing enough to ensure they stay? We all know that it costs less to retain a student than attract a new one, so remember ­– just like when you're visiting your friend's for dinner, if you make your international students feel welcome at the beginning, they are more likely to stay until the end.
Bottom Line: When students feel welcome and included on university campuses they are happier and do better in their studies. And, they tell their friends back home about it (bonus)! Read on for practical tips and techniques for increasing retention by making your international students feel welcome from the get-go.
Earlier this year, the fifth annual International Student Survey by Hobsons received more than 62,000 responses from foreign students who intended to study abroad at one of 65 universities around the world. The survey report showed that 31% of respondents felt "the degree to which a place feels welcoming" was the most important factor in their choice of a study destination.
According to the ICEF Monitor, a supplemental poll conducted in March 2017 asked students who intended to study in the US to measure the impact that the current administration's travel ban on travelers from six Muslim-majority countries would have on their decision to study in the US. None of the students who responded were from the countries mentioned in the travel ban, however; 36% of the 1,030 respondents said that the proposed ban would influence their decision to study in the US—and two-thirds of those said that they were reconsidering their plans to study in the US, because of the travel ban. Hobsons states, "this suggests that 22% (61% of 36%) of prospective international students considering the United States may be reconsidering their decision to study there."
Right, we get it! It is now all the more important to provide a welcoming campus environment for your international students and spread the message that #youarewelcomehere. (If you have not yet joined the global campaign, please do).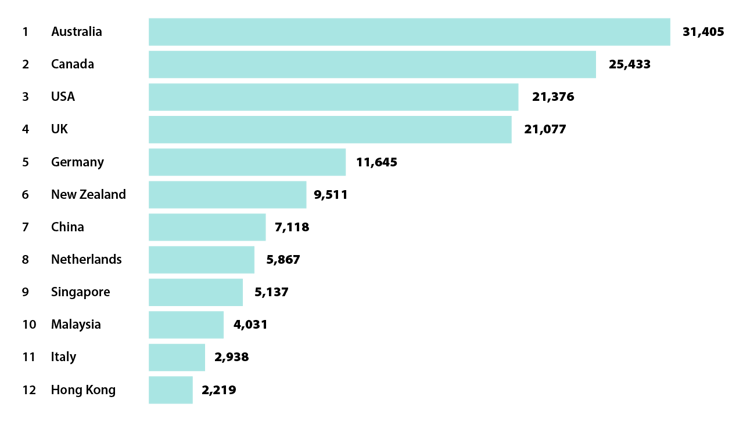 Overall rank and weighted rank score for which countries are seen as most welcoming to international students. From Hobson's survey of 62,000 prospective international students.
Information Source: Hobsons
Chart Source: ICEF Monitor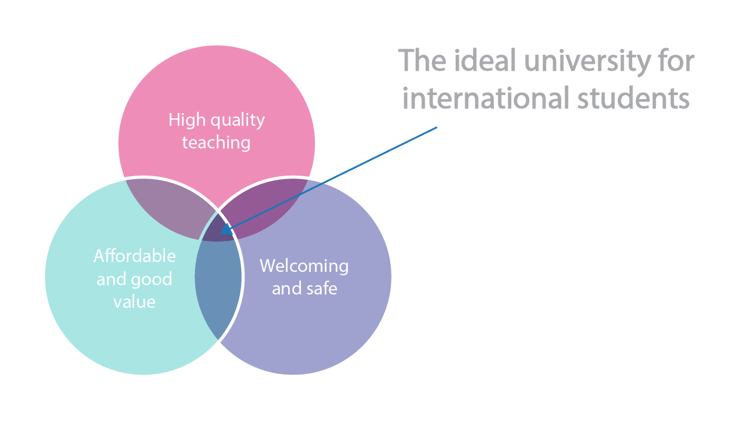 Mapping the ideal value proposition for prospective international students. Source: Hobsons

What are some ways you can help make your students feel welcome?
Provide Key Services
Services like airport pick-up or local language partner programs can help students connect with domestic students and form long-lasting bonds with their surroundings. Airport pick-up can be a great way to show international students that you understand their anxiety around their big move – we all know they have plenty of it!
If your staff or student volunteers are unable to provide this type of service, make sure that someone has the flight information of international students and send them a text or email when they land to check in. Being available when they land in case they run into any hurdles sends such a strong message from day one. It's the equivalent of meeting your dinner guests at the door as they arrive.
There are other services that you probably already offer that could be adjusted for international students. Services like mental health counseling or career counseling are likely already on your campus. Simple changes like mentioning OPT placement support on your career services website and culture shock on your mental health services site can have a real impact. Tailoring these services for non-domestic students shows them that you are keeping their unique obstacles in mind.
Success here brings happy messages sent back home (see our blog post from September 2016 about how your current international students can help you recruit).
Organize Something Early
It helps create a positive first impression when orientation for international students is early and engaging. Students need an opportunity to get to know campus, your university's town and each other as soon as possible. Being in a new place – especially a new country – can be scary.
Schedule a scavenger hunt around the town, or take a campus tour that includes some fun facts or games. Do this as soon as possible. The sooner students feel acclimated to their environment; the sooner they will feel comfortable with other aspects of their new home. Throw in a school t-shirt, cap or mug and you're sure to earn a smile.
Organize Events Regularly
Since being away from home can feel isolating, students might need a bit of extra help to get out and have some fun. Hosting regular events for international students can help curb the home-sickness. The options are endless. Try an international food night or an international Thanksgiving, have students share their holiday traditions one month or cheer on their national teams during international sporting events.
Nutrition Services
Talk to your campus food service providers about menu planning to be sure a variety of options are always available in the cafeteria. Think regionally and consider rice, beans, hummus and seasonal vegetables. Pizza, burgers and hot dogs won't please everyone...so not welcoming.
Give Them Information – Lots of It
Being a recruiter means answering a lot of questions, sometimes too many questions. This is especially true if you are trying to help students from abroad (and their parents) feel more comfortable making a major transition. While some questions can seem tedious, the more information students are armed with when they arrive on campus the better prepared they are to make themselves feel at home at your university. This applies to orientation as well.
Provide handouts and links that new students can reference later on – the information overload is real, and you want to make sure that new students are equipped with everything they need to excel.
Bring Students Together More Often
Another important aspect of the welcome event is giving students many opportunities to actively engage with one another. All students, but specifically those without family nearby, need a support system during their time on campus and over holiday breaks.
Organizing a social event with food to share, or even interactive games during orientation, can help students relax and get to know one another. Your new students need their peers to lean on when they are far from home.
You might also help them organize holiday break gatherings. Better yet, help them find local American families to host them. That's welcoming!
What events and activities do you implement to make sure your campus is a safe haven for international students who are being bombarded by daunting headlines in the news? Share your ideas with us in the comments. We look forward to reading them.