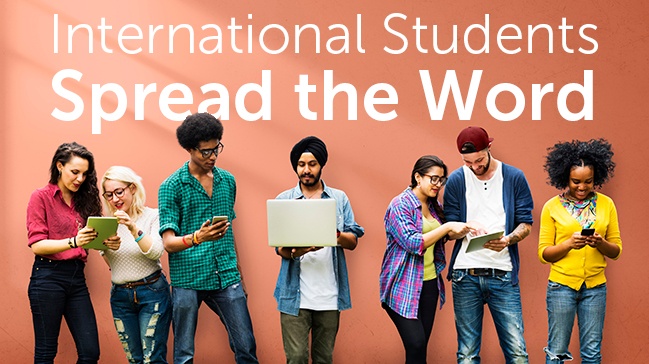 Did you know that, even in the digital age, the most effective marketing strategies for universities involve direct interaction with prospective students? In 2014, Hanover Research released results of a survey that showed just that. This is big news! Why? Because even with all the online and print promotion that you are doing, one-on-one connections still drive recruitment! And not only that, they really work.
Now you're probably thinking--that one-on-one contact is really a lot of work and hard to scale! We get that. Reaching out to students one by one can take a lot of time and effort. But remember all of those international students you worked so hard to recruit and admit to your school? Hanover Research suggests "mobilizing alumni networks and current students to become your brand ambassadors." This is just one approach to maximizing your student recruitment opportunities.
Bottom Line
You have a wealth of knowledge about and great connections with your target populations right at your fingertips. Are you wondering how you can start utilizing your resources? We're going to introduce you to 5 ways you can use your new institutional ambassadors to spread the word about your institution, get their network talking and keep prospective international students engaged. We're certain there is someone on your staff who would value this post, so share away!
Special note: Intead is once again honored to present our latest insights at the NAFSA Region XI Conference (Newport, RI, October 18-20). Our session, A Mystery No More: Successfully Engaging Students in China and Beyond, will reveal the results of our international student mystery shopping experiments of your peer institutions. Best practices, with a focus on digital marketing, will be explained for prospective international students from initial contact through enrollment. We'll place special emphasis on social media factors that affect student recruitment in China. We would love to meet you and see if our experience can help you address the challenges you're currently facing.
So, this idea of incorporating your current international students into your recruiting process is not new. But how to actually do it? Let's look at the basic mechanics of 5 great ways to help prospective international students feel welcomed and engaged.
Referrals
This one might go without saying but it is incredibly important. It is common for students' siblings and friends to want to go to the same school as them. But, that is only when they hear positive comments about it. Encourage your students to do just that. Additionally, take time to ask your international students if they have referrals that you can contact or ask them to put their classmates back home in touch with you. These are great ways to broaden your recruiting opportunities. When you ask for help, you're likely to get it. Put this request out at least once a year.
Social Media
Have you heard of a social media take over? This is usually when a celebrity takes over a brand's social media account for a period of time. It excites followers and introduces the brand to new people. You can do the same thing with your on-campus international students. A social media takeover is a fun and engaging way to use your tech savvy students to get the word out about what makes your university so great. Encourage your current students to use your account to follow friends abroad who might be interested in your institution. Create more direct connections. Pick a different student, from a different country, each day for a week or a month and watch your opportunities grow!
Student Blogs
Young people often blog on their own. Why not ask them to do it for your school? Student blogs can be a great marketing tactic and a great experience for journalism or English majors. Student blogs are often more interesting to prospective students than the average articles on universities' websites because students are more in touch with their peers. Just like a social media takeover, you can utilize the tech skills of any of your students to get other young people talking. Have your students blog about topics they know prospective students in their home country would want to hear about. The challenge for you is playing the role of manageing editor to keep the posts on target and consistently produced.
Community Building
Make a whole lot of extra effort to make international students feel at home on your campus. Creating or helping to establish student groups on campus for international students can help. These groups can include culture clubs, language clubs, food clubs and many others. And they don't have to be exclusive to just international students--inviting all students to join can help bring a sense of unity to the student body. Isolated pockets of diversity really don't contribute to the learning environment in the way you wanted, right?
As a bonus, these groups can help you advertise without much effort. Ask them to put their own group or club websites and social media accounts and campus flyers. Help them identify online forums in their home countries where they can talk about their group meetings and group social media accounts. Ask them to help you show prospective international students exactly how supportive you are of their culture on campus.
Brainstorming
You have the perfect market research data just beyond your office door. Take the time to ask your international students about their experiences. Find out what you did right and what wasn't done so well while they were being recruited by your institution. You can even set up a brainstorming meeting to ask international students what they think you can do differently to reach their peers back home. Be sure to ask them what convinced them to choose you over their other options (on average, they received 4 to 5 other acceptance letters and still, they opted for you!). Their answers will help inform your international student recruiting across many channels.
You have a great group of smart, motivated international students right there on your campus. Find out what went right in their admission process, and ask them if they would consider being a brand ambassador to their friends and fellow international students back home. This kind of connection is one of the best resources you have available to you.
Have you worked with your international students to help you recruit internationally? If so, let us know!
Next Week: 5 Ways Your International Faculty Can Help You Recruit. Stay tuned!