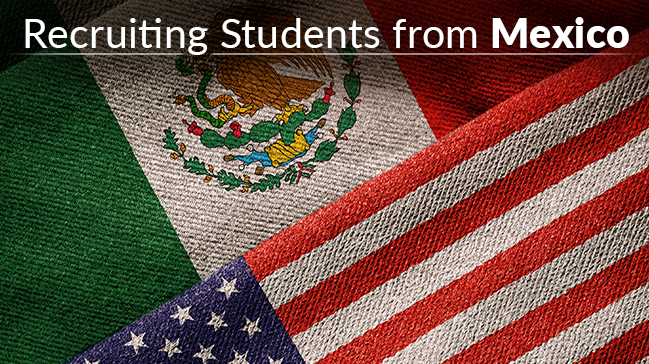 A little while back (after the U.S. election), we shared a blog post titled "So, How Do We Market U.S. Higher Ed to the World Now?" One of the most staggering facts we mention is the number of students from Mexico who stated they would be less likely to study in the U.S. in the case of a Donald Trump presidency. This number was 80% of those surveyed!
With responses like that, many of us in this field are left wondering what the recruiting climate in Mexico looks like now. How can we address the ambivalence, insecurity or downright dislike many Mexican students and their families feel about studying in the U.S.?

Bottom Line: Political situations always impact recruitment efforts. In the aftermath of the U.S. election, you can expect some negative repercussions for student recruitment in Mexico. Be prepared to reassure prospective students in Mexico. Continue to focus the points that make your institution's culture different than anywhere else, but add extra emphasis to the topic of safety and the welcoming environment your institution offers. For graduate students, remember to talk about how your institution can help them further their career. Use your current students as authentic representatives. Don't ignore the significant issues but emphasize the success stories.
The results of our 2016 Know Your Neighborhood: Economic and Political Pressures on International Students Report will be released next month. The report is based on the results of the FPPEDUMedia and Intead 2016 survey to 1.2 Million international students. To be sure you receive your free copy, sign up HERE .
Read on to learn more about the recruiting landscape in Mexico and ways you can reach these prospective students.
Why Mexico?
Enrollment of Mexican students in higher education institutions is growing significantly. In 2012, University World News reported that it is expected to be in the top 20 countries for higher education enrollment by 2035.

While higher education enrollment increases, the economy is also showing strong signs. In 2015, Mexico's GDP growth rate was 2.3 percent, not huge but steady for the past 3 years.. It has become an attractive market for global investors, further bolstering the economy.
Around 24 million people study English in Mexico, according to the ICEF Monitor. It is also the 18th largest market for English study abroad. In fact, the number of outbound language students increased by 35% between 2011 and 2013. Still, the majority of Mexican students who choose to study abroad seek Bachelor's degrees. Approximately 14,000 students flowed from Mexico to the U.S. last year. The next closest country, UK, drew only about 1,500.
However, there are still challenges for Mexican students wishing to study in the U.S.
Our research with FPPEDUMedia last year revealed that a large number of Mexican students were postponing plans to study abroad due to unfavorable currency exchange rates.
Outbound Students by Degree Level
| | |
| --- | --- |
| Degree Level | Percent of Total |
| Bachelor's | 83% |
| Continuing Education | 12% |
| Master's | 3% |
| Specialty | 1% |
| Technical | 1% |
| Doctorate | <1% |

Information Source: Patlani. (2016). National Survey of International Student Mobility in Mexico 2012-2013
and 2013-2014. Mexico: ANUIES. Found here: IIE
Tips for Recruitment in Mexico Now
British marketer Net Natives suggests that institutions promote the culture of their university. Mexican students are interested in the U.S. university experience and the unique atmosphere of the city they choose to study in. When recruiting, focus on what makes your city and your institution a special environment for students. Social media campaigns can have a far reach in Mexico; Facebook and YouTube are widely used with high adoption rates. At the undergraduate level, over two million English speaking students are on Facebook. At the graduate level, that number is just shy of two million.

Additionally, for graduate level recruitment QS Digital Solutions suggests that Master's and PhD students are concerned with furthering their career path and increasing their qualifications. They are also quite concerned with the reputation of their field of study at your institution. Subject reputation is the highest priority when choosing an institution, followed by the overall reputation of the institution. When recruiting, focus on these topics. And, remember that 58% of survey respondents from Mexico preferred the U.S. as a destination.
In uncertain political times, there can be some fear around travel and safety. The best way to address the negative impact some U.S. policies and news stories can have is to talk with your student prospects and their families. Ask questions about their concerns so you can better understand what other families might be feeling. The more informed you are, the better able you are to respond with relevant and authentic information. And the more secure they will feel with the great opportunity your institution represents.