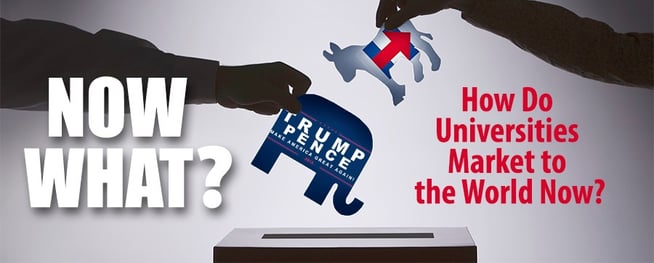 There is a new political landscape here in the US and in the UK. International student recruiting is facing some new, unexpected challenges.
Brace yourself, this is a long post and an incredibly important topic to all of us. We've tried to give some real food for thought and grist for action. As always, at Intead we try to give you the facts and figures in a concrete way. Strategic thinking that gets you to a tactical plan of action.
I'm betting there are at least a few other people at your institution you will want to forward this post to if you dive into it.
So, to get right into it, earlier this year we surveyed more than one million prospective international students thanks to FPPEDUMedia's powerful student database. More than 40,000 students responded immediately - that's some incredible engagement right there.
We asked them how current global, economic and political events are impacting their plans to study abroad. No surprise, our somewhat controversial question around international students' desire to study in the US based on the outcome of the presidential election has suddenly become a hot topic. For a variety of reasons, we didn't really expect to be in this place.
Now that we are, we have some new thinking to do. While the student responses we received were speculative (If someone wins, would you be more or less inclined to...), the responses were dramatically telling, nonetheless.
In case you missed it, 60% of 40,000+ responses said they were less likely to study in the US if Donald Trump were to win the election. That number rises to 80% when you look specifically at responses from Mexico. Now we have your attention, right?
So, how does our messaging to international students' change now? How can we recruit international students who are wary of US travel and their safety here? How can we make our campuses feel inclusive and welcoming for our current (and future) international students? What about parents?
In the past week, we have discussed these topics with reporters at the New York Times, Chronicle of Higher Education, Hechinger Report, The Pie News, EL Gazette and others. There are many angles to consider.
In an effort to help this thinking, this conversation, move forward with all of our colleagues in academia, we are hosting a webinar later today (Wed., November 16) at 3pm Eastern Time to consider the angles in our new, post-election landscape. We will discuss what all this means for your recruitment and marketing plans. The webinar is complimentary, but limited to 75 seats. By the time you read this, we are likely already full to capacity, so we are looking into hosting another one. Register here to be put on our waiting list.
Dive into this topic in a more substantial way: Meet Us in Miami or San Diego
We will be sharing our global digital marketing insights and discussing ways to move forward in our new political landscape at some upcoming conferences. In December, we will be presenting at the ICEF and AIRC conferences in Miami. In January, we will be hosting the first annual International Student Recruitment Bootcamp (2016 theme: What Works Where) presented in partnership with CGACC. Let us know if you'll be at any of these conferences–we'd love to chat.
Read on for perspective on how we do that global recruitment thing given the new political landscape…
What we know
The data we collected was about international student inclination to study in the US based on the outcome of our presidential election. That was back in February 2016. How international students will actually behave, whether the US as a study destination has changed in their minds now that the election is over, is still unclear. We are currently planning more in-depth research to get at exactly those questions. Anecdotal evidence from many of our clients this past week suggests we are in for a sea change.
We do have some points in history that can be informative. Previously this year, the Brexit vote put the UK in a difficult position vis-a-vis international students. We can compare the US presidential election results to the Brexit vote. In both situations, there appears to be a perception of the US/UK being less tolerant and less welcoming of foreigners. See this EL Gazette story and podcast on the topic.
Looking further back in time, consider the extreme racial violence against Indian students studying in Australia that made national news in 2009. A story in The Sydney Morning Herald describes the situation at the time. Since 2009, Australian international student enrollment has grown by 49% largely due to streamlined visa and job eligibility rules and the growth in Australian university partnerships with foreign institutions. All of these steps take time to implement. Recovery has been slow. Back in 2010/2011, international student enrollment in Australia dropped for three years running by 10 to 20% per year! 600,000 international students became 485,000.
The ICEF Monitor captured the fall out in an article in October 2012 and it wasn't pretty:
"The sector's downturn has also been expressed in these forecasts:
27,000 jobs lost including 7,300 in educational institutions and college collapses

23% fewer students in 2013 compared to 2009

The value of education as an export down by 22% in 2013 since 2009

A bottoming out of the sector at AUS $14 billion in 2013 from a high of AUS $18 billion in 2009"
UGH! To say the least.
How we approach it now
When we think about what universities and recruiters should do in our new landscape here in 2016, we approach it on 4 levels:
1) Strategic
Financial realities: Analyze where your current international students are coming from and what the ramifications of a drop-off might be from specific regions (Middle East, Mexico, other Latin American countries). Evaluate the financial ramifications. With your CFO and president, evaluate whether you might be able to withstand that kind of financial hit. What levers can you pull if you saw a 5-10% drop from specific regions? What if it is worse than that? Best to consider the options beforehand.

Internal alignment: Set internal expectations with leadership and colleagues–align them. Strengthen your internal culture as a welcoming community by giving everyone perspective on what international students on your campus mean to the educational environment and what they experience on your campus.

Advocacy: Consider your institution's role in advocacy here in the US. Federal immigration, work visa and other policies matter to university business models. How can you advocate for a positive business environment with your legislators? Consider your local connections and the power of larger associations like NAFSA, NACAC, AIEA, CASE, Independent Sector. If legislators do not hear from you, they certainly are not going to hear from anyone else advocating for what makes our educational institutions strong and vibrant learning environments.
2) Operational
Allocation of scholarship resources: Consider using scholarships as a way of drawing more international students to your campus to mitigate any drop off from specific regions. Scholarships are not often available to international students. This kind of campus decision can take time. Now is the time to open that discussion based on the financial realities of a drop off.

Student services enhancements: Consider adding to your international student services office budget. This office has an important role to play right now helping your current international students feel welcomed and safe. You want to retain the students you already have. The students' parents are going to be contacting you as well. They already are, right?
3) Marketing Approach, Messaging and Timing
Timing: When the national news is showing photos and video of real problems, launching an ad campaign that paints a rosy picture is going to fall flat. Sometimes it is important to work on the underlying foundation of your marketing approach and let time pass, dust settle, and be ready for a great launch down the road. Consider when your messaging is going to be well received and effective.

Cooperative promotions: Consider forming/joining a coalition of institutions to counter any perceptions that the US is not welcoming to international students. It may be better to get that message out as a united front with regional or national groups. Intead is looking into how this might work effectively in various markets.

Audience segmentation: Consider regional differences and how the US election is being viewed in Russia, the Philippines, and China vs. other areas of the world. How can you approach those regions where the current US political landscape may not be as much of a consideration for some international students.

International student messaging: Develop messaging to your prospective international student communities that identifies your campus as academically strong and globally welcoming. Tell stories (video anyone?) about the successful international students you have now and where your international student graduates are working.

International parent messaging: Develop messaging that reaches parents of prospective and current international students to reassure them that their children are welcome and safe on campus while they get an excellent education and terrific student support and career services.

Programmatic messaging: Consider messaging around your business programs along the lines of, "If you thought the US was pro-business before, we are even more so now!" If the new administration is able to put its policies into practice, the U.S. is about to become far more protectionist as a global trader and our industries (lots of them) are about to have far less regulatory control. There's an economic experiment that everyone will be watching! Come be a part of it!
4) Addressing immediate needs
Talking points: International student services staff and recruitment/admissions staff are all facing communication challenges right now. They are being asked by many current and prospective international students (and their parents) whether they are safe, whether they have made a good decision for their future, among other concerns. Your front line staff, faculty and institutional leaders need talking points today so they can answer these questions confidently and consistently. Those talking points are going to be different for each university. However, there are a few common themes that we believe everyone will want to express:

Confirm that you understand why some international students and parents have expressed concern based on recent media reports. A message of denial undermines your credibility in making other more positive observations. If you appear inauthentic, the rest of your marketing will fall flat.

Your campus is committed to being a safe place for everyone. Campus security and the local police have always been here and will continue to play an important role in ensuring the academic and local community is a comfortable place to live and study.

This has not changed: the academic and career advantage that a degree or program at your institution represents.

Validate the positive experience your institution represents: Provide some statistics of the number of international students who have graduated and the numbers who are currently enrolled at your institution. To the extent possible, have a success story or two of how international students (as a group or individuals) are doing something positive (research, community service, internships) that demonstrates the value of your institution. High level statistics, paired with specific human interest stories can paint a positive picture.
Whew! That's a lot of information to digest.
We hope this helps. And we hope you can join us for one of our upcoming webinars or conference workshops. There is suddenly so much to talk about and figure out together. Consider us your partner. We're here to help.