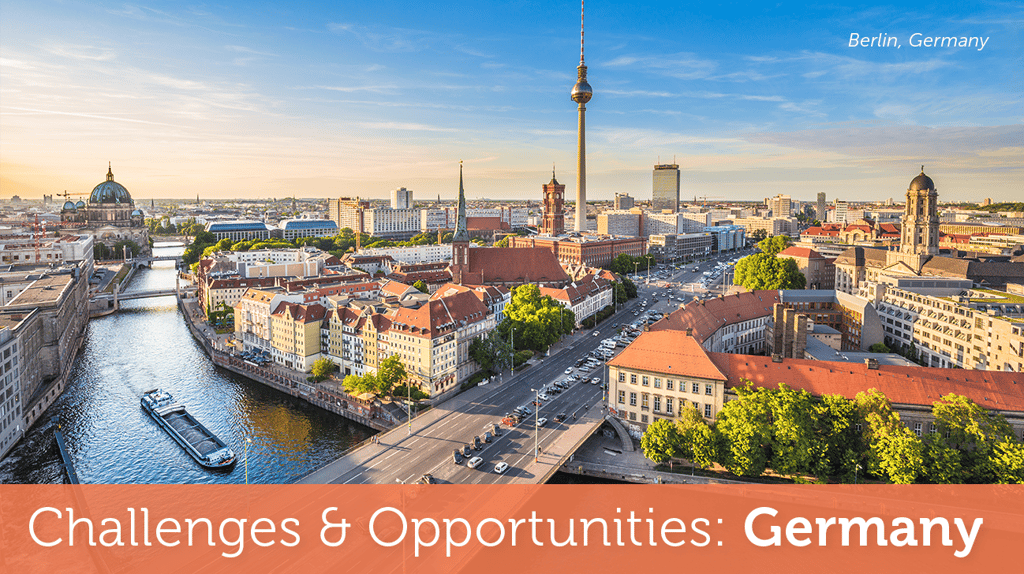 This week, we are taking a look at the most successful destination country in Europe – are there lessons to be learned from the German recruitment market? As competition to attract international students becomes more pronounced, how can we encourage German and other European students to study in the U.S., despite the obvious attractions of remaining within the EU?
While the U.S. continues to top of the list of countries hosting the highest number of international students, Europe remains the largest host region. Of course, this is largely due to the fact that many of these students come from nations within Europe itself. In fact, internal mobility is so high that as many as 77% of internationally mobile students from Western Europe remain in the region. So, how are you expected to recruit in a country that has such a strong hold on its students? The good news – the U.S. already has a foothold in prospective students' imaginations.
Bottom Line: Europe is a particularly difficult market to break into, as students generally take advantage of programs like Erasmus+, which offer ease of study between EU countries. Additionally, the cost of European tuition and application fees tend to be much lower and the need for U.S. visas can take its toll on students who are accustomed to free travel within the EU. Still, the interest is there for many German students to come to the US, while the competition of Germany as a study destination grows.
Still a few meeting slots left on our Nafsa schedule at the end of this month. Please be in touch if you would like to schedule a meeting with one of our team out in LA. We have so much research to share (info@intead.com). Read on for ideas on how to differentiate your academic offerings and compete effectively.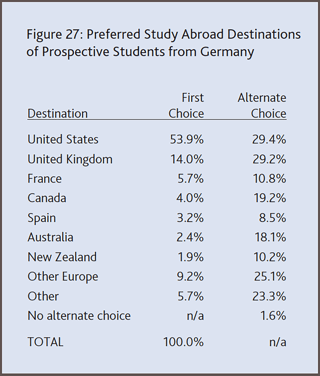 SOURCE: What International Students Think About U.S. Higher Education: Attitudes and Perceptions of Prospective Students from Around the World, IIE/EducationUSA 2015 (link provided below).
In 2015/16, Germany was ranked the 15th top sender of international students to US institutions. Open Doors data from the Institute of International Education (IIE) reports that, during the 2015/2016 school year 10,691 German students studied in the US. The majority were non-degree seeking students, followed closely by undergraduate degree programs.
In 2010, IIE and EducationUSA surveyed prospective German students on their perceptions of U.S. higher education, in comparison with other destination countries. Perhaps not surprisingly, the U.S. was the first choice destination for the majority of respondents – 54%. The United Kingdom was the second most frequently sited choice, trailing at only 14% of respondents.
Most German students cited cultural experience as their reason for their desire to study abroad. The second most common reason was future career, followed closely by making professional contacts. German students also mentioned the quality of academic programs abroad and their desire to improve foreign language skills as reasoning for considering mobility.
These are important factors to consider when developing marketing materials for the German market. Highlighting key messages that resonate with your audience can make your program offer more appealing to students who may otherwise not have considered your institution.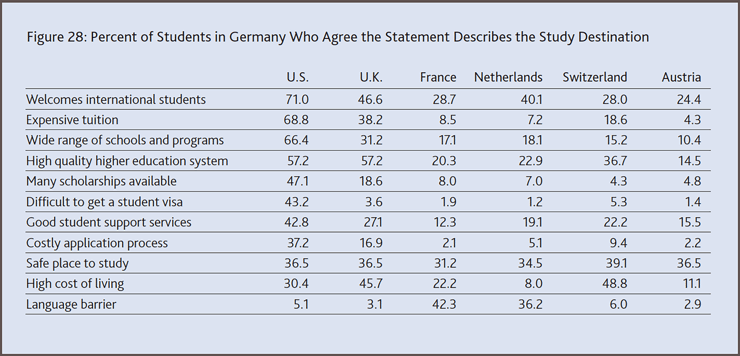 SOURCE: What International Students Think About U.S. Higher Education: Attitudes and Perceptions of Prospective Students from Around the World, IIE/EducationUSA 2015 (link provided above).
However, as with all international recruitment markets, the never-ending saga of tuition fees rears it's head again among German students. 69% of respondents felt that tuition in the US was expensive and 39% felt that the application process was costly. This speaks to the value of any scholarships that your institution offers to international students and makes application fee waivers appear a compelling offering.
Certainly, in the current political climate, the sentiments of many German students about studying in the US will have changed since 2015. But, even back in 2010, visa concerns were starting to become an issue. 43% of respondents to the IIE research felt that it was difficult to obtain a visa to study in the US.
The stressors are clear and growing, unfortunately. The current climate for potential international students from Germany is uncertain. Europe is a tough market. The ease of travel and study between EU countries, as well as the low or non-existent tuition fees make staying in the EU for study attractive – just as they are meant to do. For more information about the importance, value and lessons of the Erasmus program, see our blog from one year ago: work-experience-as-a-recruiting-tool-erasmus.
Convincing German students to travel outside of the EU for their education means convincing them that your program is worth the higher cost and the visa headaches. More than 10,000 Germans make that choice each year.
Good marketing really does work. The key is finding your target audience: those who will find your message truly resonates. They are out there.