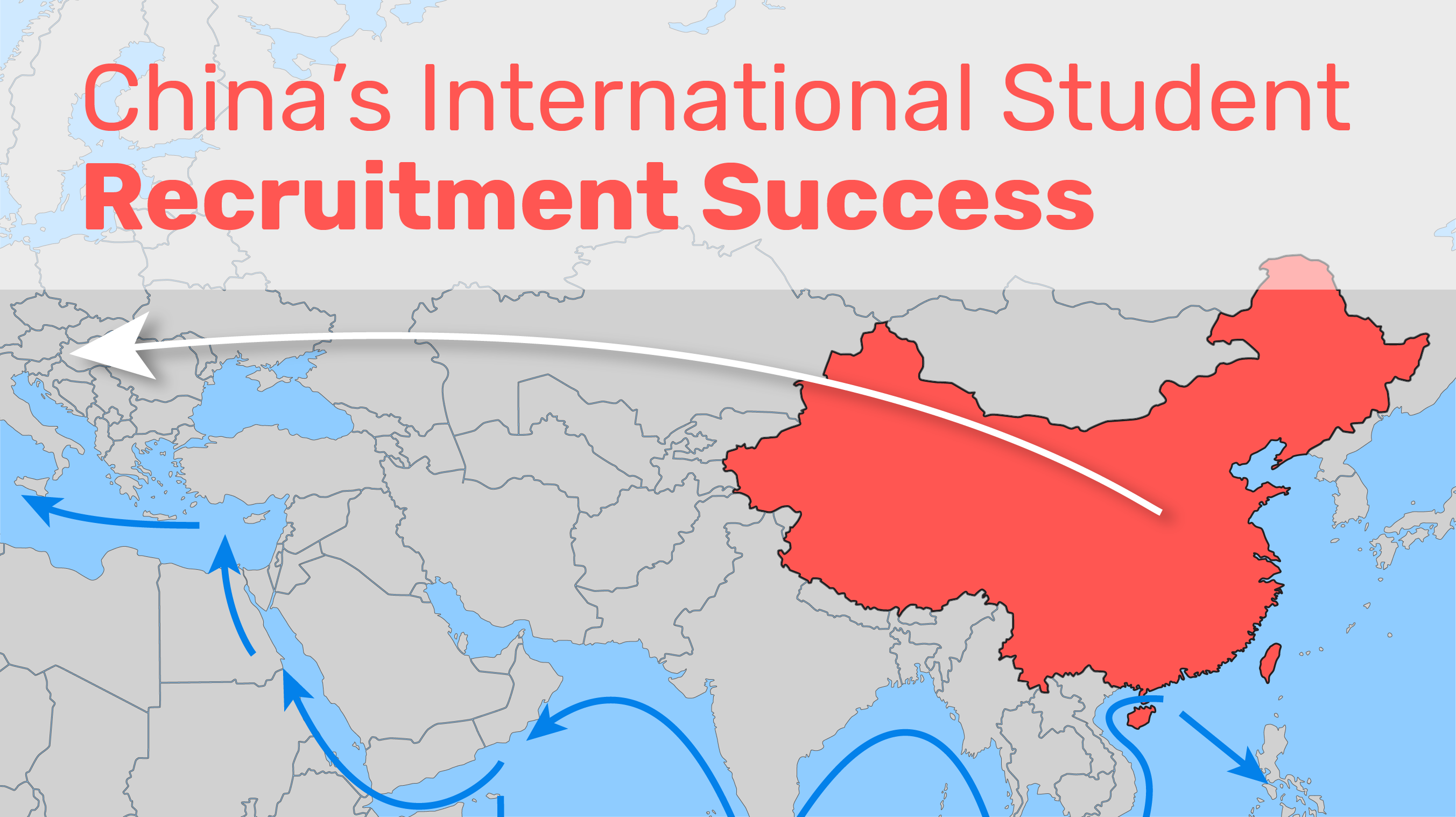 By the end of 2017 China had become the most popular destination for international students in Asia. What factors are contributing to this rise? What does it mean for your institution? Let's look at the data...
In 2017, 57K international students told us whether recent events were prompting them to change their desired study abroad location. Interested? We published our findings in our latest Know Your Neighborhood report produced with FPPEDUMedia. Props to FPP's database of more than 1.8M international students choosing a study destination!
Students interested in changing their minds told us that the top reason was not enough scholarships (31%). And, 88% of respondents said they would be less likely to study in the US if the government restricted work opportunities for foreigners. Frankly, all of the data points to career opportunities as a primary motivator. Always surprises us that this is not a core message in so many universities' marketing. But we digress.
Understanding the importance of these two factors, scholarships and work oppotunities, let's look at how China's "One Road One Belt" policy (see image above) is a significant factor in creating a supportive economic loop among many Eurasian countries (see explanation below).
Before we dive into all of that, we hope you will be joining us at NAFSA where we can show you how to garner internal support for your global recruitment initiatives! We will be presenting "Who's Got Your Back? Building Internal Support for International Recruitment" with with Dr. Martyn Miller, Assistant Vice President for International Programs at Temple University and Dr. Jon Stauff, Vice Provost for Global Education at Monmouth University on Wed, May 30 at 1 pm.
We hope to see your smiling faces in the audience! And please, ask us any questions! We love an engaged audience. The challenge of building on-campus support for your plans and budget is common across all of the universities we talk to. Let us know if you'll be there (info@intead.com).
Read on to explore China's successful approach to international student recruitment...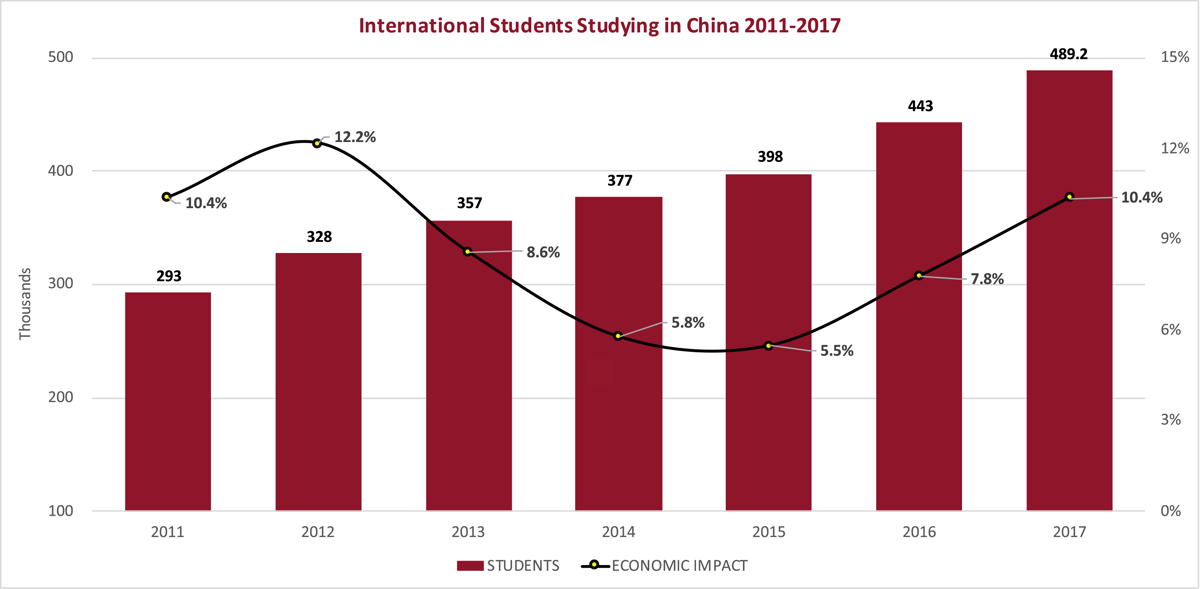 Resources: http://www.ccg.org.cn/Research/View.aspx?Id=8112
http://en.moe.gov.cn/News/Top_News/201804/t20180403_332258.html
According to the Ministry of Education: People's Republic of China, 489,200 international students were studying in China in 2017, and this number increased by more than 10% from 2016. Under China's "One Road One Belt" policy, which focuses on fostering connections between Eurasian countries, 65% are coming from partner countries. The top 10 places of origin were South Korea, Thailand, Pakistan, the United States, India, Russia, Japan, Indonesia, Kazakhstan, and Laos. In the featured image at the top of this post, we illustrate the Silk Road Economic Belt and the Maritime Silk Road, which combine to form this Belt and Road Initiative.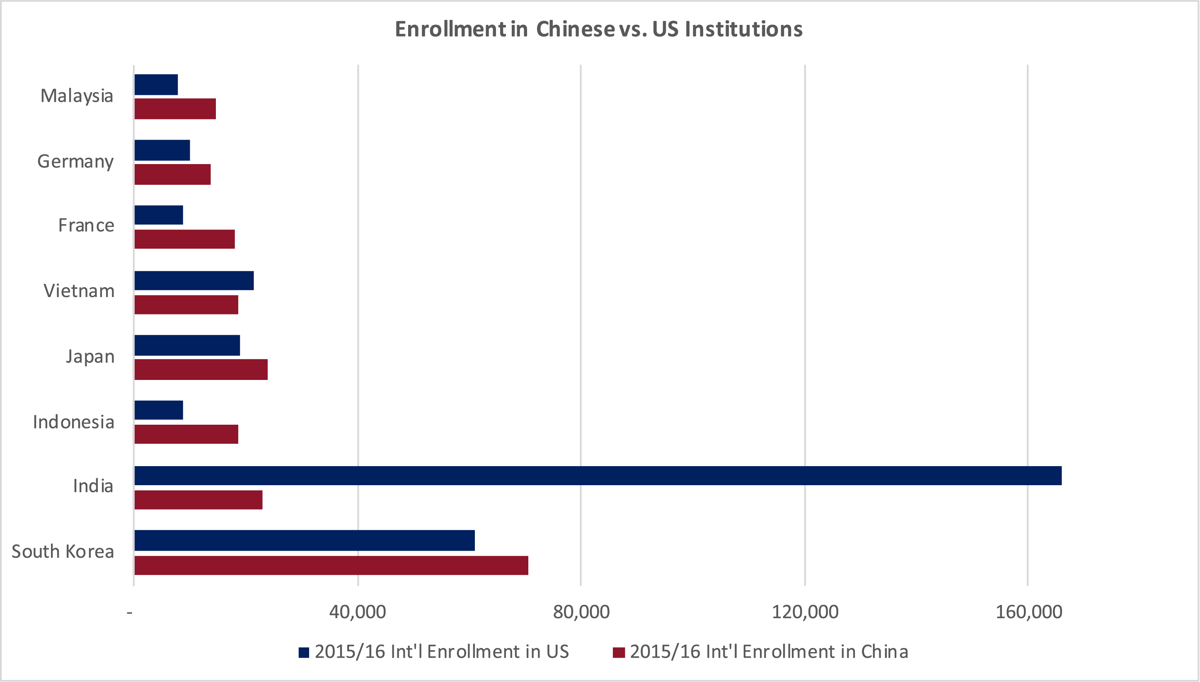 Resources: http://www.ccg.org.cn/Research/View.aspx?Id=8112
South Korea, India, Japan and Vietnam are leading countries for international students studying in U.S. (blue bars). Note the strength of China as a study destination by comparison (red bars.) The international market competition for students is fierce and students have a growing number of options to consider while making their big decision.
The Challenge: The Party Just Keeps Getting Bigger
In addition to China's recruiting efforts, in just the past 2 years or so, Germany, Taiwan, Japan, India and now Russia have all raised the stakes with government funded programs to draw more international students to their universities. This, while the US and UK (the top destinations globally) have continued to put obstacles in students' paths -- from challenging visa rules to work restrictions and of course, highly charged anti-immigration rhetoric.
Contrast the US and UK current environment with China's approach to attracting increasing numbers of international students. China provides:
An attractive scholarship program
A new visa policy to support international students working in China
An increasing number of work opportunities
Yup, just what international students are looking for. Let's get into the details...
Chinese Scholarships for International Students
12% of international students in China were awarded Chinese government scholarships in 2017 according to CampusChina.org. There are 7 Chinese government scholarship programs sponsoring international students, teachers and scholars to undertake degree studies and Chinese language study or academic research in China's universities.
All scholarships cover both major study and Chinese language study. Undergraduate scholarship recipients must take Chinese-taught credit courses while graduate and non-degree scholarship students can choose either Chinese-taught programs or English-taught programs.
Students who earn a full scholarship will receive a tuition waiver, free university dormitory or accommodation subsidy and stipend paid per month.
Starting to sound attractive, no?
New Chinese Visa Policy
86% of international students studying in China are planning to pursue a short-term internship and 95% are expecting to work in China in the future, according to China's National Development and Reform Commission. The Chinese government has released a new visa policy relaxing limitations and allowing students to work and apply for permanent residency after graduation.
This new policy allows high-performing international students to work in China, even without prior work experience. Who can apply:
18+ and healthy
No criminal record
Well-performed in study: B or above.
Degree holders
Hired by a Chinese company in a position related to the degree. Salary is above average.
Valid passport
After approval by the government, international students can receive a working visa for a maximum of 5 years.
Chinese Work Opportunities for International Students
To help international students find jobs in China, start their own businesses and understand related policies about working in China, the Ministry of Education (MOE) hosted four career fairs specifically for international students in 2016 and 2017 at Peking University.
Over 88 major companies and small start-ups participated and provided over 1,200 positions for students. Other similar career events were hosted in different cities and schools to help international students in China.
Since the "One Road One Belt" policy has been fully implemented, the demand for international talent is increasing among Chinese companies. The industries are varied and mainly include infrastructure, automobile manufacture and trade, China's high-speed railway, internet and telecommunication, education, finance, translation and science and technology. Most companies have invested in many projects in the "Belt and Road" countries and they need talented, bilingual employees with related knowledge and skills.
International students studying in China are becoming a primary employee recruitment source to help these companies grow.
So very different than what you hear about in the US and UK, right?
Other Reasons: Tuition & Valuable Language Skills
Compared to other popular studying abroad destinations like the US, Japan, U.K., it is relatively cheap to study in China. The typical tuition for one year in China is only $3,200 USD compared to typical US costs of $25,000 USD and up.
With China's ascent in economic, cultural, political influence, international students increasingly see learning Chinese as advantageous to their careers. The future is more global than ever before and people all over the world are finding themselves needing to develop relationships in China. The ability to apply Chinese language skills in the business world is becoming more important and useful every year.
The quality of education in China is improving and the facilities in Chinese schools are beginning to match those of western schools. According to QS World University ranking, 12 Chinese higher education institutions are in the Top 100 in 2018. Tsinghua University ranks #25 and Peking University is #38.
What's a Western University To Do?
It is a time of fierce competition for international students seeking work opportunities in the U.S. But, there are still things you can do to compete.
Tap Your Alumni Network
Create a strong alumni network and seek their help in-country. Connect with your alumni (especially international alumni) and share access to this network with your current students for recruiting, networking and career opportunities. See our ebook produced with Academic Assembly on Global Alumni Management for valuable perspective.
Collect data from your alumni (think Linked In) about where they work and use that data to develop marketing messages for prospective students. Alumni data is the most convincing evidence that your school is doing a great job of supporting your international students and them developing the career paths they want.
Establish Opportunities for Scholarships / Assistantships / Campus Jobs
The price of education in U.S. is high and international students care about scholarships, financial aid and other campus job opportunities, which can reduce the overall cost of attendance and build a resume. If your institution provides scholarships to your international students, talk it up everywhere. "Scholarships" is one of the most searched keywords among our target audiences. And don't forget the campus jobs! In the latest KYN report, 68% of respondents think the "Availability of a Campus Job" is an important factor in their decision-making process. (Learn more about FPPEDUMedia's powerful student database here.)

Talk about your campus job programs to your prospective students and provide extra support to international students who are interested in applying to campus jobs. Remember, this process is challenging with all those forms and requirements!
The quality of US and UK education is globally recognized and will not be overtaken easily. However, we need to admit that the international student market is competitive and the headwinds are strong right now. Find the data, understand what matters to international students, send the right messages and lend a hand as they try to navigate the system, consistently.
If you help them succeed, they will , in turn, help you succeed as they send those happy messages back home. "The international student office staff just helped me land my dream job!" That's the kind of social media post we ALL want to see. You can make that happen.
Education is a customer service heavy offering. You really have to get that right to keep the students coming.
We are here to help!