Google is a powerful force in all of our lives. Searching for a education options is no exception. So, what can search trends can tell us about our area of work? Google shares a quarterly report on the latest search trends in education. We'll share the highlights.
Elevator summary for first quarter 2014 findings:
Education searches overall showed a small increase compared to the same quarter last year.

Bachelors degree searches account for 25% of all education related searches and grew slightly, while MBA searches accounting for another 25% fell slightly for the quarter.

Searches for Cosmetology and Hospitality degree programs grew most, while Art & Design and Criminal Justices fell.
A bit more on the details:
Google happily reported increased search advertising and stronger competition among schools, leading to an 11% increase of advertising and 9% more user clicks.
In terms of degree levels, bachelor degree searches overtook MBA searches. Searches for compentency-based learning grew a whopping 52% compared to the same quarter last year. Another continued growth trend is the number of searches originating from mobile devices. As we've harped before, if your content is not mobile ready, you are going to be in hotter and hotter water as more and more users get their information from phones and tablets. See our Intead Insight.

Graph 1 (below) displays the degree searches on Google during the first quarter 2014 compared to the prior year. The colored bars show the increase or decline compared to a year ago, while the grey bar shows the percentage of the total degree searches.
You notice that Bachelor and Associate degree searches both grew in the single digits. Graph 2 (below) highlights the changes for specific area of study regardless of the level of the degree.
Here at Intead, we feel a bit out of touch with reality in not realizing that searches for cosmetology could possily exceed searches for business programs. We trust that cosmetology offers earning potential. It is true that regardless of recessions, people need, and continue to get, haircuts, though they may skimp on the frills in tough times. Fact is, Google recorded a 12% growth in searches for cosmetology programs last quarter. In highlighting this latest buzz, let us know if you consider the trend a permanent?
Ultimately, the trend has not prompted us to consider a change of careers, or hair style...yet.
Healthcare still dominates the degree searches. If you take healthcare and nursing combined, they account for half of all searches and grew slightly compared to the same quarter last year.
Art & design took a big hit earlier this year as did criminal justice and automotive. We suspect that some of these categories are influenced by reduced advertising spending by the for-profit schools specializing in these areas of study.
Analyzing Google search trends has both strategic and practical value. Strategically, these searches, over longer periods not just in a single quarter, become the indicators of likely longer terms enrollment trends. How will you differentiate your institution given chaning consumer interests? Which programs will you invest in and develop?
For your day-to-day marketing, Google's reviews allow you to see patterns that can guide your specific marketing spending. Given all the daily and weekly distractions, Google's data can cut through the noise and point you in the right direction, especially if you are engaged in search marketing.
For international markets and international student recruiting programs, the same Google analysis does not exist. Nevertheless, search is still a critical component of successful international recruitment efforts. Use this link to learn more from our Intead Insight addresing search marketing for international recruiting.

If you are interested in learning more, here is link to the video of the entire Google Hangout Q1 search review.

Graphic 1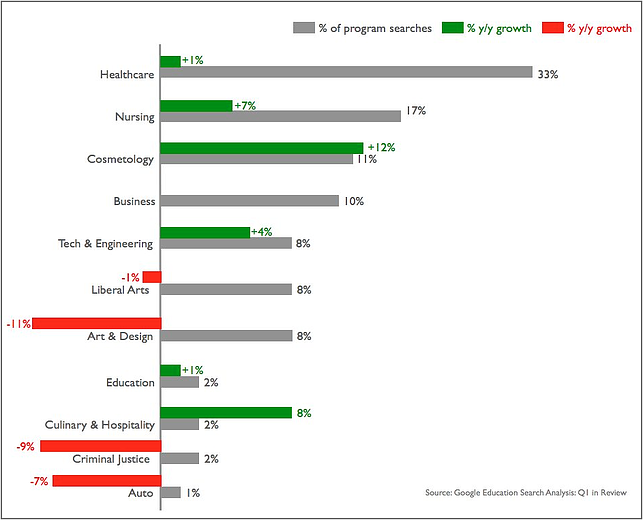 Graphic 2