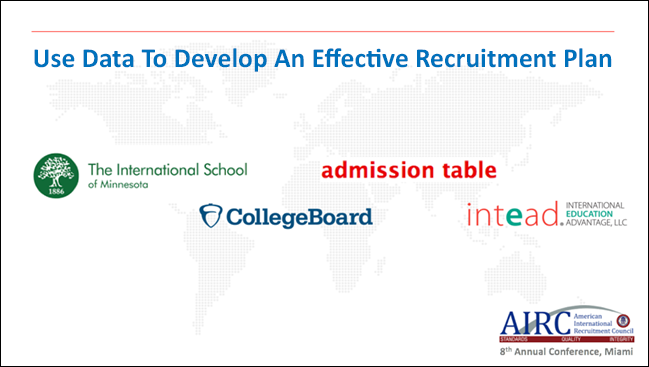 Now that the year's conference flurry has ended (no pun intended for those of you currently getting snow!), we wanted to take the time to reflect back on all of the great information we gathered and presented at the AIRC conference this year.
There was great discussion around what universities should be doing in the months and year ahead given the new political landscape, where institutions should be allocating budgets as they plan for 2017, how tech systems (CRMs and MAPs) can help your recruitment and digital marketing efforts, and how language schools are being used to support some institutions more effectively than others.
We were thrilled to be a part of it. And we really enjoyed the warm Miami weather ;-)
For those who were not able to attend our sessions, or for those who want a closer look at our slides, you can download these below.
But even better than that, you can come meet us in San Diego at our first annual International Student Recruitment Bootcamp (theme: What Works Where), presented in partnership with CGACC. The conference will cover implementing effective strategies, measuring results, and determining what works where. Spaces are limted to just 200 attendees.
As a loyal reader, we want to extend a special offer: $75 off both registration fees if you sign up with colleague, now until January 5, 2017.
This conference will be a great opportunity for your marketing and international recruitment leadership to come together and build effective global recruitment and marketing plans. As we work with our clients, we have found those institutions that build a strong partnership with their internal marketing and IT colleagues are in the best position to attract and convert their student leads. This conference will help your counterparts gain perspective on global marketing (as distinct from domestic marketing) in ways that will help you be effective going forward.
Important Reader Note: The Recruiting Intelligence Blog will be taking a short, 2-week break for the holidays and will return on January 4, 2017 with a great set of must-read posts coming your way in the new year. Wishing everyone a happy and safe holiday season wherever you may roam.
Read on to download our AIRC slides!
We very much enjoyed engaging in conversations with everyone at AIRC and ICEF this year, and hope that our research and resources will help inform your tough marketing and recruitment decisions as you plan your global recruitment strategy. Some of our sessions were standing room only. We are happy to share our perspective on how to build effective international student recruitment programs.
To get you started, download our AIRC presentation slides:
If we missed you in Miami, we hope to get the chance to meet you in January in San Diego! Register here to secure your spot!