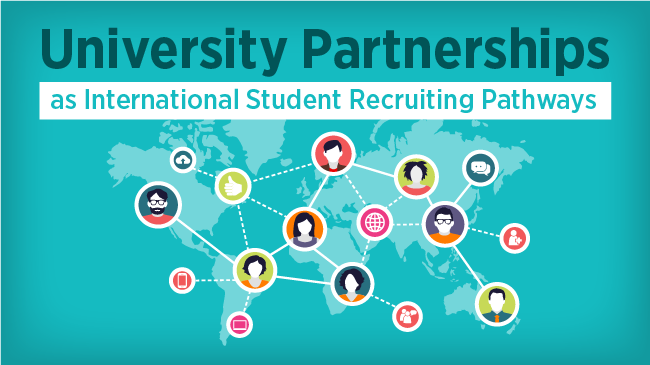 Is your institution using international partnerships effectively? There are benefits beyond the academic collaboration. Have you examined your faculty's international connections from an international student recruitment point of view?
Study abroad programs, research exchange programs and dual degree programs take time to build, but they have lasting value and, nurtured well, can grow into significant international student recruitment pathways beyond the academic bridges they build. These relationships often become significant differentiators for the institutions making the effort to build them.
At our upcoming International Student Recruitment Bootcamp, presented in partnership with CGACC, we will have speakers, discussion groups and work sessions focusing on the tactics that work best in regions around the world based on the type of academic program you offer. It is all about What Works Where. International academic partnerships represent an important tactic to consider.
Secure your spot and meet us in San Diego on January 29-31. We've held regular pricing in place through 1/25/17. It is a small venue for a highly-focused gathering. Spaces are limited and going fast.
Bottom Line: Creating international partnerships can be time consuming, but done well, have lasting and significant value. These partnerships help increase your institution's international presence. Courses, published research and events shared by your institution across borders help market to your prospective students in their native language, and through the media channels they use most. These initiatives increase your opportunities to reach international student influencers: parents, agents, counselors, university and high school administrators. In concrete numbers, we've seen this work where a partnership is the source of four international student enrollments each year at the start and slowly builds to a consistent pipeline of 20+ international students from a single source. That, in addition to the many other benefits of these cross-border collaborations.
Region Selection & Research Connections
You'll want to start your international university partnership evaluation by looking at your faculty. Where are their cultural connections? Common research interests? Can you identify shared curricular needs in other regions in healthcare, agriculture, technological innovation, business activity, career training? Your international faculty is an obvious starting point, and your American faculty often have international cultural ties that they are eager to pursue as well.
To build opportunities, to innovate in this area, you'll need funds to support your faculty taking international research and collaboration trips. These travel opportunities are essential to finding effective partnerships built on shared interests that can grow. Forcing partnerships will never succeed. Spend the time up front nurturing the relationships that have real potential.
Listen to Your Faculty
As the concept of a partnership develops, listen to your faculty. Gauge their excitement. Evaluate the strength of the faculty connection and then evaluate the administrative connections that will create a solid infrastructure between the two institutions. There needs to be a meeting of the minds on the curricular side, but that is not enough to make it work. The administration must see eye to eye as well. There will need to be continual communication at the academic and administrative levels for this bridge to be built and remain solid.
Beyond evaluating your faculty connections, you will want to consider the regions that make the most sense for your institution. You'll want to prioritize the different opportunities that may surface based on where your academic offerings have the most value globally. Data from the Institute of International Education may be helpful (love those guys!).

Oh, the Details
As you consider international student exchange, it gets complicated. You know this already, but on the curricular side, you'll want to evaluate entry requirements, academic standards, grading. These things can take quite a while to ascertain or negotiate. What makes a student eligible for a credit or a degree in one place is not always equivalent somewhere else. We've noticed that institutions can be quite rigid about these kinds of things ;-)
And then of course there are the fees…tuition, housing, availability of financial aid.
Long-term Investment
These partnerships are intended for the long term. When you consider the time and resources required to make these connections, you realize how important it is to be happy with your new partners. Taking the time to choose the right partner in the right location and build a relationship that is mutually beneficial requires perseverance.
More Info is Out There
Looking for more information? An informative interview with University of Buffalo President Satish Tripathi conducted by Elaina Loveland for the NAFSA Magazine International Educator back in 2012 stands the test of time.
On Tuesday, May 30, during the NAFSA Annual Conference in LA there will be a U.S. Higher Education Partnership Fair from 1-3:30 pm. A great opportunity to talk to other institutions from around the world interested in fostering these kinds of strong academic connections.
We hope to see you in San Diego at the end of this month. And we'll see you again in LA in May at the NAFSA Conference. In the meantime, you know where to find us. Shoot us an email and let us know about the international student recruitment challenges you face. We're here to help.