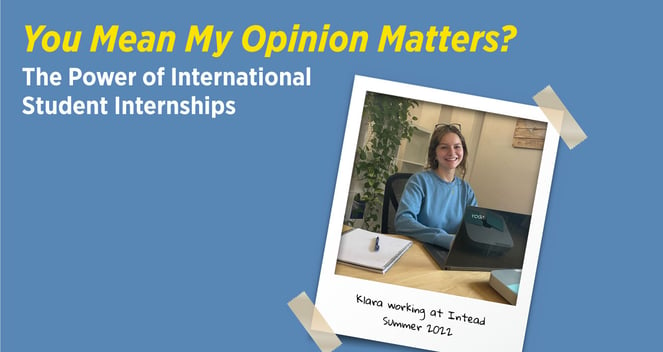 Does your institution work hard to develop employer connections?
Due to the pandemic, Intead paused its international student internship program. We are so glad to have it back as we return to the office.
As a rising Junior from Germany studying at UMass Amherst, Klara Lehmann thinks a lot about her future. She jumped at the chance to intern at Intead over the summer break. We were lucky to have her thoughtful and thorough approach to our work.
The level of effort most institutions put into developing career-shaping opportunities for their students typically underwhelms. Students, like Klara, who push for opportunities are far more likely to succeed than those who do not. So many students require additional motivation and support from their institutions to develop skills through internships.
Yet, skills development may not be the most valuable aspect of internships. From what we have seen, the real value is in how students develop an understanding, outside the classroom, of what they would like to develop into, what they would like their future to be. It is all about learning in a different environment. The networking and resume content doesn't hurt, though.
Learn with us:
Recruiting from Bangladesh: The Intead team will be presenting an AIRC Webinar on Wednesday, October 12, 2022. The process and results of our recent digital campaign recruiting international students for Truman State University will be on full display. Register HERE.
Global Marketing Strategy & Campaign Analytics: Ben and Iliana will be presenting on a range of marketing strategy and analytics sessions with colleagues from Northeastern University, Clark University,

Central Connecticut State University, and University of New Hampshire

at the NAFSA Region XI Conference in Manchester, NH, Nov 18-20, 2022. Click HERE to

schedule a time to meet us.
Read on for a firsthand look at Klara's reflections on her internship experience. Consider who, on your team, from career services on up, needs to hear this message. Internship experiences and the student stories you can share with your prospective students will go a long way toward differentiating your institution in a competitive market. Klara's story makes the case for your institutional investment very clear.
From Klara
I have no idea what I want to do with my life. As a college student, one constant struggle is figuring out where you want to go and what career path you want to take. It's hard to make up your mind about something you know so little about. It is almost guaranteed to witness friends and peers switch their majors endless amounts of times, still having doubts about what they want to do or even what their interests are. Of course you take a great deal of information and knowledge away from classes, professors, and your peers. There is so much value that comes from studying at a university, but in reality, it is only an introduction. You gain insight into what might spark your interest, but ultimately that is not enough to feel confident about the career choices you're making.
This is why I'm so thankful for internships. One of the major takeaways from my time at Intead is learning that there are so many things you would not be able to attain simply from a classroom. Internships provide you with a foundation, and leave you with a better understanding of whatever it is you are interested in. Not only can it confirm an interest but it also has the power to let you know if this path is not for you. It is hard to get a sense and make a judgment based on no real-life experience, which is why an internship is beyond valuable.
But it should be noted: not all internships deliver the same value.
During my very first interview with Ben Waxman, CEO of Intead, about the Intern position, I was informed of the great value he places on a dynamic, enthusiastic, and well-formed team. With my internship here at Intead now coming to a close, I can confidently say that I experienced nothing less of that. The amount of transparency and collaborative thinking I have witnessed has raised my expectations.
There were many days when the office turned into a classroom for me. As chief strategist, Patricia Tozzi sat us around a table to go over everything that goes into creating a strategy and how to execute it properly. Another time, I sat down with our digital campaign manager, Illiana Jaoquin, who taught me about the work she does, including SEO, data analytics, and most importantly how to evaluate the marketing funnel for each project. Rachel Trahan, marketing office coordinator, provided me with much needed guidance concerning my own projects and tasks, always taking time to explain in much detail so as to give me the best tools I could have to be successful.
This team went above and beyond to make this experience not only enjoyable but educational, always eager to answer my questions. I was given so much time, in particular by Ben, who sat down to teach me about the ins and outs of marketing, what it means to be a CEO and manage a team, as well as what to look out for whilst applying to jobs and internships. Not only have I gained immense insight on how a marketing agency is run, but I've experienced what a working environment can feel like. I was welcomed by an inviting and collaborative team with sprouting creativity and an understanding and love for teaching, allowing me to get the most out of this experience.
As a business and marketing major, this was exactly the kind of exposure I was looking for. Some of the responsibilities I was given included:
Managing a project that developed an informational index to attract new clients. This involved time for data research, ensuring reliability, relevancy, and accuracy. I collaborated with a designer and editor to create this online resource.

Using excel to create a competitive analysis for enrollment data between different institutions.

Building information architecture of online and offline files in order to increase efficiency of access for the Intead team.

Deepening understanding of client focused, team based collaborative professional setting through participating in meetings and observing client engagements.

Taking part in current client work, sitting in on many meetings, involving external as well as internal marketing projects.
Listing these responsibilities I came to a realization. As an intern, typically you are not a high valued employee and often get stuck doing the work that no one else wants to do. Even though this can also be a learning experience, it is nothing compared to the effort that Intead put into my internship experience. My opinion mattered. I was able to give my input freely and have it be taken seriously. I was very much encouraged to give my opinion and saw it translated into current client work. Being so closely involved has allowed me to gain some real perspective on what working at a marketing agency would look like. It has given me an idea of the skills I have and the ones that I will need moving forward. I feel more confident in the idea of learning in a work environment, asking questions, and what it means to grow within a company.
My hope for other students seeking internships is that they are met with the same enthusiastic, collaborative, and productive internship opportunity as I have had with Intead. Actually learning something and taking away valuable information that I will be using in future employment settings is what a good internship should be about. With that, I bid my summer and Intead adieu and enter my Junior year with a new perspective and a whole new set of questions to bring to the classroom and beyond.