President Barack Obama's announcement at the end of 2014 that the US would be restoring diplomatic relations with Cuba opened the floodgates for articles and newscasts about what this will mean for US businesses. There are a range of businesses elbowing to enter the Cuban market, but what does this mean for the higher education sector? What will this mean for study abroad programs in Cuba, language schools that see possibility in opening in Cuba, and, in particular, what will renewed diplomatic ties with Cuba mean for Cuban students who seek to attend institutions abroad?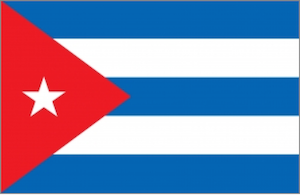 This recent announcement by the Obama administration is not the first news worthy event related to Cuba. In October 2011 Obama expanded academic travel to Cuba, allowing study abroad organizations to apply for specific licenses to sponsor programs in Cuba as well as granting accredited American universities authority to sponsor credit-bearing study abroad programs.

This has been very one-sided. US students and educators have participated in study programs in Cuba but Cubans coming to the US have been extremely rare. CubaTreks, based in British Columbia, has offered education and cultural tours to Cuba for the last 17 years. Perhaps they will add to their business model and begin offering recruitment trips for US and Canadian institutions that seek to recruit Cuban students.

In the spring of 2014 a group of Cuban students spent a semester studying at Miami Dade College, the largest public college in Miami, for the first time in more than five decades. The students, ranging in age from 18-37, took courses in sociology, computing, psychology, business and English. When they culminated their studies they received certificates of completion.

In June 2014 the US State Department's Western Hemisphere Affairs (WHA) unit announced an offer to up to 100 Cuban students to participate in a new program aimed at attracting Cuban students to US summer leadership programs. The $1.2 million program will enable students to focus on "leadership development, civic education principles, and the structure of democratic organizations … from national governments to local [nongovernment organizations] and student advocacy groups." The WHA looked at proposals from US-based institutions to run the Summer Leadership Program for Cuban Youth, with the first program scheduled for 2015 for up to 35 students and another program for 65 students in 2016.

According to a recent article published in the PIE News, IIE is planning to lead a delegation of US universities to Cuba in the coming months. What will this mean for Cuban student recruitment to the US? To what extent will Cuba open as a market for international student recruiters?

An article on the Stanford Graduate School of Education website, praised Cuba's education system. Cuban students are bright and capable, and they've received excellent preparation for future studies. Given the academic strength of Cuban students, there might be real possibilities for these students to study abroad.
But, some great challenges remain. Finances are going to be a major challenge. Paying for education abroad will be beyond the means of most Cubans. Outside scholarships are a possibility but whether the Cuban government will allow large (or even small) numbers of students to study abroad remains to be seen.
Here's something interesting to consider-- Ecuador has roughly the same GDP as Cuba with a slightly larger population. Obviously there are major political differences between Ecuador and Cuba, but according to the Open Doors report 2500 Ecuadoran students studied in the the US last year. Perhaps with increased political change there will be an increase in Cubans studying in the US.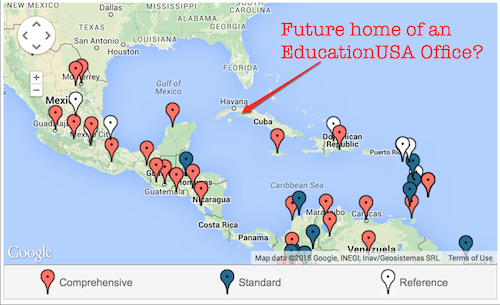 Image courtesy: EducationUSA
Some big questions remain:
Will Education USA open an office in Cuba? We have learned they already have an office in Cuba! This is an exciting development in this story and we look to EducationUSA to continue to update us.
What will the policy change mean for recruitment tours?
Are there recruitment tour companies entering the Cuban market?
Will institutions jump at the chance to recruit in Cuba, especially those institutions located within large Cuban communities, i.e. South Florida.
Are Cuban students interested in traveling to the US, Canada or Latin America to have a study abroad experience?
How willing is the Cuban government to allow for [widespread] study abroad?


NAFSA recently published additional information about changes to Cuban travel restrictions. If you have any insights on what the recent policy changes mean for international student recruitment in Cuba please share your thoughts in the comment section. This is an exciting time for international institutions and Cuban students.