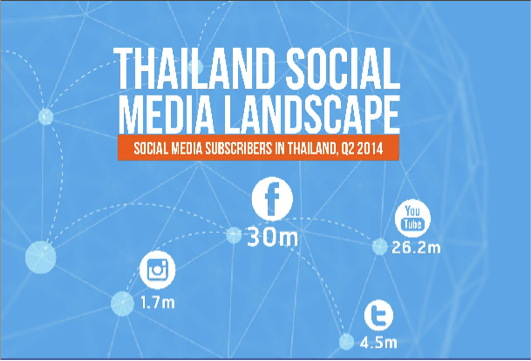 In last week's blog post, we shared with you our thoughts on Thailand's educational market inlcuding statistics on the trends in Thai students' studying abroad. Today, in Part 2 of this mini-series we will give you a better sense of how you should be marketing your institution to these prospective students. This includes a more in-depth look at some of the marketing opportunities we see and the social media platforms that are popular in this country.
Marketing collateral concerns for both parents and students
Family connections are a powerful factor influencing international students' choice of destination. In Thailand, it's definitely a family affair when deciding where to study abroad. Though, keep in mind that most young people in this age range (undergraduate and graduate level) want to feel that these important decisions are entirely their own. That's part of coming of age. We all went through it. And still, parental influence is a big factor in most cases whether the prospective student wants to acknowledge that reality or not.
A successful marketing campaign in Thailand should be based on solid communication with parents. To better connect with parents both before and during study abroad experiences, institutions and agents should consider a range of communication options such as:
Parent newsletters to keep these influencers well informed throughout the recruitment process

A parent portal site (such as the

University of Minnesota's site

or the

Klein Independent School District's site

)

A Facebook page exclusively for parents

A YouTube channel, playlist or podcast for parents

Handbooks or PDFs (including a directory of campus contacts)

Seminar/Webinars for parents providing information as well as open Q&A time

Free parent clubs to help parents of prospective international students connect and share experiences with each other
International student retention is also an important focus for communication with parents. Some of the communications tools noted above can be maintained once the student is enrolled so that parents continue to feel part of the program.
The difficult thing with these parent-focused activities is that, ideally, they all need to be delivered in the Thai language. Most institutions struggle to provide that local language support.
Social media use in Thailand
The most popular social media tools in Thailand are similar to other Southeast Asian countries. Facebook is in the lead with 30 million subscribers, followed by YouTube at 26.2 million subscribers and Twitter and Instagram at 4.5 million and 1.7 million respectively. There are a number of other social media platforms in use with smaller followings.

Things to keep in mind as you develop your social media plan in Thailand
#1 The pie charts below tell you that Thai people like to use Android phones and they like to upload and comment on photos. This could affect the format with which you develop content, as well as which apps you might use.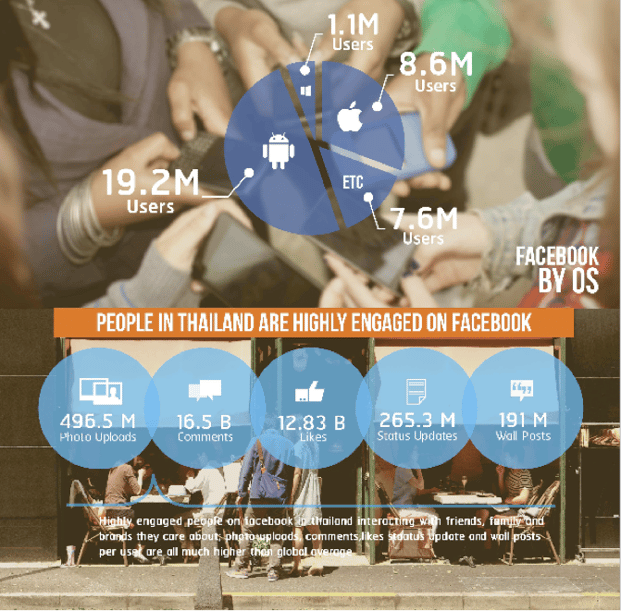 #2 Asian students carry high expectations for success, and Thai students are no different. Parental demands, fear of failure, competition and pride are fueling Asia's academic ascension. What kind of content can you create to appeal to these human desires?
#3 English language training and academic support programs are paramount. Thai students want to learn and improve their English skills. Their parents perceive this as an advantage as well.
#4 Developing a career path through higher education to future, reliable employment is important. Highlighting employment outcomes and career counseling services can be powerful. As you've heard us say before, taking time to develop employer connections for international students will have great value for your current students and become a marketing tool for the future.
As always, we will leave you with some key resources so you can do some advanced studies of the Thailand market on your own or arrange a recruiting tour. Enjoy the process!
The international mobility of students in Asia and the Pacific by UNESCO Bangkok
The Ministry of Education in Thailand provides education statistics
UNESCO Country Programming Document for Thailand 2013-2016
ICSE 2015 The 1st International Conference on Special Education in Bangkok, (July 28th - 31st, 2015)
Events in Thailand, 2015
Academic Conferences in Thailand, 2015
Tell us about your experiences with recruiting in Thailand. Are you attending fairs? Using commission-based recruiting agents? Social media? We'd love to learn from you.