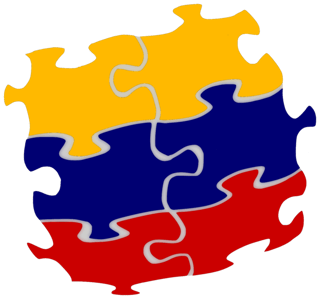 As we puzzle together a picture of Latin America, we are fitting Colombia into the mix. In part I of this two-part series, we will take a look at the economy and recent student mobility statistics for Colombian international students. Next week, Part II will focus on English as a second language among other critical recruiting data points.
Now, if you've found yourself confused by shifts in recruiting students from Colombia, you aren't the only one. Large swings in the number of students recruited from Colombia have been common over the last 20 years.
The CIA World Factbook lists the population at about 47 million with more than 17% of the population between the ages of 15 and 24. The growth rate of the middle class is also something to consider. A report from The World Bank in 2012 shows that the middle class had grown by 50% in a decade. These same reports believed that this expansion would be sustainable. With more Colombians able to afford higher education, Colombia became the third largest Latin American source of international students.
However, economic clouds are beginning to form. In August of this year, Colombia Reports showed the peso hitting record lows against the dollar. The peso is closely tied to oil prices and with oil losing almost a third of its value the Colombian economy has suffered.
Bottom Line: While the number of Colombian international students had been growing because of newfound economic security, they may be harder to rope in now due to the current economic climate. Lack of funds, as well as recent lack of resources to learn English in Colombia, are hampering student mobility. Still, language programs in the country are increasing (more on that next week). With the right academic offerings, there is recruiting potential in this large South American country. Scholarships and messages about overall affordability will go a long way as a recruiting draw. Career opportunities will also be powerful messages.
Our intrepid international blogger, Emily, will now wake us up and help us smell the coffee.
Beginning with the numbers, let's focus on the recent trends in international study for Colombian students. The Institute of International Education's (IIE) Open Doors data found that 7,169 Colombian students chose to study in the United States for the 2014/2015 school year, just 1.2% growth from the previous year. That is slower growth in international student recruitment than the previous 2 years – 8.3% growth and 3.9% growth, respectively.
Before 2012, numbers had been decreasing for 3 years. This teeter-tottering has caused Colombia to drop from the third largest South American exporter of students to the U.S., to the fourth, behind Brazil, Mexico and Venezuela.
The level of study for Colombian students in the United States shows a high number of graduate students. This group accounts for 40% of the Colombian students studying at U.S. institutions, while undergraduates make-up 38.3%. This may be, in part, because undergraduates often face issues with Colombian institutions recognizing international degrees. The latest data from Graduados Colombia shows these students are highly concentrated in business and engineering related studies.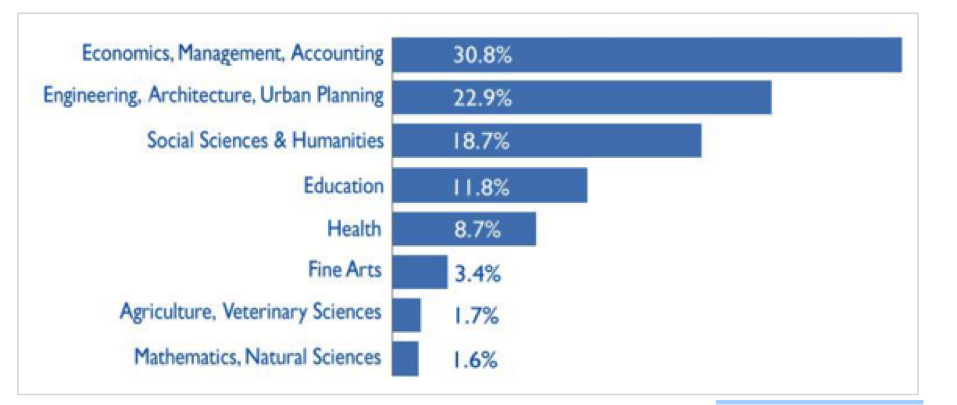 Preferred areas of study for Colombian Students, 2001 to 2012 (information Graduados Colombia) Graph from http://monitor.icef.com/2014/12/market-snapshot-colombia/
EP-Nuffic, the Netherlands organization for cooperation in higher education, discussed Colombia in their 2012 report, "International Student Recruitment: Policies and Developments in Selected Countries." Researchers were able to pull apart some of the catalysts for Colombian's interest in study abroad.
In the last several years, Colombia's government has placed more focus on education. As a result, more students have gained access to financial aid and scholarships. Colfuturo is a non-profit foundation focused on providing postgraduate study opportunities for Colombian students. In 2010, the foundation was able to support more than one thousand students. The Colombian Institute of Educational Credit and Technical Studies Abroad (ICETEX) also offers scholarships and loans to students who wish to travel abroad for language or degree-seeking studies.
EP-Nuffic also found that 82% of Colombian institutions had some form of staff or student mobility at the international level. In addition to this mobility, other countries were taking note of Colombians' interest in studying abroad and doing more to market to young Colombians.
Yet, Colombia doesn't have the same financial support for students who choose to study abroad as countries like Chile (see our blog post HERE). And, the economy is now weakening, even after its expansion in the decade before 2012. Colombia Reports shows the damaging depreciation of the Colombian Peso against the dollar. This difficult downturn is leaving many middle class students without the resources they need to study abroad; even if the desire to do so is there.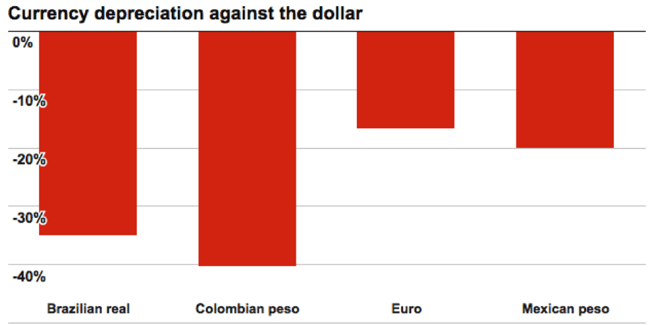 Source: Colombia Reports (August 2015)
Structural issues also form barriers to recruiting Colombian students. In addition to the lack of funding, there is little information about opportunities and some institutions remain unwilling to recognize programs or degrees from other countries. Even so, EP-Nuffic sees demand at the master's and doctoral levels, a fact that is evidenced by the large number of graduate students studying in the U.S.
Though the economic situation in Colombia is uncertain, there is still a strong student interest in studying abroad. Institutional scholarships can be a huge selling point to students who have limited financial resources. Those seeking to study abroad are doing so with a keen focus on career opportunities. To the extent that an affordable institution can demonstrate career success among its graduates, Colombian students will likely step forward.