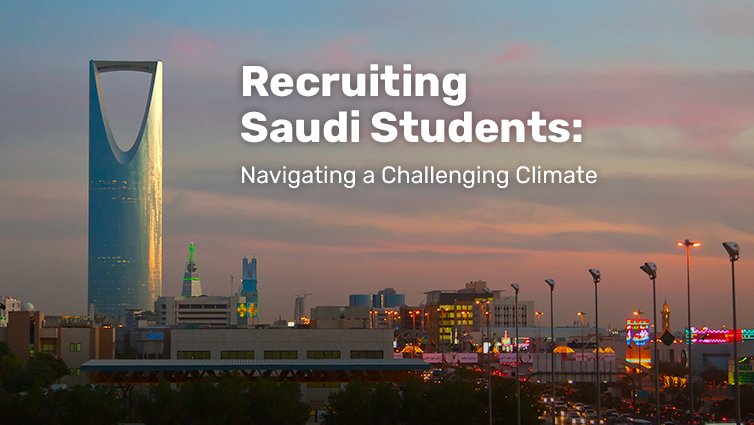 We've had Saudi Arabia on the mind lately—and not just because of the political upheaval that made big headlines this month. Saudi Arabia has long been among the top providers of international students at US universities at both the graduate and undergraduate levels, not to mention language programs. And we're sure that recent shifts in government scholarship programs have recruitment experts (like you) wondering what future trends may hold.
Over the past two years, we've watched the major driver of Saudi students to study abroad, the King's generous scholarship program take a sharp turn downward. As a result, the number of Saudi students in the US has dropped by 18% in the past year.
How institutions will make up for this loss in anticipated international student growth and revenue is a big question mark. The proactive are already at it. The lethargic are still scratching their heads and losing ground.
It's a big world with many markets. Determining which will resonate with your specific offerings is quite a task.
This week we are exploring the fundamentals of the Saudi scholarship program and its dramatic shift, in order to outline the challenges and opportunities (yes – they are still there for the right institutions) of student recruitment in Saudi Arabia.
Read on to see how and if your institution should be approaching recruitment in Saudi Arabia...
What did Saudi Arabia's scholarship program used to look like?
In 2005, the Saudi government launched the King Abdullah Scholarship Program (KASP). KASP represented a major investment into the human capital of Saudi Arabia, with about a quarter of overall government spending dedicated to the program. With the "Arab Spring" taking place in many Middle Eastern nations, this investment was designed to engage Saudi's rising youth and keep them focused on positive endeavors to build the country's skill set.
Prior to 2016, Saudi students were nearly guaranteed government scholarships to study at accredited universities in nations like the US, UK, Australia, and Canada. Universities had to be on the approved KASP list to be eligible to receive Saudi students.
Students could apply for scholarships before beginning their studies ("front door" scholarships), or after enrollment ("back door" scholarships). Either way, costs were covered in full, including tuition, travel, language training, health insurance, and a living stipend. After their studies were completed, scholarship recipients were expected to return to Saudi Arabia to contribute their new skills to their home economy.
The Saudi scholarship covered up to 18 months of language education in the student's country of choice, four years of undergraduate study, three years of master's level study, and three years of PhD funding. Approved areas of academic specialization included law, business, medicine, and computer sciences, among others. Students could choose from a large number of recommended schools, and it was easy for students to move between cities and extend their scholarship to a master's or PhD program without a separate application.
This generous iteration of KASP was extremely popular with Saudi students, making international education easy to access. In 2015, nearly 60,000 Saudi students studied in the US on KASP scholarships.
What does the scholarship policy look like now?
The first policy changes to the government scholarship program were announced in early 2016, when the Saudi government slashed the Saudi scholarship budget by about 12%. This reduction was in response to financial strain brought upon by a budget deficit, military expenses, and the collapse of crude oil prices
The newest iteration of KASP is called the Keeper of the Two Holy Mosques Scholarship. Key policy changes include:
New requirements for "back door" scholarships, in which a student comes to the US, begins study, and applies for scholarship funding after the fact:

These students are now eligible for funding only if their enrolled program is one of the top 50 programs in their desired field, or one of the world's top 200 universities overall. So the list of approved universities shrank dramatically.
Under new guidelines, such students pay for initial educational costs up front and must maintain a minimum GPA of 3.0 at the undergraduate level or 3.3 at the graduate level in order to be eligible for funding.

A signficant contingent of Saudi students in the US were not maintaining this level of academic performance.
New eligibility hurdles for "front door" scholarships, in which students apply for funding before beginning their international application:

Students must now have strong scores on the TOEFL (at least a 79 on the Internet Based Test) or IELTS exams (at least a 6.0) and complete a series of interviews.

A signficant contingent of current Saudi students in the US are not at a TOEFL 79 or IELTS 6.0 language skill level.

New guidelines favor applicants who are employed by, or have a job offer from, a Saudi government agency. Specific degree programs are more in demand than others based

on these new guidelines. Academic programs in Business, Computer Science and Health are the most likely winners.
What does this all mean?
Schools that are not in the top tier may still see "front door" enrollments, but will see a drop in "backdoor" enrollments. Many Saudi families have the funds to support education on their own. Having had the government support for roughly a decade makes that a bitter pill to swallow, so adjusting to the new reality will take time for this recruiting region.
So, should your university give up on recruiting in Saudi Arabia? Not necessarily!
Universities with strong rankings may still find success by working with Saudi recruitment agents, ensuring they are on government-approved lists, and investing resources into this effort. Though with major leadership shakeups happening with the Saudi government, whether these policies will stay stable is anyone's guess. This picture could look very different in a year's time.
Building strong relationships with reliable sources in any country is always valuable as that recruitment channel's student pool ebbs and flows.
The Saudi students are still there, seeking a US education under the right circumstances. But fewer US institutions should pursue this market.
Wondering if Saudi Arabia is still a market worth pursuing for your institution? We just might know some folks who could help you sort that out. You know where to find us!