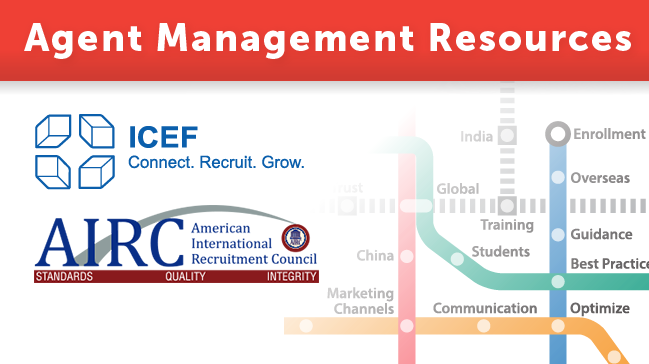 Here at Intead, we are always on the hunt for reliable resources and information to help our clients, and favorite blog readers make better decisions about their recruiting and marketing plans. While the ICEF Monitor Agent Barometer is not new (it's been published annually since 2007!), it is a great resource of information from people on the ground, working directly with student every day–agents! They can be extremely helpful and reliable sources.
Considering the amount of change in the air here in the U.S., in the U.K. and frankly, a whole lot of other important student-focused regions, having a strong agent network is like having your ear to the ground in all of these regions. Without in-country partners, you are relying on international news sources to tell you what the cultural sentiments are and how economic conditions are changing. Good agents are a great source of current intel.
Bottom Line: The 2016 Agent Barometer survey gathered responses from 1,111 agents in 108 countries. The survey suggests that the U.S. is losing ground as an attractive destination for international students. Finance is less of a concern for students, while the responsiveness of universities is still essential for getting students to your campus.
Another helpful resource to be on the lookout for is "NAFSA's Guide to International Student Recruitment: 3rd Edition" about all things international recruiting coming out in May 2017, and featuring an Intead-written chapter "Effective Marketing Practices for International Student Recruitment: Simplifying the Complexity of Academic Global Branding" on digital marketing strategy and tactics.
Read on for details and links to valuable information sources and our agency evaluation form to support your recruitment plans. You'll have to read to the end to get all the good stuff! Don't forget to share it with your team.
The Agent Barometer survey reports that undergraduate programs were the biggest recruiting category for agents (80%). English language programs and postgraduate programs came in close behind (79 and 74%, respectively).
Just yesterday, we presented alongside Niagara University and Salem State University at AIEA in D.C. on the value of English language programs and how to leverage these pathways to support campus internationalization and student recruitment efforts. We will be sharing these presentation slides next week – they're worth the download, trust us.
Other important findings highlighted in the Agent Barometer show that the U.S. and the U.K. are becoming less attractive to students. This likely doesn't come as a surprise considering the current political climate in these two countries. As we've noted many times before from our own research, 60% of the 40,000+ student survey responses we received last year said they were less likely to study in the U.S. if Donald Trump were to win the election. That 60% figure is shocking and reality won't be that dramatic. Nevertheless, we are already hearing about U.S. language schools facing significant recruiting challenges. Language programs are often the canary in the coal mine since they have far shorter recruitment cycles than degree programs. This was certainly true following the September 11 attacks in the U.S.
Canada, on the other hand, is gaining ground according to the 2016 Agent Barometer results. Concerns over securing visas and personal safety concerns are more in focus for students. Add to that the increasing affordability, due to the currency exchange rate and Canada is likely to continue to see interest from students.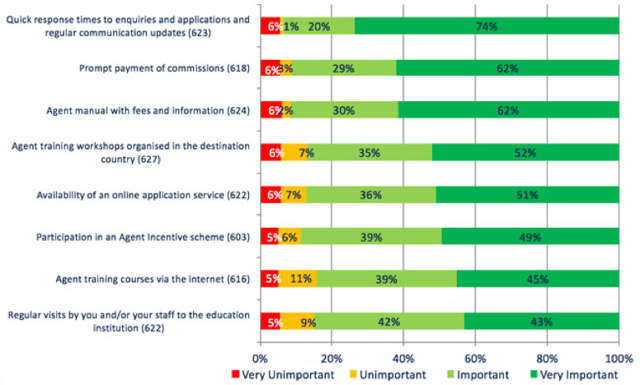 Source: 2016 Agent Barometer
Another noteworthy stat from the report: a whopping 93% of agents involved in the survey mentioned quick response times for inquiries and applications as their top-rated marketing strategy for institutions in 2016. Where should you invest those budget dollars? Pro Tip: Your staff's ability to respond quickly will result in more students.
Another useful nugget from the report: for half of the respondents, 30% or more of their leads came from online (how's that digital marketing budget doing?).
Where you can turn for more great information:
What are some other online resources you turn to for your reliable information?