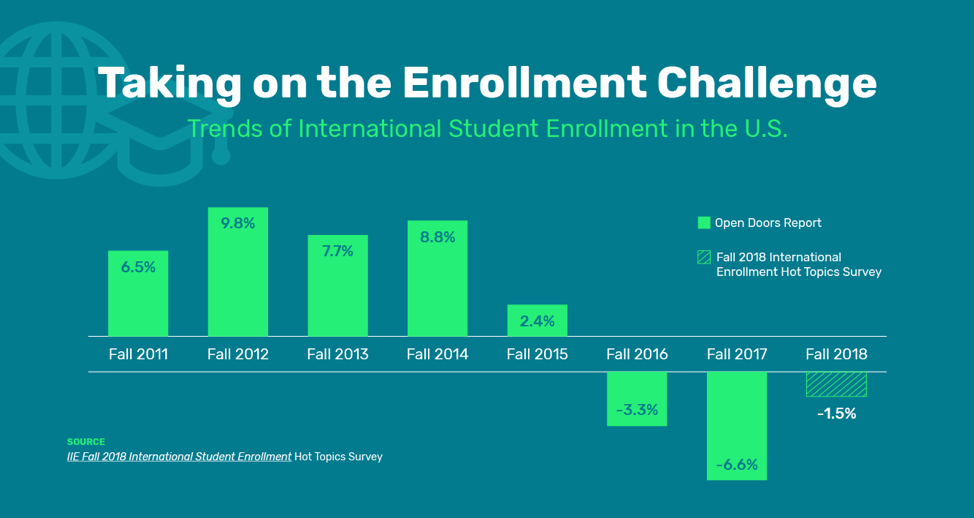 Three weeks ago our post about How Our International Audiences View Us Now, drew a tremendous number of views. If you missed it, you might want to take a look.
There was a lot to dive into based on recent news and reports on enrollment challenges both domestic and international.
We hope you will take the opportunity to join us as we discuss all these ideas and the strategies to address the enrollment challenges we all face. The Intead team, Ben Waxman, Patricia Tozzi and Alicia Depatsy will all be presenting and sharing at the AIRC and ICEF conferences in Miami in December. Email us if you'd like to set up a meeting.
Now, what kind of perspective can we offer you to address the enrollment challenge?
Read on...Recruiting Basics: Boosting your recruitment marketing through audience segmentation, student retention efforts, and activating your alumni network are all important actions as you take on the enrollment challenge. We've published insights and recommendations on all of them here in this blog and in our market research reports. We know you are working on these initiatives and based on our conversations in the field, we know you are feeling like you could be doing so much better. The resources available in Intead Plus can help you assess your position against your peers and create tactical plans to move forward.
Tech Platforms: Digital marketing platforms and lead management platforms (see our post about CRM's from a few weeks back) – are critical to scaling your student enrollment efforts (domestic or international). Without these in place, your numbers may grow a bit based on your travel plans, but you won't see sustained, scalable growth. But you already know that and if you don't have it in place, you've likely been fighting that budget battle for far too long.
Here's the thing: adjust your goals downward if the powers that be are not giving you the resources you need. Simple as that. Our budget planning guide offers perspective (another Intead Plus content exclusive).
Student Recruitment Agents: Using recruiting agents continues to rise among US institutions while many pathway programs continue to over promise and struggle – unless your institution is among the highly ranked, and that's just 2% of the market. And if you can claim that highly ranked status, by and large, your institution is not suffering the dangerous declines being experienced by others (see data tables below). Here's last year's research we conducted in partnership with AIRC on using recruiting agents. That report is available for free.
Yield Confidence: And now the buzz is about the NACAC "ethics" changes.
Our prediction: This change won't have a significant impact for the vast majority of institutions and students. We see a fizzle at best. This industry changes its practices very slowly. To the extent that some institutions attempt to lure students away from the competition late in the recruitment cycle will largely fall flat. It is all about winning students' hearts and minds early in the process and letting applicants know you love them. You are doing this, right? Audience segmentation, engaging content, lead scoring...you know the drill. If not, we're here to help.
The bigger issue is yield confidence for institutions. And the biggest, self-imposed threat to yield confidence continues to be the widely celebrated Common App. Losing the early decision protocols could further erode yield confidence and so, the NACAC ethics changes could have an impact on enrollment...but we doubt it.
In the end, the students will be fine. They actually know what they are doing or they stumble around until they figure it out. They end up OK. Sure they need guidance, but they are not that delicate in this area. Where they need more support are overall mental health services (a growing need) and better career guidance as they progress through their degrees.
Your institutional budget projections, that's another story. That's an area that needs some help.
Our radical thought: modify your use of the Common App to achieve higher yield confidence. Look to a future blog post for more on that, or send us an email if you are serious about improving your enrollment numbers and yield confidence. We can talk.
What About the Data?
It wouldn't be an Intead blog post if we didn't give you some numbers to consider.
While the decline in international student enrollment is appearing to level off in the US (see IIE data in our blog image above), here at Intead, we see indicators that the US market is not done with declining international enrollment. It will take a series of good news events coming out of Washington about visa denial rates, work visa opportunities and violence prevention efforts to turn around the negative perceptions that are growing. A word to the wise: don't take that last sentence out of context! There's more positive to this story.
As we noted in our post 3 weeks ago, there are many reasons your recruitment efforts will succeed if you take the appropriate actions. (Really, you should go read that post if you haven't yet. Here's the link again).
The Open Doors Report and the 2018 International Enrollment Hot Topics Survey provide us with great historical data showing the percentage change per year of new international student fall enrollment in the US.
Historically, the number of colleges and universities reporting a decline has hovered around 33% each year, and this last year it was at 49%. That is a significant rise, but it isn't a blaring siren. There's no reason to throw in the towel. Because this: 44% of institutions reported growth.
There is no reason that can't be your institution's story with the right investment of resources.
The declines are being felt by public institutions more than private. And as we all know, the highly selective institutions are having an easier go of it than those with higher acceptance rates.
Here are a few informative tables using IIE data to put it all in perspective:
| | |
| --- | --- |
| Institution Type | Int'l Student Enrollment +/- |
| Master's colleges and universities | -10.8 % |
| Associate's colleges | -7.7 % |
| Doctoral institutions | +0.3 % |
| Baccalaureate colleges | +5.5 % |
| | |
| --- | --- |
| Institutional Selectivity | Int'l Student Enrollment +/- |
| 90% or more accepted | -7.0% |
| 75.0 to 89.9% accepted | -2.8% |
| 50.0 to 74.9% accepted | -1.9% |
| 25.0 to 49.9% accepted | +0.7% |
| 10.0 to 24.9% accepted | +3.6% |
| Less than 10% accepted | +2.5% |
The Wrap Up
While some higher education trends by institution type are relevant, it is important to note that institutions of all stripes and ranking levels are seeing growth. How is that possible? What do they know? And how do they do it?
We'll answer those questions over the coming weeks. Stay tuned.
And engage with our ideas. We've been known to publish provocative perspectives. Other points of view, diversity of thought, these are what we as academics must foster. Share your comments below.