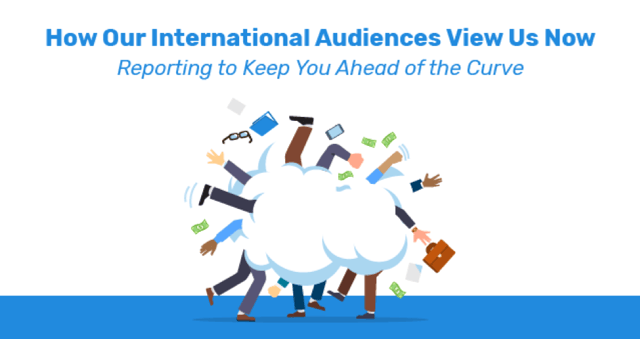 If you've been following our blog and our market research, you were reading today's headlines three years ago.
Intead has been conducting primary research on student and parent interests and influencers for a very long time. And we've been publishing our results for you. And we've been incorporating our findings into our clients' marketing activities.
More than three years ago, we reported on international student concerns about the news coming out of the US. At that time, presidential candidate Donald Trump shared his views on Mexicans and a host of other things using headline grabbing terminology that continues to this day.
Research we've conducted, both primary and secondary, found that the parents of international students are staying on top of news coming out of the US. And we noted both students and parents increasingly raising safety as a top-level concern as opposed to a passing thought. We also identified visa processing issues as a concern to international admissions operations. And we identified the growth in international students attending US-based private high schools and the value of, and best practices, for recruiting those students.
All that, and more, was part of our conference presentations, publishing and client support in 2016.
Many sources of academic news tell you about the trends. Our goal, and we hope you know we deliver on this, is to answer the question, "So what?"
A favorite question of our friend and colleague, Harry Lane, professor of international business and strategy at the D'Amore-McKim school of business at Northeastern University. He will always push his students to consider this point: data and information are only as valuable as your ability to determine what actions you should take.
We get trend data and reams of other information all the time. So what?
This is where Intead shines. We're all about the strategic decisions and tactical execution that emerge from the data we gather.
In fact, we have three new global marketing reports based on new research that we will release this fall and present at all your favorite conferences. (AIRC and ICEF Miami, anyone?). Oh, and not for nothin', but a subscription to Intead Plus might be worth a look.
Getting the answer to "So What?" three years ahead of your peers, that's gotta be valuable.
Read on for a few observations and action-oriented tips based on what we are seeing now…
With the rise in gun violence in the US and the headline grabbing news reports about it, international students and parents have become highly sensitized to safety issues. Safety was always part of the destination decision making, but it never rose to the top the way it has over the past 3 years.
What we are seeing in today's media and other reports focused on our issues in academia (think Chronicle of Higher Ed, Higher Ed Times, PIE News, The Hechinger Report, etc.), is that the information we had been using to guide our clients in 2016 is now being reported as if it were new. It may be new to some, hopefully not to you, our regular readers.
The theme for how international students and parent see the US right now is: fractured.
From a marketing point of view, it is ALWAYS important to understand how your prospective students (and parents) view you and what you have to offer. True of any industry and market. And currently, Western ways of governing are seen as broken, fractious, and resulting in citizen unrest.
Look at UK, US and EU leadership and the clash of far right and far left and consider whether there is more or less of this kind of conflict today than say 10 years ago.
A telling article in the New Yorker by Han Zhang last month about Chinese news and entertainment source, College Daily, captures the sentiment well. This, from College Daily Founder Lin Guoyu:
…College Daily's stories accurately reflect its readership's disillusionment with America, particularly when they compare the U.S. with China. "Especially after the 2016 election, our readers see how divided a society America is," Lin said. "They see the chaos that's brought about by its freedom. At the same time, China appears to be orderly, positive, and continuously advancing. This changes how an overseas Chinese student feels…"
The article has some fascinating observations about US/China relations as well as approaches to journalism. Well worth the read.
And here's some selected data from IIE's fall 2018 Hot Topics Report that speaks to marketing messaging US institutions should take to heart. Here's what your peers in enrollment management report seeing as the sources of international student enrollment declines:

Selected data points from Figure 5. Top 12 Reasons for Declining International Students, Fall 2016, Fall 2017, Fall 2018
What to Do Next
This may sound bleak and ever so concerning for the marketing and enrollment focused among us. But we have more to report that shines a light on the path forward. If you have any responsibility for enrollment management, marketing and recruitment, there are a few things we want you to keep front and center while the headlines are bringing you down.
There is a strong market out there for what you have to offer. When the total number of potential student applicants dips by 3% or 6% this is an incredibly important trend to consider. It does not mean that there is no longer any demand for your services. In the marketing world, it means you need to steal market share from your competitors (domestic and abroad). Harsh but true.
The US brand of education still leads the pack. With the rhetoric coming out of Washington, DC, the news cycles and the rise in visa denials, your messaging needs to shift and the type of students you will attract is also going to shift. We do the market research to figure these things out for each client we serve.
Keep marketing. IIE reports that 44% of US institutions continue to see increased international student enrollment in these turbulent times. By and large, they are doing that by investing in marketing and recruitment efforts while others are not.
Our short answer to "So what?"
Remain action oriented, always.
Track your results, always.
Adjust your marketing based on the tracked results, always. New messaging that resonates, new student services that speak to needs and concerns, and more.
Keep your institution on track.
We remain helpful to those who think strategically, take time to plan, want to stay ahead of the curve, and are not afraid to act in changing times.
Our guidance keeps you ahead of the curve.
Access Intead Plus for reliable information that will help you stay three years ahead of your peers.