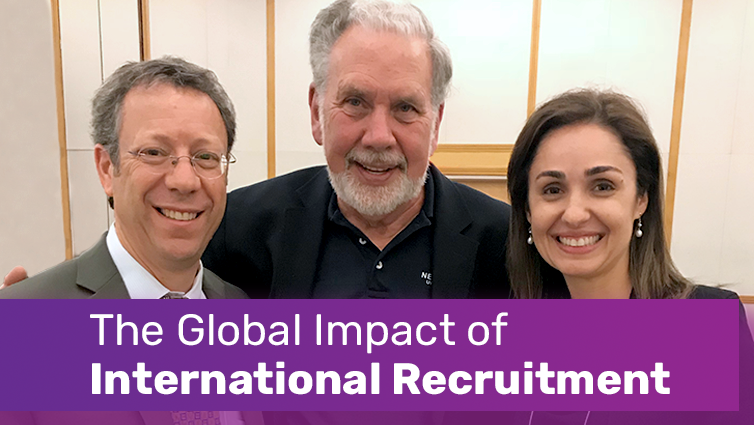 Last week, we attended the NAFSA Region X conference in Princeton, NJ, and had the pleasure of meeting many new friends and reconnecting with old acquaintances.
Perhaps the most memorable conversation for Ben and Patricia was with Dr. John Sexton, president emeritus of NYU and founder of the Catalyst Trust for Universal Education (pictured above). They had a chance to talk following his plenary addressing the value of international education and the importance of the work you do.
Here at Intead, we often reflect on the value of all of the effort you put into this whole international education thing. This week we wanted to pause and thank each and every one of you for the incredible work you do every day to sustain a volatile industry and encourage students around the world to connect and share experiences across borders. This is, "the life to which you are called," as Dr. Sexton so aptly phrased it. And you do it with such great energy and dedication. We recognize the value of the work you do and hope that you will continue to make leaps forward in the face of today's challenges, tomorrow's, and the next.
We are here to say: we see everything that is happening in the world and in global education, and we echo Dr. Sexton's message of staying motivated, encouraging each other and recognizing that, "Your work is so valuable."
Need some re-energizing? We all do once in a while. Read on to reconnect with your passion and renew your vigor…
Every Day Impact & Long-Term Effects
The work you do in international education is so important to making the world a better, stronger, more balanced and economically-connected place.
We've all heard this mantra a million times, right? The idea that we build cross-cultural understanding through increased international interactions. But what does that really mean on a day-to-day basis? It can be easy to get overwhelmed by the sheer volume of your role and lose sight of the impact you are making on the lives of prospective and current students.
Whether the results of your work are immediately recognizable to you or not, there are positive and world-stabilizing interactions happening on your campus every day -- specifically because of the work that you put in to getting international students onto campus. You know those jobs your graduates go on to get? The ones where they bring greater global awareness and perspective? Yes, those jobs. Those are the ones that expand cross-border commerce, opportunity and increased global stability because of connections established on your campus.
Learning patience and acceptance of other cultures and ways of approaching the world -- all crucial to developing global citizens who will work toward building a more united, collaborative world. Simple cultural misalignments that may have caused major misunderstandings in a corporate or political context can be handled with grace and eloquence when past experiences offer cultural perspectives. Your work is fostering those early life experiences that mean so much when consequences may be far greater.
A simple example we've all seen: Chinese students who have been taught to show respect by not asking questions during class learn that the same action signals engagement and welcome assertiveness in a Western classroom. Just as American students will learn that being the loudest person in the room is off-putting to many other cultures and will not always foster positive relationships.
By facilitating these interactions on your campus, you are producing more graduates who are equipped to work in global businesses, research environments, governments and NGOs. There is of course an economic value to producing these high-performing graduates. Also worth considering: with seven billion of us trying to share this planet today, fostering peaceful and respectful co-existence also has value to all of us.
The Need for International Education
There are so many places in the world where higher education is inaccessible. The Catalyst Foundation for Universal Education reminds us of why the work we do in international education matters so very much.
Empowering young people from regions of conflict and poverty provides the tools they need to give back to their community and lift others out of potentially life-threatening situations. Projects like the Catalyst Foundation enable this transformation through life changing educational opportunities, research and educational scholarships.
With powerful statistics, the foundation reminds us that 2 out of every 5 children enrolled in school never learn to read or write, and only 1% of refugees attend university, compared to the global average of 34%.
Empowering these populations through accessible continuing education opportunities facilitates stronger international relations and saves lives. Education is a doorway to opportunity, to the world, and to a brighter future. What you do opens doors every day. As you juggle your daily paper work and meeting schedule, we hope you remember that.
Not all Victories Happen on a Grand-Scale
Consider the "little victories" in the work that you do every day. The student whose visa you helped get approved? The student who came to you for financial advice? Or guidance on English language study? Those interactions changed lives.
You have touched the lives of students and prospective students in so many ways. It can be easy to become blind to the significance of the impact you are making, but we (and Dr. Sexton) want to remind you that it is there. It is important and more valuable than you may even imagine. Just keep going! We support you every step of the way.
To explore the impact of international higher education further, please read our blog post from a few weeks back on Integration vs. Inclusion and Developing Cross Cultural Competency on Campus.
And here is a link to a video of Dr. Sexton talking abut his work with the Catalyst Foundation.