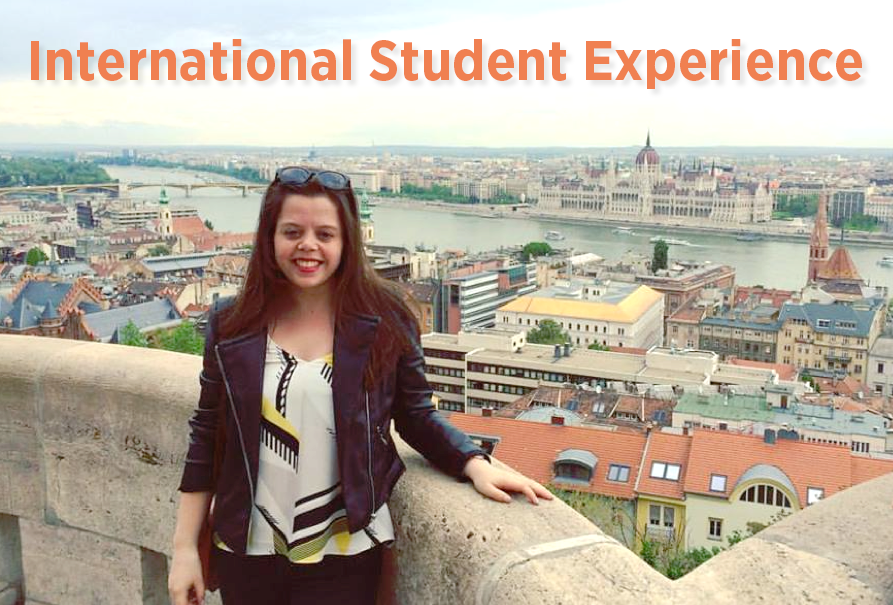 This week, we turn directly to the voice of the international student–specifically, to our international student intern, Maartje Sebek (pictured above while traveling in Budapest), who has been working in our office since September and concluded her internship last week. (We seriously miss her already!)
Keeping the international student in mind as you create your marketing content is so important. Below, Maartje share's her perspectives on living and working abroad, why she decided to come to the US, and how her experience will benefit her future studies and career goals. Maartje's motivations for this international experience and her decision-making process identify a few tools you should consider and point to valuable messages you might incorporate into your student marketing.
Among Maartje's many projects at Intead, she helped us pull off our first annual International Student Recruitment Bootcamp, presented in partnership with CGACC. The theme was What Works Where and our conversations, workshops and presentations all focused on building recruiting and digital marketing strategies for the year ahead with a mind toward best practices, metrics and engaging the right audiences.
In the weeks ahead (starting next week) Intead's Recruiting Intelligence Blog will share some of the helpful worksheets from the conference.
Now, let's have Maartje tell her story: Hello blog readers, I'm Maartje, a 23-year old Dutch student who just returned home to the Netherlands after living abroad in the US. Currently, I'm studying at the Hanze University of Applied Sciences, Groningen, in the Small Business and Retail Management program. As part of my third year at my university, I had to complete a six-month internship. This is my story about how I chose my internship abroad and the value of international work experience.
My journey to living life abroad started with many of conversations with other Dutch students and a very helpful internship coordinator. I knew I wanted international work experience, so the choice was simple: I wanted to do my internship abroad.
The search for my internship abroad was specific: I was interested in the marketing field and I wanted to improve my English. That's why I decided to go to an English-speaking country.
Over the next couple of weeks, the internship coordinator at Hanze University of Applied Sciences sent me different types of internship vacancies, but none of them were the right one for me – at least that's what I thought. He advised me to talk to students who were living abroad to discuss their varied experiences. At our university there is a world map that shows where students are, what they are doing and their contact information. This was very helpful.
I came in contact with Emily, a student who was living in the U.S. at that time, and working here at Intead. She told me about her internship and gave me the name of a Dutch recruiter who was living in the U.S. We spoke a few times and the recruiter connected me with Intead. I was excited by the prospect of coming to the U.S. and gaining knowledge from an international company.
International work experience is definitely something that improves your resume – especially in the Netherlands. Employers are looking for students who have experience abroad. It can be a distinguishing factor in the hiring process because there are so many university graduates with the same degree and experiences. For me, this internship will help me stand out from others. This experience was valuable in developing and maintaining strong professional skills useful for the future. It taught me some important things and also got me to explore my own interests. Through this internship I cam to understand my personal interests and future career goals better. The international experience taught me to embrace different cultures and helped me learn to be patient and open minded, and was great for my personal development.
But an internship abroad or study abroad is not only good for students, it can benefit universities as well. How? Students do the marketing for you. When students are enjoying their internships or study abroad travel, the good word spreads really fast. Students are proud of what they've done and tell their family and friends. These kinds of testimonials help not only current students interested in abroad opportunities, but also prospective students still deciding which university they want to attend. If they are hearing things like, "If you are interested in studying abroad or working abroad for a while, XYZ university is a great place to go!" – well, that's free marketing.
My internship has come to an end and so will this blog post, but I'm looking forward to using all the knowledge and skills this internship has taught me in my final undergrad year. As for what's next? Right now I'm looking for opportunities to complete a Master of Business Administration abroad. I know that my experience abroad will benefit me in a program like this and will help me see things from a new perspective.
A Final Word from Intead: Maartje's work here has been above and beyond. Her wisdom and work ethic will be extremely hard to replace. You can bet we'll be interested in where she chooses to get her MBA in 2 years. You should be too! And if you have any amazing international students looking for a US work experience, we are always looking for talented interns to help us as we help them. Please send them our way. Let's see if they can measure up to Maartje. Tough shoes to fill.