To better recruit Japanese students it helps to have a deeper understanding of the higher education landscape in Japan. In this post we will introduce some factors that affect Japanese students' interest and ability to study abroad.
College Attendance
According to Japanese government research conducted this past summer, college attendance is 51.8% this year, the highest it has ever been. This percentage is not high from a global perspective, but the proportion of tertiary-educated adults in Japan is expanding. Now Japan is the second largest proportion among OECD (Organisation for Economic Co-operation and Development) countries. Since Japan has several choices for tertiary education, the college attendance is less than the worldwide average.
University populations are increasing in spite of a decrease in the birth rate. The government has loosened the installation criteria to universities since the 1990s in order to enhance universities' quality by diversification of a faculty or competition between universities. On the other hand, the problem of university management is aggravating; data indicates that 40% of private Japanese universities are less than capacity. Since globalization is required in our international society, a demand for university education is high. 

Japanese universities have realized that many professionals who have earned Masters or Doctorate level degrees have studied in the U.S. Demand for advanced training is increasing in Japan annually.
Trend of Studying Abroad
In order to improve students' understanding of globalization, Japanese universities that encourage overseas study abroad are increasing. For example, Hitotsubashi University decided to require studying abroad to all students starting in 2018. Therefore students cannot graduate from the university without studying abroad. Saint Paul's University has a goal of sending 4,500 new students on abroad programs by 2024. The university is increasing foreign exchange universities from 200 to 300. Waseda University also hopes to send 44,000 students abroad by 2032. The environment for studying abroad is improving in universities.

However, the source of revenue has been a subject. Since the government subsidy and donations from companies or alumni are not enough, students will have to pay a portion as well. Compulsory studying abroad will likely cause an increase to tuition. There is concern that some students would like to concentrate on their studies and research in Japan. If students do not study abroad, they worry they will receive negative evaluations in job hunting activities. What will happen from now on?
Policy of the Japanese Government
Let's consider the plans of the Japanese government. Aimed at educating global leaders, English is taught as a compulsory subject to all students starting in the fifth grade. The Japanese government recommends changing the university entrance examination to include Speaking and Listening, in addition to Writing and Reading. Therefore, TOEFL might be introduced into the entrance examination.

The Times Higher Education recently released World University rankings for 2014-2015. University of Tokyo is ranked 23rd, the highest position in Asia. Other Japanese universities saw their rankings decrease this year. Asian universities outside of Japan saw increases to their ranks. To give an example, National University of Singapore ranks 26th. National University of Singapore may pass the University of Tokyo in the near future. Japanese universities need to focus more on internationalization, and increase the number of professors and students from overseas. International cooperation in research, and an international network became advantageous for this ranking model. The Japanese government should invest in university globalization as Singapore, China and Korea have already done.

According to OECD, sending students abroad is a good way to help students prepare for the increasingly globalized and interconnected labor market. Only 1% of Japanese tertiary students were enrolled abroad in 2011. Responding to this situation, the Japanese government launched the "Tobitate! Ryugaku Japan" campaign in 2013, which includes a series of events and a new scholarship program, with the aim of doubling the number of Japanese students studying abroad by 2020.

"Tobitate! Ryugaku Japan"
-For Japanese students or students who have permanent residence in Japan
-Number of scholarship students: 500 (The 2nd recruitment in October, 2014)
-Target age: 30 or less
-Scholarship for maximum 2 years including overseas travel expenses and tuition
-Seminars and events for supporting study abroad and future job hunting
-After studying abroad, scholarship students have to return to their schools or universities in Japan
-Students need to meet a certain household criteria by Japan Student Services Organization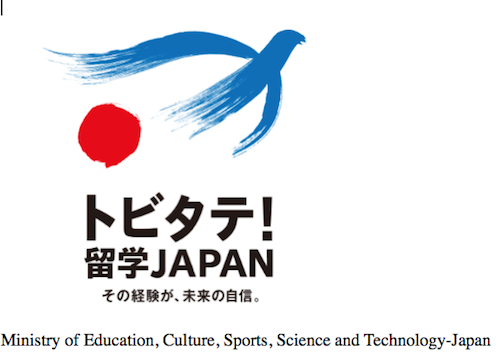 International Student Data

Although the number of Japanese students who study abroad is decreasing, different data is revealed by reviewing the study abroad destination. The number of students who are enrolled in the US and the UK is sharply decreasing, but other countries, such as Germany, France, China, Taiwan and Korea show stable numbers. Recently studying in Asia has become popular, since students can travel there easily, and the tuition and living expenses are less expensive than in the US or UK.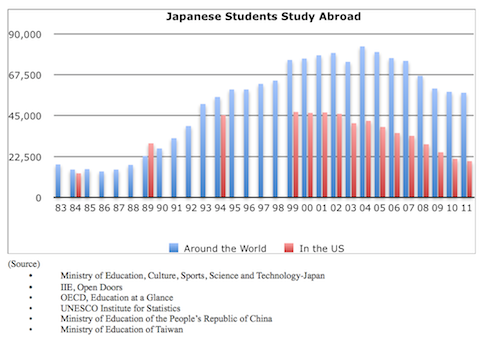 On the other hand, international students from around the world coming to Japan are sharply increasing. The Japanese government and universities will continue to encourage growth.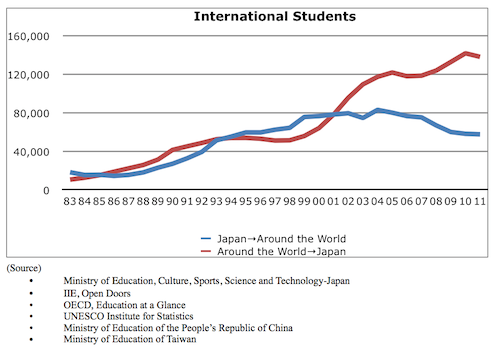 Students' Opinions
There are many obstacles that a Japanese student faces in studying abroad. This is why there is often a negative opinion of study abroad among Japanese students.

1. Economic Burden
-High cost of tuition and living expenses
-High cost of travel
-Distance from family

2. Organization of Foreign Universities
-Possibility of extending years of education since the home university may not approve credits received abroad
-Little information on overseas universities

3. Inward Focus
-Weak English (or other foreign language) skills
-Satisfaction with domestic education, life and job

I would like to mention a little more about "Inward Focus." When Sanno University surveyed new employees about their global opinion, it was surprising to learn that over 50% of the new employees have no desire to work abroad. They lack confidence with their English skills, worry about living abroad, and see no attraction to overseas life. They are satisfied in their present domestic lives.

On the other hand, 55.9% of the new employees believe that the English education they received in their schools and universities was not useful. They studied English for earning good scores in their examinations, so they do not know how to communicate in English. Of course learning grammar and memorizing words are important, but the Japanese education system lacks teaching students how to use English in their daily lives and business scenarios. I hope there will soon be a change in the English education style in Japan. As a matter of fact, the data shows that 77.8% of the respondents to this survey also agree with my idea.

The Japanese need to pay more attention to globalization. The Japanese government and universities should increase funding for study abroad, increase the number of foreign professors and students, make studying abroad compulsory, and demonstrate to students the benefits of studying or working abroad.