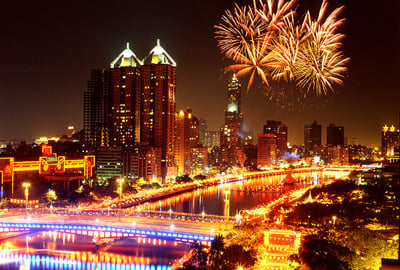 Interest level of international students studying abroad is not immune to change. It is important that university admissions officers be aware of market and regional trends to identify opportunities that match their institution's strengths. With limited international student recruiting resources, information is key to allocating your resources wisely. To save you the legwork, we have explored the potential of the Taiwanese market for international student recruitment. Skip to the end of this post to see some great recruiting tips if you've not researched Taiwan before.
Oh, before you check out this post, we'd be remiss if we did not hype the upcoming NAFSA conference in Boston. Our staff will be zipping in and around the conference non-stop. We will be presenting on international recruiting topics with some of the leading universities and organizations in the field. Can we buy you a cup of coffee and chat?
Leading Sender Drops to 6th Place
The US has been a popular destination for Taiwanese students for the past 40 years. Based on 2014 data from the Institute of International Educations's (IIE) Open Doors Report, Taiwanese students in US universities contributed $707M to the US economy, based on more than 21,000 students studying here. Though this number has been declining over the past seven years, Taiwan is still the 6th leading place of origin for foreign students coming to the US.
However, student numbers from Taiwan peaked in 1993/94 with more than 37,000 making the trip. In fact, from 1987 to 1989, Taiwan was the leading sender of students to the US until China took the lead. The 2013-2014 school year marks the 7th year of decline for Taiwanese students, however the rate of decline has slowed to 2.7% after a few years of more significant decreases.
Why the Decline?
The factors driving these declines likely include a mix of global and local factors including economics, population growth rates, expanded higher education opportunities and scholarships at home and in Europe. The Erasmus+ Programme scholarship for Taiwanese students supporting study in European countries and the rise of recruiting efforts in Australia play a role here. And we've all witnessed the rise of China's middle class and thirst for US education over the past decade. No country can compete with that, at least right now.
Local economics play a role too. Decreasing interest rates for student loans in Taiwan and low cost of attendance compared to US universities, make staying at home for university more attractive to Taiwanese students. The charts below were based on the 2014 data from the Open Doors Report and the 2014 Education Report by the Ministry of Education (MOE) in Taiwan.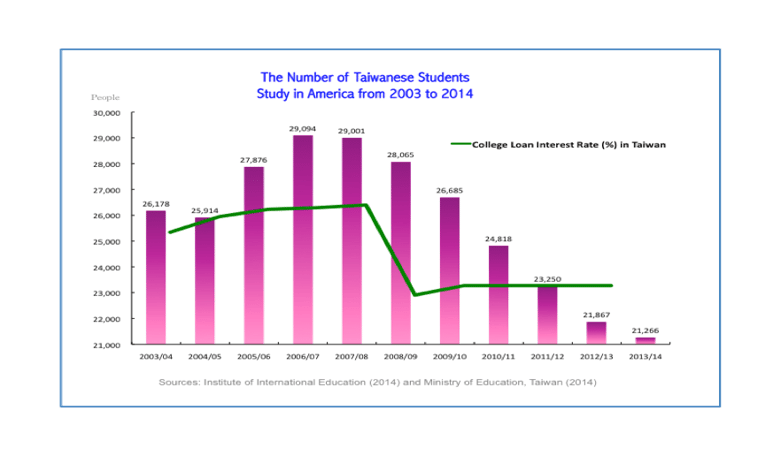 We also can see from the data below the steady increase of foreign students opting to study in Taiwan. It's no longer necessary for Taiwanese students to leave Taiwan for a world-class, multi-cultural educational experience and that experience is drawing students to the country as a destination.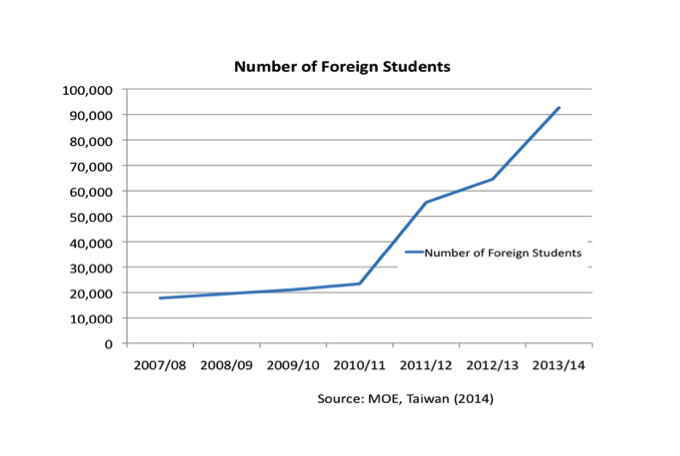 Do You Have What Taiwanese Students Want?
According to the MOE of Taiwan in 2014, 49.7% of Taiwanese students in the US were enrolled in graduate schools, 27.4% were in undergraduate schools, and 15.6% were doing OPT. These numbers suggest that Taiwanese students have very clear goals in going aboard – specialized education and training for advanced career opportunities.
Career-oriented majors and academic programs may be more attractive to this group. The most popular majors for Taiwanese students are Business/Management, Engineering, Fine and Applied Arts, and Physical/Life Sciences. If your institution is highly ranked in these majors, this should be a top selling point to Taiwanese students. Internship resources, career accelerator boot camps, and professional mentor programs are will also favorable to this market.
How's that international alumni database doing these days? If you are like most of the US universities we talk to, that database is sorely lacking when it could be used incredibly effectively to give you a competitive advantage. Nothing convinces international students and their parents that your institution has value like alumni employed in desireable jobs. Your domestic recruiting team knows this in spades. And yet, so few schools are able to tap their international alumni as examples of success. (Hint: we can help you with this).
Back to Taiwan: Though the country may be a great sending country for your institution, it's difficult to make a universal case that this group will be growing on US campuses any time soon. See our quick recruiting tips below for more information on student recruitment in Taiwan. Stay tuned for future posts focused on recruiting in Malaysia, Thailand coming to an inbox near you very soon.
Quick Tips for International Recruitment in Taiwan
If your institution plans to recruit Taiwanese students you should consider our tips on how to attract both students and their families.
1) Host webinars and attend local recruitment tours in Taiwan to get that face-to-face connection. Schools in Taiwan that send a large number of their students to the U.S. are good places to hold seminars during the your recruiting tour.
• Private Schools:
Kang Chiao International School
International Bilingual School at Hsinchu Science Park (IBSH)
• Public High Schools:
Taipei First Girls High School
The Affiliated Senior High School of National Taiwan Normal University
Taipei Municipal Jianguo High School
New Taipei Municipal Panchiao Senior High School
2) Have a social media presence. According to a survey by Zinch, nearly two-thirds of students use social media to research universities. Using local social media to share information about your school to your prospective students is an obvious advantage, and utilizing popular websites and social media channels in Taiwan important.
• Most popular microblog:
• Most popular messaging apps:
• The monopoly video portal:
• The most used web portal: