---
This past summer, the Chinese student organizations of the Big Ten universities hosted meet-ups in Beijing and Shanghai. During the events, 600 interested Chinese students and parents went to the Shanghai Kempinski Hotel and the University of International Business and Economics in Beijing. Learn more about these events and how you can use Meet Ups for your university.

At Intead, we are always looking for innovative ways for universities to reach students outside the US, build sustainable recruiting activities and expand global brand recognition. We were excited to learn about this innovative, student-driven activity, using the Meet Up platform, for this purpose.
Here are more details on the set up and the events (check out our Slideshare at the bottom of the blog as well). The Chinese student organizations organized these events to convey more information and experiences about the American university culture to prospective and newly admitted students and their parents. The meet-up attracted a large number of admitted students, but also prospective students who intend to study in the US. The meet-up in Beijing and Shanghai attracted attention since ten big universities were represented and covered relevant topics for the students, represented by students and not just the admissions staff.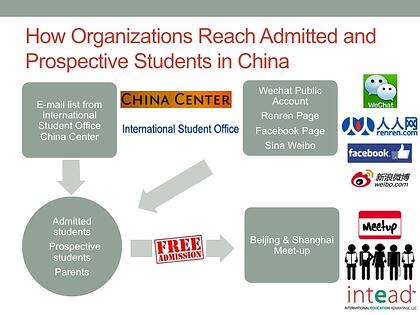 Most US universities offer a Chinese student association as part of their extra-curricular activities for domestic and international students. The Beijing and Shanghai meet-ups, however, were only for Chinese students, so, they did not meet the criteria for funding from the University.
Hence the student organizers arranged their own funding from a local BMW dealer, CITIC Bank (the bank provides official US visa service in China), and SIE summer school (the school offers summer courses in China) . The two events in Beijing and Shanghai cost $25,000 and due to the corportate sponsorship admission was free.
During the 4-hour presentation, the organizers prepared 30 topics with more than 100 pages of slides. The topics included general issues such as American culture, student visa, and accommodations. The organizers also talked about major study, career, and entertainment. The Chinese students were clearly not only focused on academic topics but also on university life and social experience.
The student organizers of the Big Ten are trying to create a sustainable model for their universities and create an annual event.
---