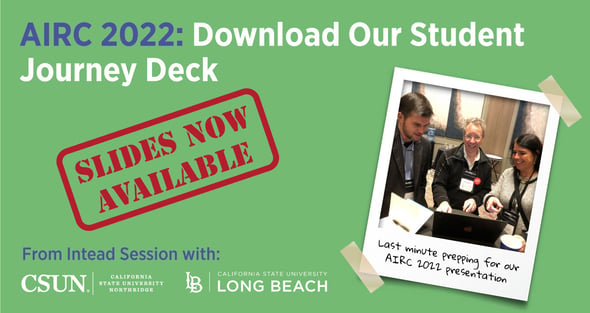 Love this photo: a last-minute session prep discussion as we reviewed the slides for our AIRC 2022 session all about the student journey. The student path to enrollment is really no path at all. That, despite even our best efforts to pave a smooth walk to first-year orientation.
Experience tells us time and again that the actual route to enrollment is filled with intersections, stop signs, potholes, and wrong ways. And influence comes from all directions. It is a multi-factor decision for students. And the path itself is not linear.
In December, Intead had the great pleasure of sharing the stage with Vanessa Andrade and Sean Cochran at the AIRC conference in Los Angeles. Vanessa is the SIO and director of international partnerships at California State University, Northridge, and Sean is the international enrollment management director at California State University, Long Beach. It was a lot of fun. Our session prompted a great discussion with attendees – a hallmark of AIRC Conference sessions.
If you couldn't sit in, don't worry. We've got you covered by making our slides available to you for a limited time.
And Hey! If you are at AIEA next week in DC, look us up. Join us for a great session on how trend data informs international student recruitment planning. Co-presenting with Karin Fischer from Chronicle of Higher Ed and Dr. Ahmad Ezzeddine from Wayne State University. Always happy to talk through this student journey perspective to help you hone your approach.
In the AIRC session back in December 2022, we had a few important learning objectives:
Learn to re-envision the many and varied touchpoints of the student journey

Gain perspective on which touchpoints can be controlled and emphasized to help students select a "best fit" institution

Understand, from the student's point of view, just how influential some of the nontraditional touchpoints are to university selection
Sound worthwhile? It is. Read on to access this valuable content.
Click below to access your free deck, "Surprise! Student Path to Enrollment is Not a Path."
The reality is that the student journey for enrollment in your institution has some shining points of contact and some less so shiny. The session discussion focused on how the shiny points might be able to compensate for those less-than-shiny moments students are experiencing. The slides tell the story to some extent. But discussion provides far more context.
If you'd like a little more context to go along with your slideshow, be in touch. We love talking about this stuff and welcome the chance to tailor the insights to your institution.