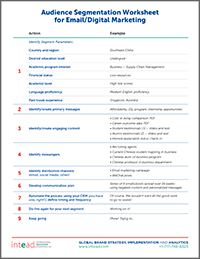 If we said it 1,000 times—and we probably have —it still wouldn't be enough. Audience Segmentation is the fuel that drives your email and digital marketing to the next level. By segmenting your prospective international students based on geography, academic interest, TOEFL scores and other demographic information, your creative content will engage them in a way that stands out from your competition.
Here's the thing, of the 4,000+ universities and colleges in the U.S., only a handful are doing this level of marketing. So, if you are wondering if you should make the effort…uhm, YES!
So the Intead team has created a worksheet that spells it out in 9 steps. Want to download a copy to share with your staff? Read on...
List segmentation can be daunting when you consider all of the regions you want to reach along with the student motivations and education levels in each of those regions. There is a lot of messaging and content to develop. It's time consuming—we get it.
But good news! We put together a downloadable Email and Audience Segmentation Worksheet to help you think about and manage this process. And yes, it's downloadable from our website at no cost, just like everything else we publish!
Outlined in the worksheet is a nine-step process to email segmentation to help jump-start your creative team (let's face it, that's probably just you). That's why we are here to help make your email systems flow smoothly and more effectively. The worksheet can act as a checklist, so you know when you've hit all the steps or where you need to be spending some more time. It also acts as a handy introduction for those who are new to audience and email segmentation.
To get the most out of this quick guide, check off the action items in the left-hand column once you've completed them and compare your work to the examples provided in the right-hand column. This will help you stay on the right track.
Download the Nine Step Guide to Audience Segmentation HERE:
If you're looking for more on segmentation, especially if you are new to this kind of marketing, check out our recent 3-part blog series where we share our tips on best practices: Part I, Part II and Part III.
Next week we will be sharing a worksheet to help you plan email marketing that supports your international recruitment travel. Those trips are expensive and you want to be sure the leads gathered will be nurtured and have a good conversion rate. Don't get us started on how many international recruiters sit on their leads for weeks and still expect the student they met at a fair last month to remember who they are…
And best of all, in the coming weeks, we will be publishing a guide to choosing a CRM. This is something more and more of our clients are seeking our guidance on. It is a critical part of your marketing and lead nurturing process. There are a lot of options out there. The Intead team is hard at work sorting through the many options out there and figuring out how to present this information so that it is useful to you.
Now you have plenty to look forward to, right? Or, are we showing you just how nerdy we are

?