According to this great infographic, 82% of American universities use Facebook to communicate with prospective students.
Are you in this 82%? More importantly, are you using Facebook effectively? And as we always ask here at Intead, are you considering Facebook's power internationally?
While China blocks access to Facebook (check out RenRen for your Chinese Facebook equivalent) other international education markets are open, with many active users on the social networking site. In India, 68 million Facebook users are in the 18-34 age group, with more than half accessing the site on their mobile devices. Facebook reaches across the world with 48.3 million users in Africa, 134.6 million users in South America and 243.2 million users in Europe as of 2012, according to Internet World Stats.
With the opportunities of Facebook in mind, here are some tips for making the most of your institution's presence on the ubiquitious social network. You can also download below our step-by-step guide on how to target international audiences.
Consider third party marketing services.
Third party marketing services can manage and promote your institution on Facebook to generate prospective student leads. The company Anyadir Education uses Facebook to reach out to large numbers of prospective students from across India and connect them with universities abroad. Their Facebook page Study at Australia (with over 29,000 "Likes") provides information for prospective Indian students about studying in Australia and puts these students in contact with Australian universities. Anyadir has recently launched a new Facebook page to help prospective Indian students learn more about studying in New York and the U.S. This new page is growing at 60 "Likes" per day as Anyadir builds its partnerships with New York universities. If you want to generate leads in your sleep, consider partnering with this type of social network-driven marketing system for your institution. Obviously, you have to consider the incremental cost of using a third party service as opposed to following the DIY method.
Anyadir's social recruitment model
If your institution is managing its own Facebook presence internationally, consider these tips:
Target your posts.
For each post on your institution's Facebook page, take advantage of Facebook's free targeting feature. The target option allows you to target posts by location (country, region or state, city), language, gender, age and even educational status. Only people that meet your chosen criteria will be able to see your targeted posts, allowing you to get language and region-specific content to the right audience—all from a single Facebook page.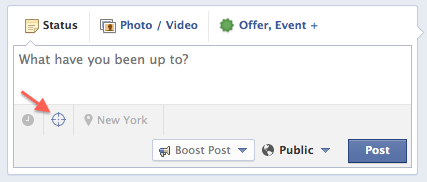 Facebook's target option
However, if you'd prefer to differentiate your pages...
Create international pages.
Some universities (although, fewer than you may think) create and manage separate international Facebook pages. On these separate Facebook pages you can post information tailored to international students, such as notices about international college fairs, admissions officer visits and standardized testing. Depending on your institution's admissions goals and Facebook content development, consider the benefits of establishing a single international page vs. several country-specific pages. The University of Alberta has over 38,000 likes on its international admissions page through which it actively answers questions posed in student wall posts. Answering student questions on Facebook is a great way to demonstrate to prospective students that you are accessible and attentive.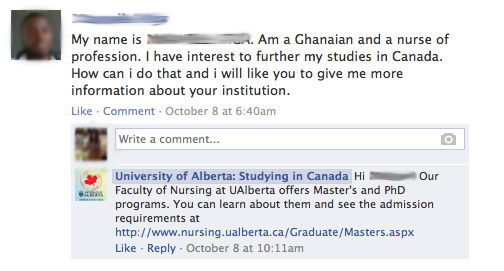 Interacting with students on Facebook


Consider Global Pages.
Last year, Facebook launched Global Pages, a new structure to help international brands provide better, localized content to international markets. Disclaimer: Global Pages are not for everyone. Currently, they are only available for brands that spend $10,000 or more (per month) on Facebook advertising. Despite the hefty price tag, the Global Pages structure is an interesting one to examine for the potential of comprehensive, fully-integrated regional content targeting. Here's how the Global Page structure could work for your institution:
A Global Facebook Page is a page with a single URL, making it easy for prospective students everywhere to find your institution. From the main page, students are automatically directed to the page for their home region if it exists. Alternatively, international visitors can manually choose their region or stick with the default Global Brand Page if their region does not have a page.
For each localized page you can customize your profile and cover photos, tabs/apps, and the About section, as well as post separate content. Using Global Pages, your Facebook Insights for all of your page variations can be monitored from a single dashboard for consolidated tracking of your global presence.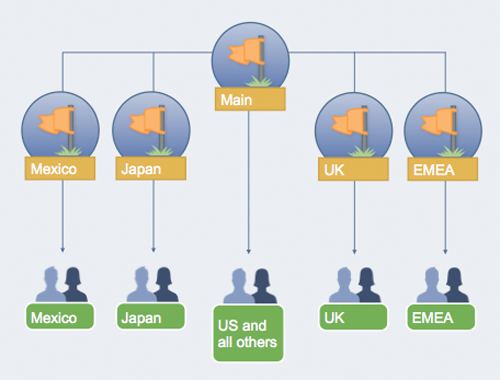 Global Pages engagement structure
Each of these four methods can help your institution effectively utilize Facebook internationally. However, before you decide on a strategy, consider your institution's resources, social media content, enrollment goals and branding capabilities. Do you think you can effectively engage and manage multiple pages, or would geo-targeted posts from a single Facebook page be sufficient? Should you invest in third party marketing systems? Asking yourself these questions can help you to assess and improve your institution's current social networking strategies.
Download our step-by-step guide for international targeting.
Keep on the lookout for our next Facebook tips post: 3 Apps to up your Facebook game.