Digital marketing is a main channel for reaching students and is especially critical for reaching international students. In a perfect world you could attract these prospective students directly to your website without paying for third-party lead generation services. However, in reality, college-seekers often start with generic web searches (e.g. program of interest, location) and not with searches for specific schools.
In the higher education web battle for prospective students, your institution competes with many websites in the search results, including student lead generators that are very strong in Search Engine Optimization (SEO) and paid search. The latter get better search rankings, which can make it difficult for a student to find your institution's programs. For international students searching in different languages, same-language websites strong in SEO will get better search rankings in those countries from which the students are searching.
For example, a Chinese student's search for an MBA program in the U.S. could yield search results for MBA programs in China due to strong within-country search rankings and despite that student's search for U.S. programs only. Amidst the multitude of options in the world of web searches, the question becomes, not how can interested students find you, but how can you find interested students?
As a starting point, purchasing targeted email lists of college-bound test takers can give you an "in" across domestic and international markets for student recruitment. In the U.S., testing services such as ACT, SAT and TOEFL are major providers of student information, which is gathered annually from test-takers around the world. For as little as $0.37/name (from the SAT), you can access student contact information as well as a variety of demographic and academic information relevant to your institution's international student recruitment process. On the SAT, 54% of international test-takers fill out the information form and indicate interest in receiving information from universities, providing an interested and accessible pool of potential applicants that can be contacted digitally.
With these email lists, your institution can engage in targeted digital marketing by filtering student leads based on several criteria including geographic region, college majors of interest, or level of academic performance. By honing your marketing efforts on more relevant leads, you can potentially save marketing dollars for your university.
However, a seemingly small cost of $0.37 per student email address can actually be very expensive, depending on the quality of the lead and the number of enrolled students that result from your efforts. As you engage in direct digital marketing, consider this: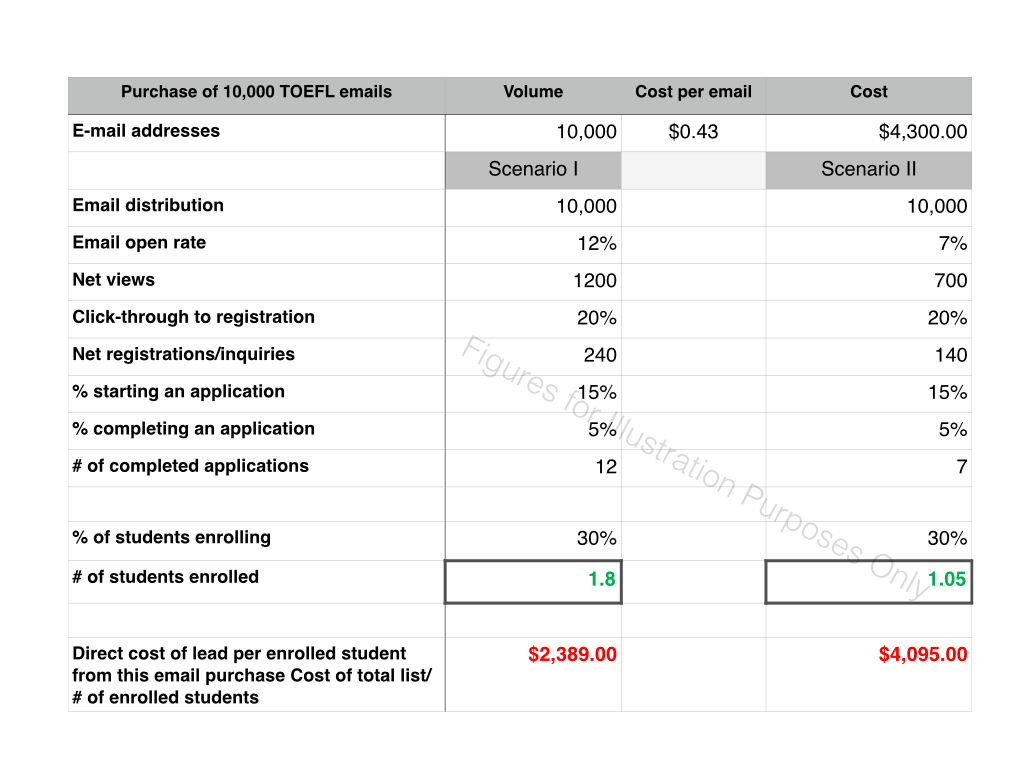 In order to determine the direct cost of the lead per enrolled student from the purchase of email lists for each scenario, divide the total cost of the email purchase by the number of enrolled students. Based on these two enrollment scenarios, it is easy to see why the careful targeting of your leads in digital marketing can have a big pay off. Purchasing emails for students whose data indicate that they might be a good fit for your school (academically, financially, etc.), will not just drive applications, but will also help to improve your return on investment (ROI). Succesful digital marketing requires consistent testing and integration with effective lead management to achieve the necessary yield conversion from a prospective student to enrolled student.
Keep in mind: in both Scenario I and Scenario II, the cost of enrolling the student will also include many more indirect and direct costs in addition to the purchase of the TOEFL email addresses. Additional costs could include travel expenses, advertising and other marketing materials, technology, and office and admission staff expenses.
The ultimate goal of direct marketing activities is to enroll more students and to do so cost-efficiently. In contrast to brand marketing, which elevates and reinforces your institution's general brand recognition, direct marketing allows you to calculate your direct acquisition cost based on your marketing program. However, there are MANY factors influencing the success of your direct digital marketing activities — choosing a college is much more complicated than buying a Netflix subscription. Understanding your conversion rates at each stage of the enrollment funnel is necessary to use direct digital marketing effectively.