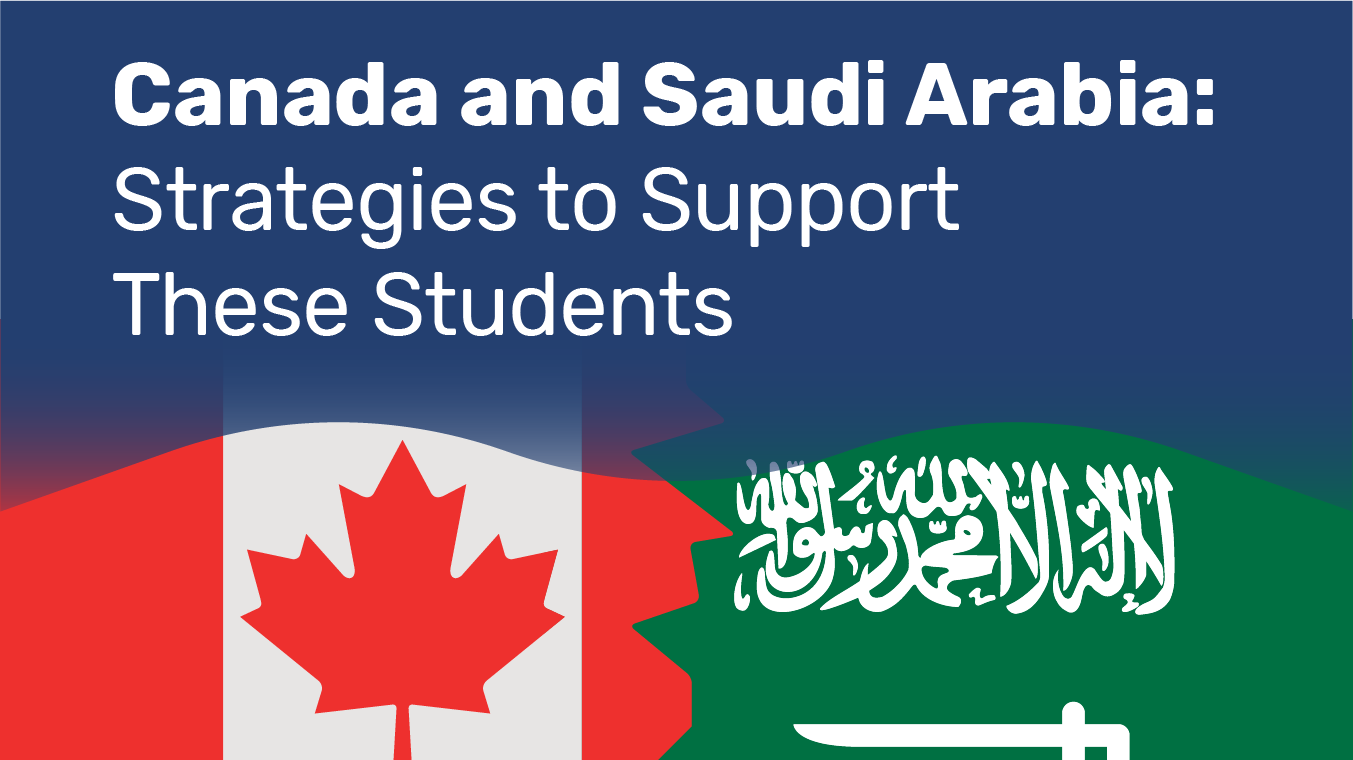 Unless you've been avoiding the international student news for the last few weeks (we almost wouldn't blame you), it's likely that something about the Saudi Arabia/Canada debacle has crossed your screen. But, you may be like many people scratching your head still thinking "wait what happened?" or maybe you've moved to, "is there anything I can do about this?"
Intead's team has been supporting our clients as the international student sands have shifted over the past few weeks. We are helping them make valuable connections that can support some 15,000 Saudi students who are caught in the middle of this political dust up.
And, we are thankful for some on-the-ground news from our friend in the field, Nelson Padron. Some of you may recall Nelson was one of our faculty at our first International Student Recruitment Bootcamp. His international career has him traveling extensively and with his recent trip to Saudi Arabia, he sent us some valuable perspective we wanted to share with you.
Let's take a little time to dissect the problem and identify next steps that your institution could take to support the thousands of students displaced by this political scuffle. We all want them to maintain their studies with as little interruption as possible.
Before we dive into that, a reminder that we will be presenting at NACAC in Salt Lake City in a couple weeks. Drop us a note if you'd like to meet (info@intead.com).
Read on for Saudi student tips...
First things first – what happened?
With a grateful nod to Nelson for his insights from the field we can share a summary of the recent events and our recommendations/perspective that you can bring to your job.
Side Note: Nelson's international career has had him traveling extensively through Latin America, the Middle East, Asia and Europe with a focus on student and executive mobility. He currently heads up international student recruitment in the region at English as a Second Language International (ESLI).
In early August, Global Affairs Canada expressed concern over the arrests of civil society and women's rights activists in Saudi Arabia (over Twitter – did you ever think huge political events would happen on short form social media? And now it's common!).
In response, the Kingdom of Saudi Arabia (KSA) declared the tweet as "blatant interference" in domestic affairs and made the decision to withdraw all Saudi students it has been sponsoring at Canadian universities, colleges and other schools. They took this move in addition to canceling a range of important business deals between the two countries. All students were notified that they must return to KSA and Saudi Airlines has suspended all flights to and from Canada.
That's almost 15,000 Saudi students who were planning to study in Canada this September who were told to leave. They now face the challenge of new enrollments considerations, credit transfers, and living arrangements!
The biggest challenges will come for the estimated 9,120 long-term international students – especially those completing doctoral programs or in the middle of internships and residency programs. However, around 1,000 medical students have already been given leave to remain in Canada, until other arrangements are made. Those in language study or early in their undergraduate study programs will likely face fewer (although not negligible) obstacles.
There are also around 20 students who have chosen to remain in Canada after the August 31st deadline. These are students who have been vocal (or are connected to someone who has been vocal) around issues of civil and women's rights.
The Saudi Arabian Cultural Mission in Washington, D.C. (SACM as we all know it) is now working with the displaced Saudi Arabian Cultural Bureau from Canada to develop a new list of approved schools and has already started to strike direct agreements with US Schools for student enrollments in January 2019.
US schools will be the primary enrollment targets for these displaced students.
What is being done?
Education institutions at home in Saudi Arabia are offering the sky and the moon to agents to bring these students home. They are offering everything ranging from increased commissions, fast processing, waivers and free airport pick-ups, to two weeks of free accommodation. There are even instances where they are providing agents a budget for marketing campaigns targeting these displaced students.
On the other hand, for students who are still intent upon study abroad, Australian universities have been very quick to respond and are offering fast track admission with clear guidelines for credit transfers.
It seems that these will be the deciding factors for these displaced students. Agents are already receiving inquiries around transfer of credits. Think about it, it makes complete sense from their perspective: "I need to change my institution, quickly. Where can I get accepted now without starting over?"
Biggest Take-Away: how quickly and easily can you ease and expedite the credit transfer process for these students to come to your university? If you are on the SACM approved list, solving this challenge quickly (as in, immediately) will result in students coming to your door.
Where are they?

Number of Schools By Province or Territory with Saudi Students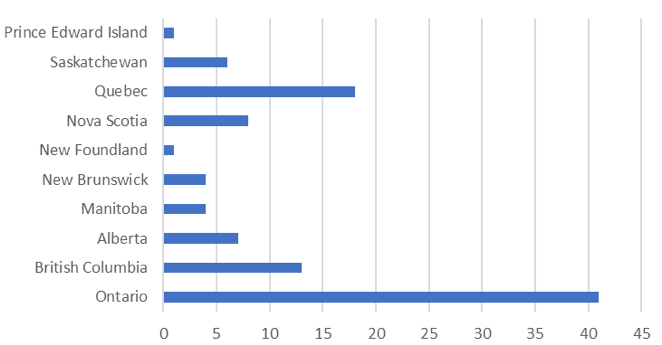 Source: Ministry of Education, KSA
Where are they?

Number of Schools By City (3% Saudi student population or more)

Source: Ministry of Education, KSA
Impact on Canadian universities: a snapshot
According to the New York Times, although the dollar amount of this withdrawal may be high, it is unlikely to cause too much overall disruption for the country, as Saudi students account for fewer than 2 percent of international students in Canada.
However, Saudi Arabia will withdraw about 800 Saudi medical students working as residents or fellows in hospitals around Canada, including more than 200 at the University of Toronto. That can disrupt medical care delivery.
And, the impact on individual institutions may be higher. At the University of Regina, a small school in the middle of Canada's prairies, Saudis make up 7 percent of international students — and pay hefty international tuition fees.
How can your institution make a difference?
Based on Nelson's conversations with partners and the information in front of us, KSA will send students to the schools that are able to:
Be flexible -- This is not a typical enrollment scenario.
Fast track the application process to help students get settled, ASAP.
Simplify credit transfer rules: these students don't have the time for "case by case."
Be accessible: simplify the communication process – be available, answer questions.
Politics aside (we know, take a deep breath), there are so many students whose lives have been disrupted quite suddenly. Your role is to help them settle back into achieving their life and career goals. Put some internal resources into the actions we've identified immediately, and it may be the best use of your recruiting resources you can make in the near-term.
Show these Saudi students how welcoming and supportive your institution is, and you'll see some very near-term results. That's really uncommon in the world of international student recruiting. Most investments take years to convert and show return on investment.