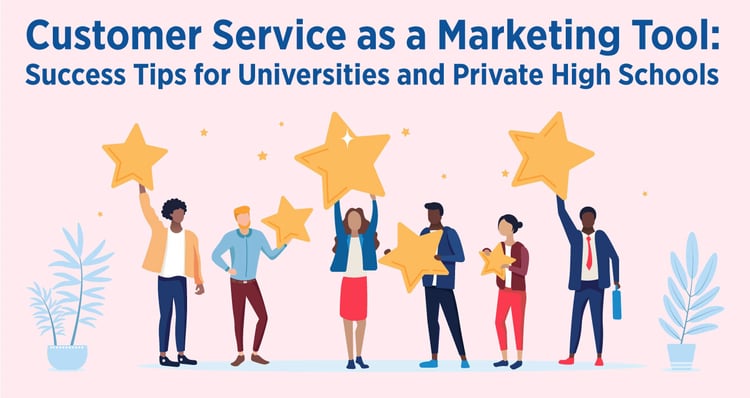 When it comes to education marketing for private high schools and universities, customer service isn't usually high on the list of marketing channels to invest in. While it's tempting to focus on exciting new marketing channels like TikTok and more traditional email nurture campaigns, high-quality customer service is a high-value aspect of student recruitment and retention that institutions too often ignore.
Let's face it, customer satisfaction delivers new customers.
According to PwC, 65% of U.S. customers said that a positive experience with a brand is more influential than great advertising. The quality of your institution's customer service – availability and responsiveness to questions and problems, and the ability to redirect to the right department – has everything to do with achieving the conversions we want and delivering the educational experience our students want.
The reality: your prospective and current students are highly influential new student magnets.
With word of mouth marketing as a major driver of new student attraction and conversion, we are talking about the importance of accurate and timely customer service and the role it plays in student enrollment and retention.
When Can We Meet?
The Intead team is prepping for our AIEA presentation with Karin Fischer from Chronicle of Higher Ed and Dr. Ahmad Ezzeddine from Wayne State University. If you will be in DC for the event, we are talking about how trend data informs international student recruitment planning on Monday, Feb. 20. Reach out if you'd like to share a cup of coffee.
We will also be in San Diego presenting at the AGB conference in April. Honored to join Brad Farnsworth from Fox Hollow Advisory (former ACE VP) and Dr. Gretchen Bataille from GMB Consulting (former president of the U of North Texas among other amazing higher ed roles). We will be talking all about insights university presidents and trustees need to guide internationalization efforts. Again, reach out if you'll be there.
Read on for academic customer service best practices that drive your students and their families to love you.
Map out your student personas
The first step in creating a positive customer service experience is to understand which customer personas you're serving. International students, transfer students, athletes, first-generation, freshmen, and graduate students are some examples of student segments (and personas) your university may have. Important also to consider basic demographic differences as well: gender categories (well beyond M/F), ethnic and race considerations, geographic considerations, household income considerations, etc.
Once you've gathered your various student personas and which ones are important to your institution's mission, goals, and priorities (please don't say, "all of those student segments are priorities for us"), it's time to consider how the needs of each student segment (persona) differ. Simple examples:
International students will have questions around visas and international scholarships that domestic students are not even aware of.

Transfer students will have concerns about transferring credits.

Older students might have questions about daycare and parking that typical freshmen likely don't have on their minds.
Consider the Frequently Asked Questions for each student persona and start creating a standardized response for each one. This will not only save student-facing staff time, but will also give students a way to get the information they need whenever they need it. Gather a diverse internal group with knowledge of your campus, your academic programs, your student services, get a stack of pizzas, and brainstorm on all the things that each student persona is grappling with, their aspirations, and what would delight them. Great if you can find participants for this exercise when are actually in each demographic.
This content development work will help you and your team identify the top-level messaging and image ideas that will go into ads, web copy (landing pages), and other attraction campaign content.
Our Intead Plus subscribers have full access to our non-traditional student recruitment ebook: Quality, Cost, Convenience. You'll find a series of non-traditional student personas there along with 9 case studies of how your peer institutions have adjusted to serve the non-traditional student community. That, in addition to marketing plan guidance and so much more.
Choose your tools
Chatbots are one of the best ways to streamline your student customer service online (our 2021 blog post on the topic still has valuable perspective). When set up correctly, chatbots can help students get immediate attention and guidance to the resources they need. Many of these tools can train themselves with embedded AI – a huge improvement over early chatbots that required months and months of babysitting before they could operate reliably/accurately on their own.
When choosing a chatbot tool, look for one that integrates between your various channels (website, SMS, etc).
To make it easier for students to interact with your chatbot, consider setting it up so that it auto-suggests search queries like Indiana University Bloomington's Facebook page chatbot does: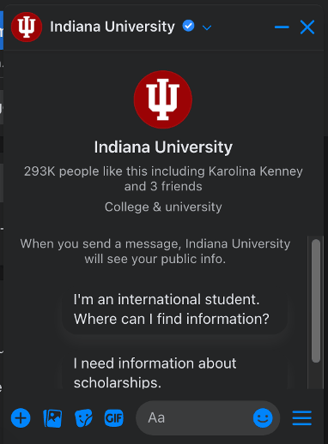 Aim for fast response times
Digitally native students have high expectations around customer service response times; 37% of customers expect a response within an hour, while 16% of customers expect an immediate response. This 2019 research by Arise offers some useful perspective on response times.
That's where chatbots are incredibly useful, especially because it's not always feasible to have customer service agents on staff 24/7. While chatbots may not always be equipped to answer every query, they're capable of answering common queries and redirecting students to the appropriate resources. For more complex questions, your chatbot can escalate the request to a real-life representative who can email the response within 24 hours. The chatbot system can inform the inquirer when a personal response will be coming their way and ensure your team has an accurate list of whom they should be reaching out to each day during appropriate hours.
Speedy response times gives a professional and competent impression of your institution, improving student experiences ranging from admissions questions to program details. Parents are going to be influenced by your timely and helpful responses as well.
A number of years ago, we conducted a Mystery Shopper experiment involving 80 institutions across 4 countries. The goal: analyze the response to digital inquiries. A shocking 29% of all institutions surveyed did not respond at all, totally missing an active lead. Nearly one-third of US and Canadian institutions were fully unresponsive to our shopper's inquiries. No response. No opportunity to engage.
With our field getting more competitive each year, our results were truly eye opening. All that effort put into attracting students, and when they show up, nothing!
But some institutions in our analysis got it right with the help of pre-planned replies and coordinated multi-channel responses. Our blog's Mystery Shopper two part series (Part 1 and Part 2) is worth a look for those interested in seeing how other universities approached customer service and the impact that had. The good and the bad. (Note: this is older data but continues to offer great insights and you may see your institution's approach represented).
Go above and beyond
Apart from answering questions, higher ed customer service can also be used to guide students on their enrollment journey. For instance if a visitor lands on your admissions page, consider having a chatbot prompt with upcoming open house dates and an option to register.
You can also have chatbots prompt students to enter their email or mobile number to get updates such as application deadlines, webinars, student chat sessions, campus tours, and other relevant notifications.
The point is, a personalized and efficient customer service strategy can help give students a positive impression of your university and the desire to continue to engage. Need help thinking through a student-first customer service approach? Be in touch.