What factors need to be considered in developing a strategic plan for international student recruitment? Which stakeholders need to be involved in that process? Though there isn't a one-size-fits-all solution for all institutions to these questions, we'd like to use this post to give you some factors to consider as you develop or augment your strategic plan.
Without a map it is challenging to chart a course of action and measure forward progress. A strategic plan for international student recruitment will allow all stakeholders to understand goals, progress, and challenges in a clear, straightforward manner. Developing a strategic plan for international student recruitment is different from campus internationalization. While there is certainly overlap between the two, it is important to recognize that the strategic plan addressed in this post refers specifically to recruitment and marketing. The strategic plan serves as a reference guide as an institution begins or expands international student recruitment.
At the 2014 AIRC Conference our colleagues presented a workshop titled Advanced Agency Management for US Led Institutions. Thank you to Krista Northrup, Brett Prim, Kirsten Feddersen, and Val Daily for your insights. This article refers to several of the ideas presented by this group.
Some of the factors that impact a strategic plan include:
• Vision (internal support and alignment with priorities)

• Resources (budget and staff)

• Programs (degree type and degree area)

• Capacity (campus and facility size)

• Brand recognition (established or new)

• Competition (within the US and beyond)

• Country Specific Considerations
If you and your colleagues are new in developing a strategic plan, we would strongly encourage you to consider these factors outlined above.
The presenters shared their institutions' recruitment strategies using a diagram. We find these diagrams extremely useful.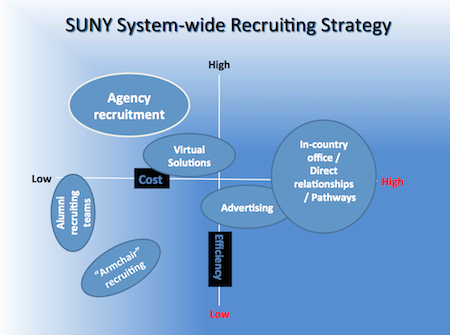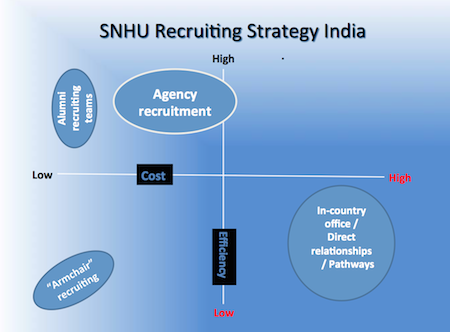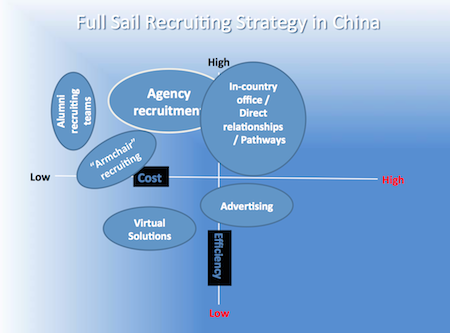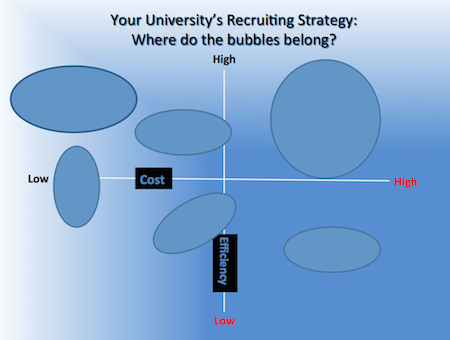 Source: Advanced Agency Management for U.S. Educational Institutions (AIRC Pre-Conference Workshop 2014)
In developing the strategic recruitment plan you should consider:
the goals in developing the plan (increase applicants overall? increase applicants from a specific market? increase yield?)

the stakeholders (faculty, admission team/director, institutional leadership)

your institution's mission
The admission and marketing teams require the support of the entire campus in order to be successful.
For more information on developing a holistic approach to international student recruitment, we would encourage you to review the collaborative effort developed by Intead and MJ Dennis Consulting.