LinkedIn dominates online professional relationship building. LinkedIn creates and retains connections, provides transparency into professional backgrounds and accomplishments. Professional recruiting is heavily influenced by LinkedIn. An now LinkedIn is starting to build a direct connection to universities, alumni and even university rankings. What does that mean for your activities as university administrators, admission officers and alumni offices?
The LinkedIn navigation menu sends universities a very clear message on how important the service can be in the future. University finder, field of study explorer, university rankings and your decision board. How boring are U.S. news & world rankings compared to such a dynamic system like LinkedIn? Prospective students and parents can explore the impact of a particular university in the professional world. Real people and their lives -- where do you see yourself in 10, 20, 30 years? Who will be part of your future network -- pretty compelling, right?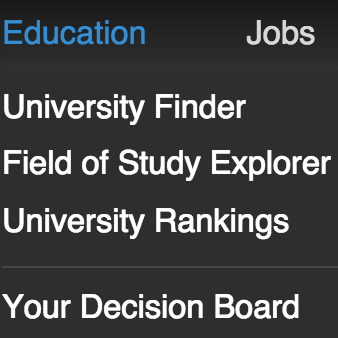 LinkedIn has a critical mass of users in many countries not just the United States. So consider the impact on your domestic outreach as well as your international outreach. We presume that graduate recruitment will be more heavily affected initially as young professionals are more likely to be familiar with LinkedIn in contrast to high school students. But don't forget that coming generations of parents will be familiar with LinkedIn and use it as resource.
As a company, we have been using LinkedIn for several years to identify trends in our prospective and current client's alumni situation. Most of the time, universities have very poor databases of their alumni living outside the United States - both international graduates as well as Americans working outside the U.S. So we analyzed the data using LinkedIn. See the example of the analysis below.
Note: Intead researched this alumni data independently and used publicly available data on LinkedIn. No sharing of information or collaboration occurred with the university.
Thanks to LinkedIn, I venture to say that your alumni office does not have to answer as many emails and phone calls anymore. It can be much easier, more reliable and quicker to identify many alumni by company, location, etc via LinkedIn.
Our colleagues from ICEF Monitor and HubSpot are showcasing the new LinkedIn features and also well-prepared LinkedIn implementations by various universities.
Ranking: I wish that LinkedIn had stayed away from the ranking word, but who knew that Villanova University could show up as the #1 university for accounting professionals. As with all rankings, the methodology seems opaque and I prefer ratings as opposed to rankings. Think of it like a bond rating, you can be investment grade or not. There are many good programs that meet certain criteria instead of offering lists of rankings.
I wonder how factors such as large extension and continuing education programs will be taking into account. I studied as an exchange student at Kingston University in London for one semester - am I now an asset to their ranking? Does the executive MBA count equally to the undergraduate degree? How about the growing number of MOOC "graduates" that add a Wharton (Coursera-verified) certificate to their LinkedIn account (oh, boy I just did that) - am I counted in any way? I believe the answer will hopefully be no to all of the above.
Getting back to practical questions. LinkedIn is an important marketing channel for universities and you need to build and maintain your presence. What can you do?
Encourage current students to participate and provide feedback - hopefully positive- on their study experience.

Reach out to your alumni network and have them add your university affiliation.

Encourage your current students and alumni to link to your university page.

Research your international alumni base and reach out to them.

Engage your alumni outside the United States to be your brand ambassadors.
LinkedIn can be an important channel to represent your university. In contrast to most other marketing activities, this channel provides a powerful link between your current and future student generations. As such, LinkedIn will increase the transparency for prospective students.
PS: After we published our blog, the Chronicle of Higher Education had this article on the same topic that is worth reading as well: LinkedIn Expands Efforts to Help Colleges Keep in Touch With Students and Alumni